Prepare to be a part of a multicultural and multilingual world
As a student in the Department of Modern Languages you will be able to combine your interest in languages, cultures, linguistics and literature with other fields of study across the university. By majoring or minoring in a world language you will gain valuable language and cultural skills, which will make you a better communicator and critical thinker. You will learn how to use these skills domestically and internationally to find a rewarding career and to make a difference in the world.
Visit our Prospective Students page to find out more about Modern Languages!
Visit our Events page to learn more about what we're doing and how to join us!
Join MLSA and MLGSA for Written Winter Wonders of the World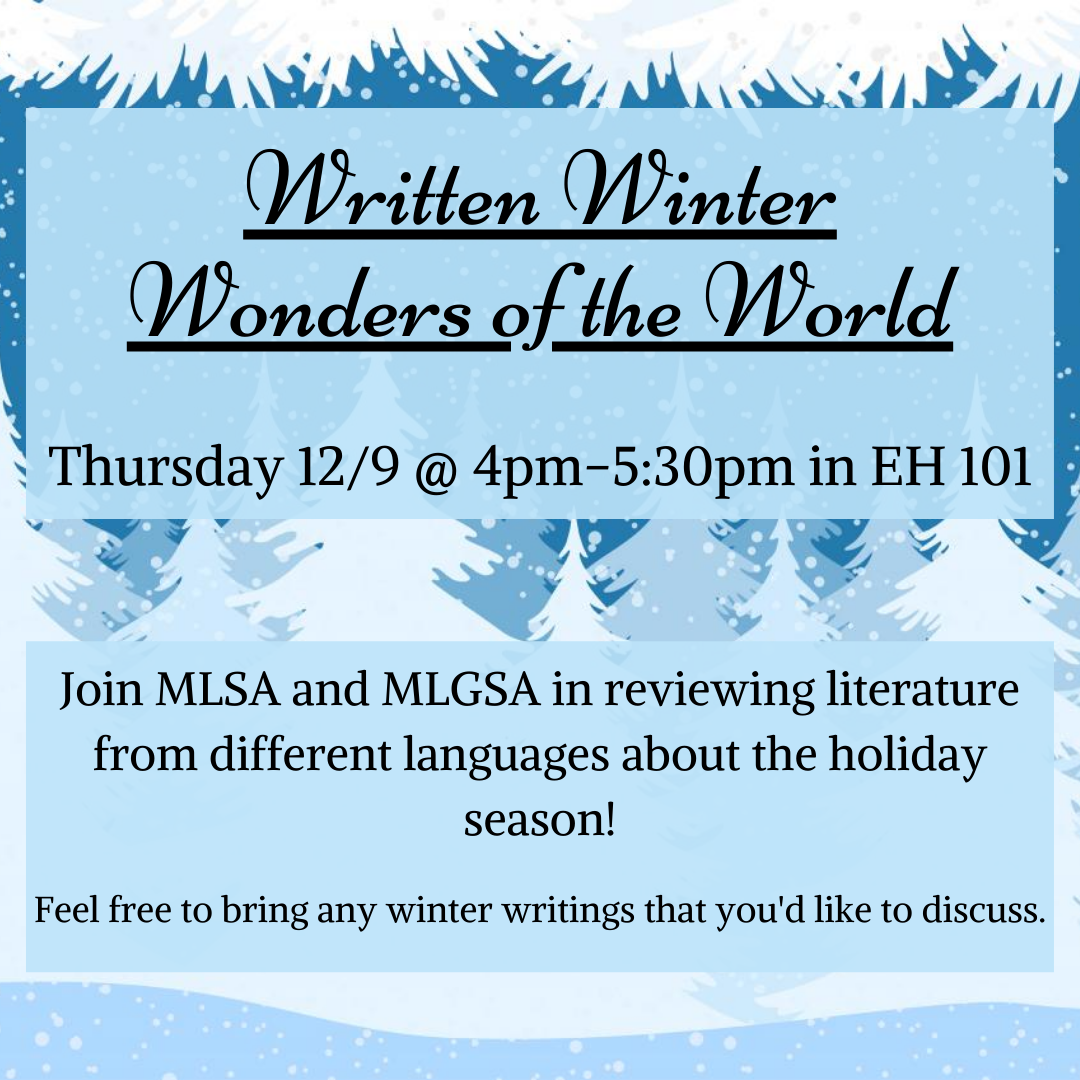 Written Winter Wonders of the World will be held on Thursday 12/9 @ 4pm-5:30 in EH 101. Join MLSA and MLGSA in reviewing literature from different languages about the holiday season! Feel free to bring any winter writings that you'd like to discuss.
Liam McConnell
My name is Liam McConnell. I am a senior at K-State, graduating in Spring 2022 with a degree in Operations and Supply Chain Management and minors in Biology and Chinese.
My interest in the Chinese language started through pure circumstance – my father had an opportunity to contract with Huawei and spend a few months working in Shenzhen. To celebrate Christmas, my family and I went to visit him for two weeks. Meeting the friendly locals, eating some of the best chicken ever, and walking around the painting-lined streets and alleys of the local art district are just a few of the many impressions China left on me. This started my curiosity toward learning the Chinese language...Read More Here!
More Culture Clip videos for you to check out!
If you want to watch the full interview or just pick a topic you like and watch a clip of Dr. Kanost discussing it, we've got both! Check out the series, and our other videos, on our YouTube channel HERE!