Prepare to be a part of a multicultural and multilingual world
As a student in the Department of Modern Languages you will be able to combine your interest in languages, cultures, linguistics and literature with other fields of study across the university. By majoring or minoring in a world language you will gain valuable language and cultural skills, which will make you a better communicator and critical thinker. You will learn how to use these skills domestically and internationally to find a rewarding career and to make a difference in the world.
Visit our Prospective Students page to find out more about Modern Languages!
Visit our Events page to learn more about what we're doing and how to join us!
Modern Language Ambassador Applications are open!
MLANG Ambassadors

are a small group of

enthusiastic

majors or minors - like yourself!- who represent our department at on-campus and off-campus recruitment events.
Modern Language Ambassador applications open soon! Students who are interested in becoming a Modern Languages Ambassador can fill out the form

here.
There will be an informational meeting on September 23rd from 7 to 8 PM in Eisenhower Hall, room 125.
Applications are due by 5 PM on September 30th!

If you have any questions, contact Drs. Melinda Cro (macro@ksu.edu) or Angélique Courbou (angeli@ksu.edu)


Check out more information about becoming an ambassador here.

Cecilia Potts-Moore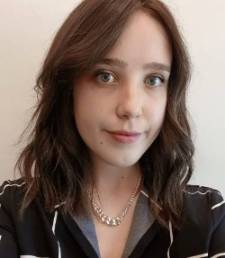 My name is Cecilia (Cec) Potts-Moore, I majored in German with a minor in Gender, Women, and Sexuality Studies!
I chose German because I had fun learning it, and felt like it was a chance for me to open myself up to other cultures and travel to other countries. My favorite thing about learning a language at K-State was the sense of community that the Modern Languages department gave me, I felt like I really got to know my fellow students and professors, I wasn't just another face in the lecture hall. I spent a lot of my time in college surrounding myself with all things Modern Languages, from working in the main office to being president of the German Club, most of my day was about Modern Languages and I loved every second... Read More Here!
More Culture Clip videos for you to check out!
If you want to watch the full interview or just pick a topic you like and watch a clip of Dr. Kanost discussing it, we've got both! Check out the series, and our other videos, on our YouTube channel HERE!