PAINT KC PURPLE AT HOME AND AT ARROWHEAD STADIUM SEPT. 18
Show Kansas City your Purple Pride when the Wildcats face off against Iowa State Sept. 18 at Arrowhead Stadium.
NOTEWORTHY

Bimal K. Paul, geography, published "Human Injuries Caused by Bangladesh's Cyclone Sidr: An Empirical Study," Natural Hazards, Vol. 54.
ON CAMPUS
MCCAIN AUDITORIUM CELEBRATES 40TH SEASON WITH ANNIVERSARY GALA
In honor of its 40th anniversary season, Kansas State University's McCain Auditorium will host a gala-themed birthday bash at 6 p.m. Friday, Sept. 17, in the K-State Student Union Ballroom.

"Experiencing the live performing arts is vital to the vibrancy of a growing and engaged community," said Todd Holmberg, executive director of McCain Auditorium. "McCain has been at the heart of this vibrancy for 40 years. I'm excited to honor this important milestone in the history of K-State."

"The Big Four-O: Big Band, Big Party, Big Fun" gala will include cocktails, dinner and dancing to the World Famous Glenn Miller Orchestra.

The event is open to K-State students, faculty and the general public. Tickets can be purchased by phone at 785-532-6425 or online at: http://www.found.ksu.edu/mccain.

The schedule of gala activities includes:
* Cocktail reception, 6 p.m.
* Dinner, 6:45 p.m.
* Dessert and remarks 7:45 p.m.
* Dancing to the World Famous Glenn Miller Orchestra, 8-11 p.m.
PICTURE PERFECT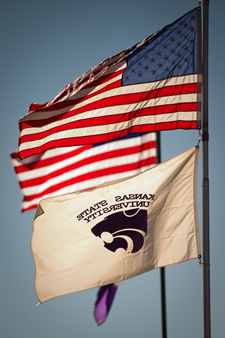 For creative professional images contact university photographer David Mayes at 785-532-6304 or photo@k-state.edu
For a gallery of Mayes' photos, go to: http://ksuphoto.zenfolio.com
OPPORTUNITIES
CLASSIFIED
• A recording of classified job opportunities is available 24 hours a day on the Employment Information Line, 785-532-6271.
• A list of employment opportunities is posted at www.k-state.edu/hr/
• For additional information, call 785-532-6277 or come to the Division of Human Resources in 103 Edwards Hall. Applications are accepted 8 a.m. - 5 p.m. weekdays.
UNCLASSIFIED
• A complete listing of vacancies can be seen at www.k-state.edu/affact/
• For additional information, call the office of affirmative action at 785-532-6220 or come by 214 Anderson Hall.
For previous issues click here
The next issue is Sept. 22.
Submit items by noon Sept. 17.
K-STATE WORKING TO ENSURE FIRST-YEAR STUDENT SUCCESS WITH K-STATE FIRST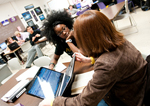 How do college students have a great college experience? The answer at K-State is with a great first year.
Making the first year at K-State a successful one is what K-State First is all about, according to directors Greg Eiselein and Emily Lehning. The program launches this fall.
PLAUDITS
GOVERNOR AWARDS K-STATE EMPLOYEES WITH 40-YEAR SERVICE PINS
Gov. Mark Parkinson presented K-State employees with 40-year service pins at an Aug. 20 ceremony at the Kansas History Museum and Library in Topeka. Read more
OH, BY THE WAY
FLU VACCINES AVAILABLE
Flu vaccines are now available at K-State's Lafene Health Center.
The vaccine is for K-State students, spouses, faculty, staff and family members, 18 and over. The seasonal vaccine includes the H1N1 vaccine. Read more
MODIFIED SMART PHONE APPLICATION MAPS OUT K-STATE CAMPUSES FOR NEWCOMERS
Visiting a Kansas State University campus but unfamiliar with the layout? There's an app for that.
PowerCat Enhanced launched on Sept. 14. The downloadable technology turns a user's iPhone 3GS and above or Android-based smart phone into an interactive map and GPS, showing both information about and directions to locations on the K-State Manhattan, Salina and Olathe campuses. Read more
MICHELE JANETTE NEW DIRECTOR OF WOMEN'S STUDIES PROGRAM
Kansas State University's women's studies program has a new director.
Michele Janette, associate professor of English, was named to the post in June by Brian Spooner, interim dean of the College of Arts and Sciences. Janette has been an affiliated faculty member of the women's studies program since joining K-State in 1997. Read more
BLANKENAU NAMED HEAD OF DEPARTMENT OF ECONOMICS
William Blankenau, professor of economics, has been promoted to head of the department of economics at Kansas State University. Blankenau had been serving as interim head of the department since fall 2009.
Read more
DEAN OF COLLEGE OF BUSINESS ADMINISTRATION STEPPING DOWN IN 2011
The longtime dean of Kansas State University's College of Business Administration will step down from his post at the end of June 2011.
Yar Ebadi, who is in his 15th year as dean of the college, will take a sabbatical at the end of the academic year and then return to teach management classes. Read more
CONSTITUTION DAY BRINGS KANSAS COURT OF APPEALS, SPECIAL ACTIVITIES TO CAMPUS
Kansas State University is celebrating the U.S. Constitution with several activities. Highlights include a panel discussion on the diversity of the state judicial system Wednesday, Sept. 15, and Kansas Court of Appeals hearings on campus Thursday, Sept. 16.
Read more
K-STATE FIRST, KANSAS STATE BOOK NETWORK HOST LECTURE BY MEDIA CRITIC JENNIFER POZNER SEPT. 21
The Kansas State Book Network and the K-State First program will host a lecture by media critic Jennifer Pozner at 7 p.m. Tuesday, Sept. 21, in Forum Hall at the K-State Student Union.
Pozner's multimedia presentation at Kansas State University, "Project Brainwash: Why Reality TV is Bad for Women (… and men, people of color, the economy, love, sex and sheer common sense)," focuses on feminism and the effects of reality television. The event is free and open to the public. Read more
KONZA PRAIRIE BIOLOGICAL STATION HOSTS VISITORS' DAY SEPT. 25
The public will get an up-close look at the tallgrass prairie ecosystem during the 17th biennial Konza Prairie Biological Station Visitors' Day from 8 a.m. to 4 p.m. Saturday, Sept. 25. Read more
JOHNSON CANCER RESEARCH CENTER OFFERS PRESENTATION BY KU'S BARBARA ATKINSON
Cancer research will be the topic of a presentation at Kansas State University by Dr. Barbara Atkinson, executive vice chancellor of the University of Kansas Medical Center and executive dean of the KU School of Medicine.
Atkinson will present "The Future of Cancer Research and Treatment in Kansas" at 7:30 p.m. Tuesday, Sept. 28, in Forum Hall at the K-State Student Union. The talk, sponsored by K-State's Johnson Center for Basic Cancer Research, is free, and the public is invited. It is part of the center's George S. Bascom Memorial Workshop Series on Current Issues in Clinical Medicine. Read more
INTERNATIONALLY RECOGNIZED SPEAKER PRESENTS ON TALENT AND PASSION SEPT. 30
When world-renowned guest speaker Sir Ken Robinson comes to K-State this month, the campus community should prepare to be wowed, say faculty.
"I want everybody to say, 'Oh my goodness! He was incredible,'" said Jana Fallin, professor of music. Two years ago, while serving as the faculty coordinator for the Faculty Exchange for Teaching Excellence program, Fallin began the fundraising process to bring Robinson to campus. At 3:30 p.m. Thursday, Sept. 30, Robinson will present "The Element: How finding your passion changes everything" in McCain Auditorium. The event, which is free, is open only to the K-State community. Read more
BARCELO KEYNOTE SPEAKER AT MICHAEL TILFORD CONFERENCE ON DIVERSITY AND MULTICULTURALISM
The Statewide Planning Committee is pleased to announce the Michael Tilford Conference on Diversity and Multiculturalism, "The Power of Diversity in Action," which will take place Oct. 11-12, 2010. Conference details and registration materials can be found online at:
http://www.continuinged.ku.edu/programs/tilford/
. There is no registration fee to attend the conference, but pre-registration is required by the deadline, Monday, Oct. 4.
Read more
HOURS UPDATE AND SEPTEMBER ART ACTIVITIES AT BEACH MUSEUM OF ART
Kansas State University's Marianna Kistler Beach Museum of Art is now open Wednesday through Saturday 10 a.m.-5 p.m. and Sunday noon to 5 p.m.
Faculty members who would like to visit the museum with their classes outside these hours can contact Kathrine Schlageck, senior educator, to make arrangements for the galleries to be open. Please call at least one week in advance of your visit. Schlageck and Elizabeth Seaton, associate curator, are available to help faculty members incorporate art into their curriculum. Read more
K-STATE ENGLISH DEPARTMENT SPONSORING FREE AUTHOR, FACULTY READINGS
The Kansas State University department of English will offer several presentations by acclaimed authors and K-State faculty and students in September and October.
All events are free and open to the public. Read more
Editor: Emily Vietti
Coordinator: Julie Fosberg
Phone: 785-532-2535
Fax: 785-532-7355
E-mail: media@k-state.edu