OH, BY THE WAY...
FLU VACCINES AVAILABLE
Flu vaccines are now available at K-State's Lafene Health Center.

The vaccine is for K-State students, spouses, faculty, staff and family members, 18 and over. The seasonal vaccine includes the H1N1 vaccine.

Walk-in clinics are scheduled for Thursdays from Sept. 16 through Dec. 9 or until vaccine supply is depleted. No appointment is necessary. Check in at the registration area.

The clinic will run from 8:30-11:30 a.m. and 1-4 p.m. each Thursday.

The vaccine injection costs $15 for students and $20 for all others. There is a 20-minute wait required after the injection.

For more information, visit http://www.k-state.edu/lafene/flushot.htm or www.cdc.gov/flu.
MODIFIED SMART PHONE APPLICATION MAPS OUT K-STATE CAMPUSES FOR NEWCOMERS
Visiting a Kansas State University campus but unfamiliar with the layout? There's an app for that.
PowerCat Enhanced launched on Sept. 14. The downloadable technology turns a user's iPhone 3GS and above or Android-based smart phone into an interactive map and GPS, showing both information about and directions to locations on the K-State Manhattan, Salina and Olathe campuses.
While some national and Big 12 schools have phone applications with campus maps, K-State is one of only a handful of universities to use Layar -- an open-source, cross-platform, augmented reality application. Of schools using Layar, even fewer have expanded the core program's functionality to the extent of K-State's.
"We're proud that K-State is among the first universities in the nation to use this augmented reality app for our prospective students, new students and visitors," said Kirk Schulz, K-State president. "This is exactly the kind of forward thinking that will enable us to become a top 50 public research university by 2025."
"This new app will make our friendly campus even more user friendly. It shows students and visitors how to find a building, a class, where they can eat and even where they can park," said Jan Elsasser, one of the creators of PowerCat Enhanced and director of information management for K-State's Division of Student Life. "We're hoping this helps our new students find their way around campus at the beginning of each semester."
Because PowerCat Enhanced is an applet, it acts as a microprogram -- or layer -- that runs on top of the parent program, Layar. The K-State layer controls Layar and its functionality.
"Essentially, the K-State layer shows real-time images on the phone's screen through the camera lens, and then overlays a 3-D map of information on top of that," Clark said. This interactive map shows users where various points of interest are in relation to their location and in the direction the phone is being held.
For each point of interest, an information box appears with the name of the location, the distance to it, and a small thumbnail image of the building and departments located inside, if applicable. Users can choose to click a "take me there" button that gives a map and directions of how to reach that point of interest, much like a GPS in cars, Clark said.
As a user gets closer to a point of interest, the icon or icons on the map grow larger. Views can be toggled between reality, a map with points of interest and an alphabetized points of interest list with photos.
To date, PowerCat Enhanced includes more than 100 points of interest, including academic buildings, administrative offices, housing and dining locations and parking lots.
To download PowerCat Enhanced, search for "Layar" in either iPhone's App Store or Droid's Android Market. Download and install Layar when it appears. It's a free app.
Next, launch Layar. Users on a K-State campus will automatically have PowerCat Enhanced show up under the local section. For those off-campus, type "PowerCat Enhanced" into the search bar and touch the program to launch it.
PowerCat Enhanced began as an effort between Elsasser and Clark, eventually involving other members of the K-State community, including Nic Herndon, programmer analyst for the office of undergraduate admissions; Nick Austin, associate director of the office of undergraduate admissions; and Ben Cleveland, graphic designer/animator for communications and marketing.
MICHELE JANETTE NEW DIRECTOR OF WOMEN'S STUDIES PROGRAM
Kansas State University's women's studies program has a new director.
Michele Janette, associate professor of English, was named to the post in June by Brian Spooner, interim dean of the College of Arts and Sciences. Janette has been an affiliated faculty member of the women's studies program since joining K-State in 1997.
"The women's studies program is fortunate to have Dr. Janette serve as director; she is committed to moving the program forward in these challenging economic times," Spooner said.
A specialist in Asian American literature and cultural studies, Janette is the editor of My Viet, the first comprehensive anthology of Vietnamese American literature in English. Her scholarship focuses on contemporary literature and film, and includes articles on novels by Lan Cao, Toni Morrison and Maxine Hong Kingston; plays by K-State alumna Velina Hasu Houston; and films by Tony Bui.
Janette served for 10 years as the director of the cultural studies program in K-State's department of English, and was coordinator of the university's peer review of teaching program for two years.
Her many honors include a Rockefeller Humanities Fellowship in 1999 and a William L. Stamey Excellence in Teaching Award from the College of Arts and Sciences. She was promoted to associate professor in 2003.
Janette received a bachelor's in English from Yale University in 1988, with a semester spent abroad at Nanjing University in the People's Republic of China. After college she taught literature to high school students before returning to Yale to earn her doctorate in English in 1997. She spent a year on the English department faculty at the University of Minnesota before joining K-State. Janette also has attended the School of Criticism and Theory at Cornell University.
BLANKENAU NAMED HEAD OF DEPARTMENT OF ECONOMICS
William Blankenau, professor of economics, has been promoted to head of the department of economics at Kansas State University. Blankenau had been serving as interim head of the department since fall 2009.
"Dr. Blankenau has done a great job as interim head, and I am confident that he will continue to effectively lead the department," said Brian Spooner, interim dean of the K-State College of Arts and Sciences.
Since joining K-State in 2001, Blankenau has taught courses in growth and macroeconomics at the graduate and undergraduate levels. He also has served as director of graduate studies.
Blankenau publishes extensively in the area of macroeconomics. Much of his work looks at the macroeconomic consequences of government education expenditures. His current research investigates the influence of early childhood spending on the level and distribution of income. His earlier work in this area evaluated how the level and timing of government education spending influences economic growth and the wage premium earned by college graduates. Related research explores the influence of education policy on student effort.
He also has published several papers that consider the effect of technological change on the labor market in different sectors of the U.S. economy. Other work studies business cycles in small open economies and evaluates the cyclical properties of economic activity occurring in households.
Blankenau has received several honors for his work, including a William L. Stamey Award for Excellence in Teaching from the College of Arts and Sciences and the Edgar S. Bagley Research Award from the department of economics in recognition of career accomplishment in research and scholarship. Blankenau was served as a visiting professor at the department of economics at the Universidad Carlos III in Madrid, Spain, while on sabbatical in spring 2009.
Blankenau received his doctorate in economics from the University of Iowa. He also has a master's in economics from Colorado State University and a bachelor's in business administration from the University of Nebraska-Lincoln.
DEAN OF COLLEGE OF BUSINESS ADMINISTRATION STEPPING DOWN IN 2011
The longtime dean of Kansas State University's College of Business Administration will step down from his post at the end of June 2011.
Yar Ebadi, who is in his 15th year as dean of the college, will take a sabbatical at the end of the academic year and then return to teach management classes.
"The College of Business Administration has made exceptional progress in the last 14 years, and I believe the college is well positioned to continue moving toward higher levels of academic excellence," Ebadi said. "It is from this position of strength that I have decided to conclude my service as dean at the end of the school year and return to the classroom."
"I respect Dean Ebadi's decision to go back to the classroom after years of visionary leadership as dean. He will be missed from that role, however," said April Mason, K-State provost and senior vice president. "Dean Ebadi will leave the college in a very strong position for the next stage in its leadership history. We also are so very fortunate that he will again enhance our students' learning experience with his teaching."
Ebadi was named dean of the College of Business Administration in 1996 after serving as interim dean in 1995. He was the college's associate dean from 1992 to 1995 and head of the department management from 1988 to 1992. He also has held the Robin Hagens Maupin Chair in Business since 1992. Prior to coming to K-State in 1983, Ebadi served in various faculty positions at Kabul University in Afghanistan and Indiana University.
Under Ebadi's leadership the college's enrollment has increased by more than 40 percent and student scholarships have more than quadrupled. The college has raised private funds to establish several faculty endowed chairs and fellowships, which have been filled by professors with national and international credentials in teaching and scholarship.
The college also has received national recognition during Ebadi's tenure, including being listed for
the first time among BusinessWeek's top undergraduate business programs for 2010, and having the college's master of business administration program ranked among the Global 100 best in the Aspen Institute's Beyond Grey Pinstripes biennial survey and alternative rankings in fall 2009.
Such recognitions are vital in helping K-State become recognized nationally as a top 50 public research university by 2025, Mason said.
In addition, Ebadi helped guide the college's successful reaccreditation bids in 1998 and 2008 from the Association to Advance Collegiate Schools of Business, the premier business accrediting agency in the world. He is a member of the association, serving on its pre-accreditation committee and as a peer review team chair and member in the accreditation process for numerous business schools nationally and internationally.
"The progress made by the College of Business Administration would not have been possible without the commitment and dedication of our exceptional faculty and staff," Ebadi said. "I want to thank them all for their contributions in the college's many successful endeavors, and the significant roles they have all played in helping the college to fulfill its mission and provide the highest quality business education possible to our students."
Mason said a national search will be conducted during the 2010-2011 academic year to find Ebadi's successor.
Ebadi is active in numerous academic, professional and university organizations. He is a member of Phi Kappa Phi, Beta Gamma Sigma, Sigma Iota Epsilon, Tau Beta Pi and Pi Tau Sigma honoraries. His professional memberships include the Academy of Management and the Decision Sciences Institute. Since 2007 he has served as a member of the editorial review board of the International Journal of Productivity and Quality Management.
He received the College of Business Administration's Outstanding Teacher of the Year in 1987 and served as president of the Midwest Business Deans Association in 2001-2002.
Ebadi has served on numerous committees, including the Commerce Bank-Manhattan board of directors, the University Strategic Committee, the Council of Academic Deans and several major search committees. Ebadi also is an active member of Rotary and the Manhattan Area Chamber of Commerce.
Ebadi earned his bachelor's degree in mechanical engineering from Kabul University through a partnership with the Georgia Institute of Technology. He completed his first two years at Kabul and his final two years at Georgia Tech. He received his master of business administration in production and operations management and his doctorate in management, both from Indiana University. He also received additional professional certifications from the University of Minnesota and from Harvard University.
CONSTITUTION DAY BRINGS KANSAS COURT OF APPEALS, SPECIAL ACTIVITIES TO CAMPUS
Kansas State University is celebrating the U.S. Constitution with several activities. Highlights include a panel discussion on the diversity of the state judicial system Wednesday, Sept. 15, and Kansas Court of Appeals hearings on campus Thursday, Sept. 16.
The week kicks off with a Constitution Day booth. The booth will be open from noon to 1 p.m. all week at the food court in the K-State Student Union. People can stop by to take a Constitution quiz for a chance to win prizes or to pick up buttons and copies of the Constitution and other essential documents of American democracy.
The League of Women Voters and the Dorothy L. Thompson Civil Rights Lecture Series will present a judicial diversity panel discussing "Does the Kansas Judicial System Reflect the Diversity of our State? Does it Matter?" at 7 p.m. Sept. 15 in Forum Hall in the Union. The keynote speaker will be Marla Luckert, Kansas Supreme Court justice. The panel includes Suzanne Valdez, a University of Kansas law professor, and three judges from the Kansas Court of Appeals: Richard Greene, Henry Green Jr. and Melissa Standridge. David Procter, K-State professor and director of the Center for Engagement Community Development, will moderate the panel, and refreshments will be served afterward in the lobby.
Activities Sept. 16 begin with Kansas Court of Appeals hearings from 9:30-10:30 a.m. and 1:05-2:05 p.m. in Forum Hall. Each session will consist of two 30-minute hearings. The morning hearings include appeals of a drug conviction in Butler County and a DUI conviction from Sedgwick County. Afternoon hearings include an appeal of an indecent liberties with a child conviction from Elk County and an appeal involving the suppression of evidence in a Reno County case. The hearings are open to students and the public.
"We are excited to welcome the Kansas Court of Appeals to campus," said Heather Reed, associate dean and director of student life at K-State. "The court will be hearing four cases that should be of interest to K-State students. Students and the public are welcomed to come and go. This is a wonderful opportunity for students, faculty, staff and the public to observe our judicial system in action."
K-STATE FIRST, KANSAS STATE BOOK NETWORK HOST LECTURE BY MEDIA CRITIC JENNIFER POZNER SEPT. 21
The Kansas State Book Network and the K-State First program will host a lecture by media critic Jennifer Pozner at 7 p.m. Tuesday, Sept. 21, in Forum Hall at the K-State Student Union.
Pozner's multimedia presentation at Kansas State University, "Project Brainwash: Why Reality TV is Bad for Women (… and men, people of color, the economy, love, sex and sheer common sense)," focuses on feminism and the effects of reality television. The event is free and open to the public.
"Dr. Pozner's presentation will give our students, faculty, staff and general community a wonderful opportunity to examine the very popular media venue of reality TV in a critical and thoughtful manner," said Stephen Kiefer, co-chair of the Kansas State Book Network committee, director of the University Honors Program and professor of psychology at K-State.
The lecture is also a complement to the university reading program that began this year, according to K-State's Karin Westman, head of the department of English and member of the Kansas State Book Network committee.
"Jennifer Pozner's lecture will expand the conversations already under way about the role of reality television in Suzanne Collins's dystopian novel 'The Hunger Games,' as first-year students and the K-State community discuss this inaugural selection of the Kansas State Book Network," Westman said.
Named one of the "20 Inspiring Women to Follow on Twitter" by Forbes magazine, Pozner is the founder and executive director of Women In Media and News, a media analysis, education and advocacy group that amplifies women's presence and power in the public debate.
Her work on gender, race and class in the media has been published in news outlets such as Newsdayand the Chicago Tribune. She has also appeared as a commentator on CNN, Fox News, MSNBC, ABC News Now, Grit-TV, Democracy Now!, NPR and Comedy Central's "The Daily Show with Jon Stewart."
Based on her reality TV lecture, Pozner's first book, "Reality Bites Back: The Troubling Truth About Guilty Pleasure TV,"will be published in November.
KONZA PRAIRIE BIOLOGICAL STATION HOSTS VISITORS' DAY SEPT. 25
The public will get an up-close look at the tallgrass prairie ecosystem during the 17th biennial Konza Prairie Biological Station Visitors' Day from 8 a.m. to 4 p.m. Saturday, Sept. 25.
Known worldwide as one of the premier sites for ecological research, Konza Prairie Biological Station is an 8,600-acre, native tallgrass prairie preserve and research center jointly owned by The Nature Conservancy and Kansas State University. Managed by K-State's Division of Biology, the biological station is dedicated to a three-fold mission of long-term ecological research, education and prairie conservation.
The public will be able to hike the nature trail system with knowledgeable guides, take a guided bus tour through areas that are grazed by bison and burned at different intervals, enjoy a hay wagon ride around research plots, visit with leading grassland ecologists from K-State, and tour the Konza Prairie headquarters and historic Hokanson Homestead along Kings Creek.
Special activities for children will be at the Education Center in the lower level of the Hulbert Center, and animal displays and research exhibits will be in the Konza Meeting Hall, a renovated stone barn, and in the fire station. Konza Prairie researchers, K-State faculty, scientists, docents and staff will talk about current research activities, the history of the site, the ecology and geology of the Flint Hills, and tallgrass prairie plants and wildlife.
"There's something for the whole family," said Valerie Wright, environmental educator for Konza Prairie. "Kids can become a junior ecologist by completing some fun activities, or they may collect grasshoppers for the Hopper Display."
The Friends of Konza Prairie will be selling Konza Prairie T-shirts, hats, posters, mugs and additional merchandise. The Nature Conservancy will host an informational booth, and various books about the prairie will be available for purchase.
Konza Prairie Biological Station is six miles south of Manhattan along McDowell Creek Road. Station headquarters is on Konza Prairie Lane past the nature trail kiosk around the corner on the right. For more information contact Wright at 785-587-0381 or konzaed@k-state.edu. More information also is available at http://kpbs.konza.ksu.edu/.
JOHNSON CANCER RESEARCH CENTER OFFERS PRESENTATION BY KU'S BARBARA ATKINSON
Cancer research will be the topic of a presentation at Kansas State University by Dr. Barbara Atkinson, executive vice chancellor of the University of Kansas Medical Center and executive dean of the KU School of Medicine.
Atkinson will present "The Future of Cancer Research and Treatment in Kansas" at 7:30 p.m. Tuesday, Sept. 28, in Forum Hall at the K-State Student Union. The talk, sponsored by K-State's Johnson Center for Basic Cancer Research, is free, and the public is invited. It is part of the center's George S. Bascom Memorial Workshop Series on Current Issues in Clinical Medicine.
Atkinson has made it a priority for the KU Cancer Center to earn Comprehensive Cancer Center designation by the National Cancer Institute, a designation held by only 40 centers in the country.
She joined the KU School of Medicine in 2000, was named executive dean in 2002 and became executive vice chancellor in 2005. She was the first woman in the country to hold both positions at a medical center.
She has edited seven books and is best known for those on cytopathology and gynecologic pathology. She is co-editor in chief of the Web-based journal Cytojournal and is a past president of the American Board of Pathology and a member of many other national boards. She also is a member of President Obama's Commission for the Study of Bioethical Issues.
The George S. Bascom Memorial Workshop Series on Current Issues in Clinical Medicine was established in 1996 in memory of Bascom, a Manhattan physician, who played a significant role in forming the K-State cancer research center. The research center is dedicated to funding basic cancer research and supporting higher education, training and public outreach. Its programs are made possible through private donations. Information is available at http://www.cancer.k-state.edu or by calling 785-532-6705.
INTERNATIONALLY RECOGNIZED SPEAKER PRESENTS ON TALENT AND PASSION SEPT. 30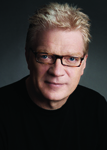 When world-renowned guest speaker Sir Ken Robinson comes to K-State this month, the campus community should prepare to be wowed, say faculty.
"I want everybody to say, 'Oh my goodness! He was incredible,'" said Jana Fallin, professor of music. Two years ago, while serving as the faculty coordinator for the Faculty Exchange for Teaching Excellence program, Fallin began the fundraising process to bring Robinson to campus. At 3:30 p.m. Thursday, Sept. 30, Robinson will present "The Element: How finding your passion changes everything" in McCain Auditorium. The event, which is free, is open only to the K-State community.
Robinson is a best-selling author and professor emeritus of Warwick University in the U.K. He is internationally recognized for his humorous and inspirational presentations about finding one's inner passion, Fallin said.
"What he says is relevant to students and faculty," said Victoria Clegg, director of the Center for Advancement of Teaching and Learning. Clegg has incorporated Robinson's 2006 Technology Entertainment and Design, or TED, speech into her principles of college teaching course for the past three years.
"His message is about being in your element -- finding what's important to you and what you do really well, and then making the most out of that," Clegg said. "That message is especially meaningful on a university campus where faculty are helping students discover what they want to do in life."
Fallin agrees.
"We don't know the future, but we know it's going to be different. By educating and inspiring upcoming generations to be creative and follow their passion, we, as educators, can help them be successful in those new and changing environments," Fallin said.
McCain Auditorium holds 1,700 people. Fallin said the goal is to pack it with students, faculty and staff -- the "K-State family" -- for Robinson's hour-long presentation.
Tickets are available at the McCain Box Office and at the K-State Student Union. This is a campus-wide effort. Funding was made possible by academic colleges, the office of the provost, the Center for Advancement of Teaching and Learning, the Division of Continuing Education and the Student Governing Association.
Robinson's 2006 and 2010 Technology Entertainment and Design speeches can be viewed on YouTube or at http://bit.ly/101CR and http://bit.ly/bogMmk.
The video of his 2006 presentation has been viewed more than 5 million times and has been seen by an estimated 200 million people in more than 150 countries. Robinson's latest book, "The Element: How Finding Your Passion Changes Everything," is a New York Times bestseller and is being translated into 18 different languages.
BARCELO KEYNOTE SPEAKER AT MICHAEL TILFORD CONFERENCE ON DIVERSITY AND MULTICULTURALISM
The Statewide Planning Committee is pleased to announce the Michael Tilford Conference on Diversity and Multiculturalism, "The Power of Diversity in Action," which will take place Oct. 11-12, 2010. Conference details and registration materials can be found online at: http://www.continuinged.ku.edu/programs/tilford/. There is no registration fee to attend the conference, but pre-registration is required by the deadline, Monday, Oct. 4.

The conference begins at 5:30 p.m. on Monday, Oct. 11 with check-in and the opening reception at the University of Kansas Dole Institute of Politics. On Tuesday, October 12, 2010, the conference begins with a breakfast buffet from 7:30-8:15 a.m., followed by the day's program, which ends at 4 p.m.

Dr. Nancy "Rusty" Barcelo, former chief diversity officer at the University of Minnesota and now-president of Northern New Mexico College, will be the keynote speaker. Dr. Barcelo's address, "Diversity as a Core Strategy for Institutional Transformation," will be followed by concurrent break-out sessions, a demonstration of K-State's Tilford Virtual Center, institutional break-outs, a round table of chief academic officers and remarks by Andy Tompkins, president/CEO of the Kansas Board of Regents.

The Statewide Tilford Conference Planning Committee encourages your attendance at this very important system-wide diversity meeting. Spread the word, and we hope to see you there.
HOURS UPDATE AND SEPTEMBER ART ACTIVITIES AT BEACH MUSEUM OF ART
Kansas State University's Marianna Kistler Beach Museum of Art is now open Wednesday through Saturday 10 a.m.-5 p.m. and Sunday noon to 5 p.m.
Faculty members who would like to visit the museum with their classes outside these hours can contact Kathrine Schlageck, senior educator, to make arrangements for the galleries to be open. Please call at least one week in advance of your visit. Schlageck and Elizabeth Seaton, associate curator, are available to help faculty members incorporate art into their curriculum. If faculty members would like to use pieces that are not on view in the galleries, works can be displayed in the works exam room for groups of 25 or fewer. The museum's upcoming exhibitions can be found at http://beach.k-state.edu/exhibitions/81/upcoming-exhibits.
Schlageck can be reached at klwalk@k-state.edu, Seaton at lseaton@k-state.edu or both can be reached by phone at 785-532-7718.
The Beach Museum of Art hosts a variety of events throughout the year. September events include:
* "Yoonmi Nam: Transient Landscapes," 4:30 p.m. Wednesday, Sept. 22. The Friends of the Beach Museum of Art annually select an artist to create a limited edition print and hold an exhibition of this artist's work at the museum. For 2010, Yoonmi Nam, associate professor at the University of Kansas, was selected for this honor. "Since 2005 I have been working on black-and-white sumi ink drawings based on techniques outlined in traditional Chinese painting manuals," Nam said. She will discuss her art on display in the museum's Wefald Gallery.
* K-State Family Day Activities at the Beach, 10 a.m. to noon Saturday, Sept. 25. While participating in K-State Family Day activities, drop by the museum for a morning of movement activities in the galleries, art projects and refreshments.
All events are free and open to the public. The galleries will be closed Nov. 20-30 for Thanksgiving break and during winter break from Dec. 24 to Jan. 11, 2011. The museum's complete fall calendar is online at http://beach.k-state.edu.
For more information, contact Martha Scott at the Beach Museum of Art at 785-532-7718, or drop by the museum on the southeast corner of the K-State campus at 14th Street and Anderson Avenue. Free visitor parking is available next to the building.
K-STATE ENGLISH DEPARTMENT SPONSORING FREE AUTHOR, FACULTY READINGS
The Kansas State University department of English will offer several presentations by acclaimed authors and K-State faculty and students in September and October.
All events are free and open to the public. They include:
* Michael Weinreb, sportswriter and freelance journalist, 3:30 p.m. Friday, Sept. 17, in Forum Hall at the K-State Student Union. Weinreb will read from his recently released book "Bigger than the Game: Bo, Boz, the Punky QB and How the '80s Created the Modern Athlete," which combines essay writing and reporting to trace the evolution of athletes due to the influences of society. A book signing will follow the reading.
* Poetry on Poyntz, 7 p.m. Friday, Sept. 24, at the Strecker-Nelson Gallery, downtown Manhattan. Join various English department faculty and students as they gather to read pieces of their literary work.
* Dana Johnson, fiction writer, 3:30 p.m. Friday, Oct. 1, in the Union Little Theater. Johnson's debut collection of stories, "Break Any Woman Down," earned her the Flannery O'Connor Award for Short Fiction. Praised for her vibrant portraits of race, class and gender, her stories have appeared in many anthologies, including "Shaking the Tree: A Collection of Fiction and Memoir by Black Women," "The Dictionary of Failed Relationships: 26 Stories of Love Gone Wrong" and "California Uncovered: Stories for the 21st Century." Johnson will read from various pieces of her work at the event, and a book signing will follow.
* M. T. Anderson, a prize-winning author of fiction for young adults, 5 p.m. Wednesday, Oct. 6, in Forum Hall at the Union. Anderson has been recognized for his historical fiction, including "The Astonishing Life of Octavian Nothing," "Traitor to the Nation" and "The Pox Party," which won the National Book Award and a Printz Honor for literary excellence in young adult literature. The event will include a reading and discussion of his popular futuristic novel "Feed," with a book signing to follow.
* Chris Chism, a professor of English at Rutgers University, 4 p.m. Friday, Oct. 29, in 017 English/Counseling Services Building. An expert on medieval and gender studies, Chism will speak on "Mortal Friends in Robin and Gandelyn and the Medieval Robin Hood Ballads."