Mike Finnegan, Ph.D.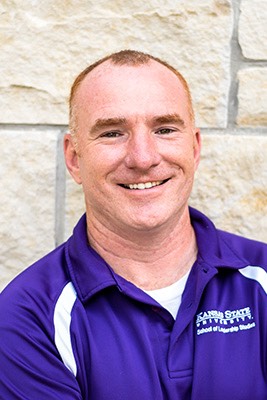 Assistant professor
mikefinn@ksu.edu, View my CV
Woo | Communication | Maximizer | Adaptability | Positivity
Campus office: 214 Leadership Studies Building
Teaching
We are all teachers, leaders and learners. I love connecting and building relationships with people. If we don't take the time to learn about peoples hopes, dreams and aspirations ... how can we make learning relevant toward their goal attainment? What excites me about my work is that my role allows me to be a teacher, coach and mentor. My promise to all of my students is, "I'll know your name and I'll ask you what it is that makes your heart beat?"
Current courses
LEAD 195: Strengths Cat Community
LEAD 212: Introduction to Leadership Concepts
LEAD 450: Senior Seminar
Professional expertise
Awards
First-Year Advocate Award, 2019
Presidential Award for Excellence in Undergraduate Teaching, 2018
Mortar Board Outstanding Faculty and Staff Recognition, 2018
Rost Outstanding Faculty and Staff Award, Staley School Ambassadors, 2009
Organizations
Responsibilities
I welcome and celebrate students! I'm the high-five guy responsible for student recruitment (Staley School's Enrollment Management Team) and student recognition (Staley School's Student Affairs Committee).
Education
Ph.D. in higher education administration, Kansas State University
M.S. in college student personnel administration, University of Central Missouri
B.S. in criminology and geography, Kansas State University
More about me
Every morning before work I feed our horses, I love to introduce others to hunting and volunteer my time to help people and communities thrive.