June 2023 Orientation and Enrollment Information
Questions about language placement? Minoring or majoring in a language?
Join us:

Students and advisors can join us Monday through Friday from

noon to 3:00 pm in person in EH 001

or via

Zoom
Students can also contact us via email:

modlang@ksu.edu
K-State Advisors

can also call us/chat with us directly via Teams (Angélique Courbou or Yasmin Gavigan), or via email (modlang@ksu.edu)

Prepare for your language placement:

Take this language placement survey (UPCOMING)

Students are encouraged to meet with a language advisor for placement (see options above), but may consult our language

placement guide

to assist students and advisors in selecting the appropriate course(s).

See our Prospective Students or our Programs & Courses @ a glance pages for more info, and our Fall 2023 schedule here.
Welcome to K-State Modern Languages!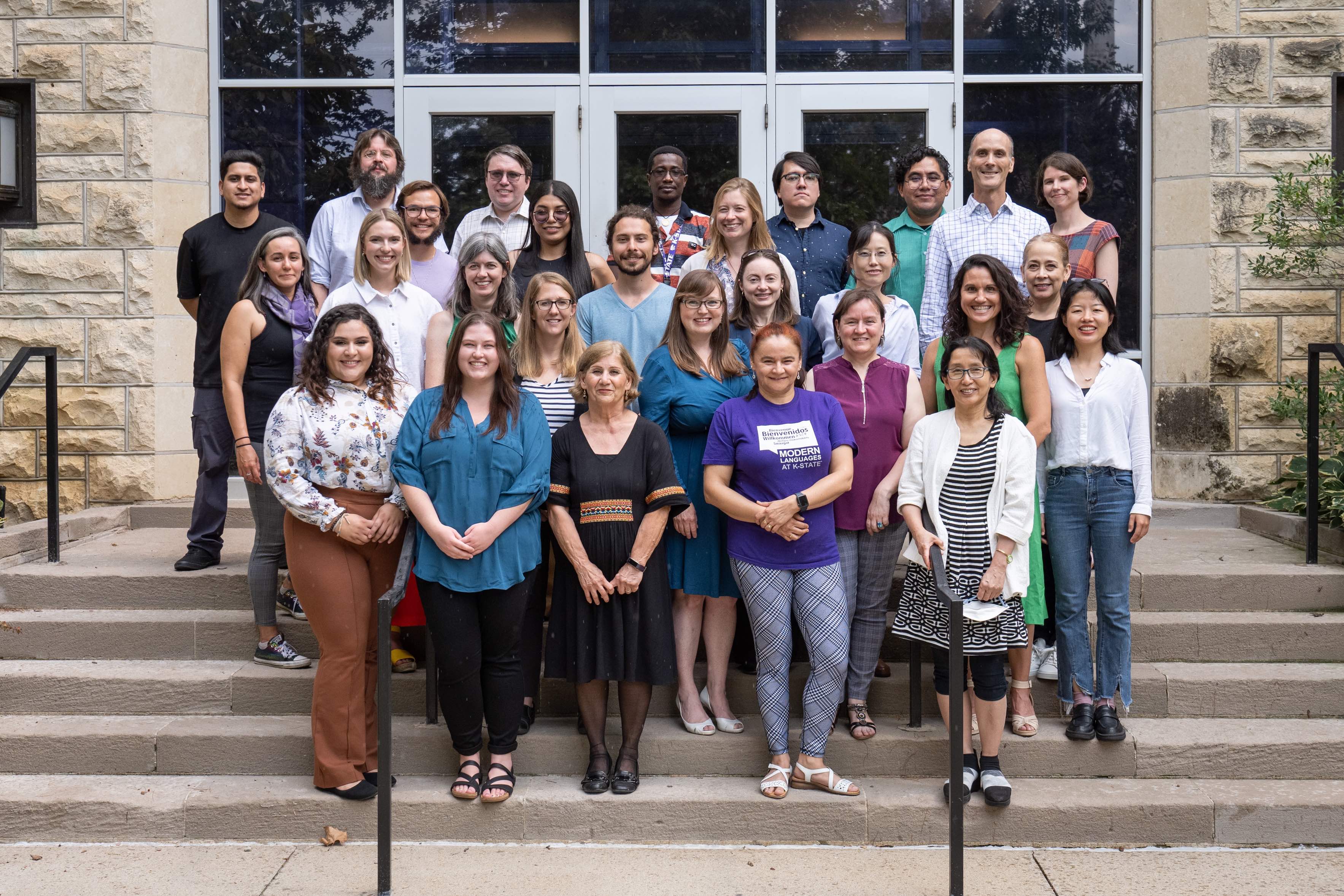 Our Faculty and Graduate Student Instructors (GTAs) are ready for the 2022-2023 academic year!
Drop-in Advising April 10th to April 12th Come meet us!!!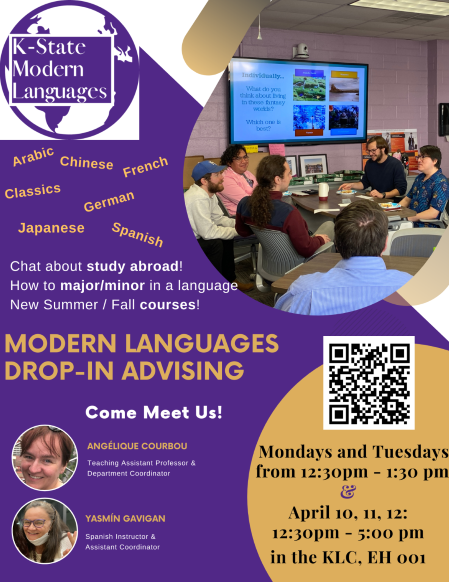 JOIN US for INITIALS: Student Research forum
Friday, April 21, 4:00-5:30pm
The Department of Modern Languages will hold its annual student reserach forum, INITIALS, on Friday, 4/21 from 4-5:30pm in Room 181 of Hale Library. Students will share their research in poster presentations, and visitors can walk among the displays and talk to student researchers about their projects. Light refreshments will be served.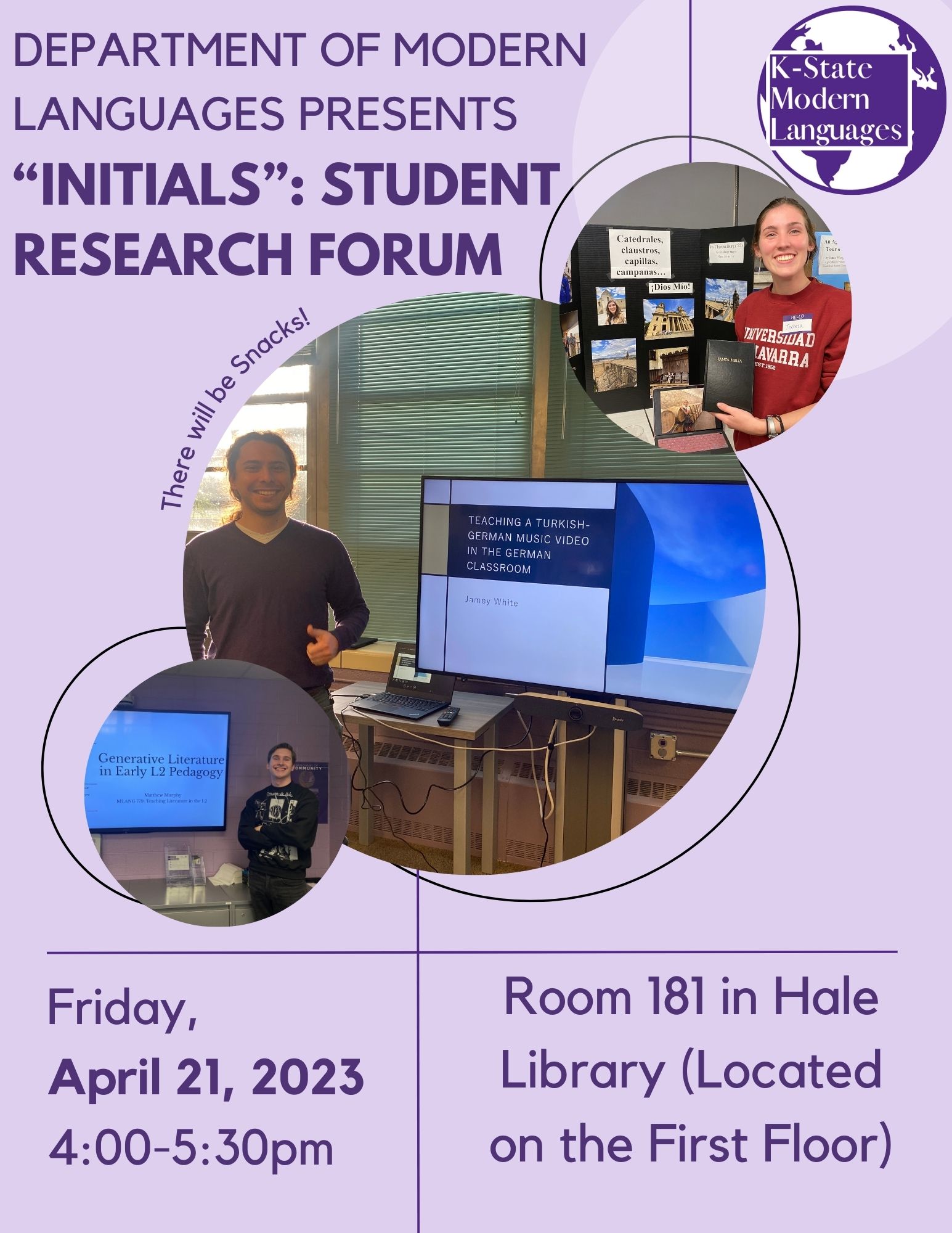 GRAND RE-OPENING SPRING 2023:
KIRMSER LANGUAGE CENTER (KLC) in EH 001
The KLC is Modern Languages' exclusive student learning space in 001 Eisenhower Hall. Stop by to study or collaborate with your classmates, come for free tutoring hours (in Chinese, French, German, Japanese, and Spanish), or meet our graduate students and faculty during advising and office hours. Several tech and workspace upgrades will be happening this semester, so stay tuned for more information.
SPRING HOURS (general and tutoring) HERE.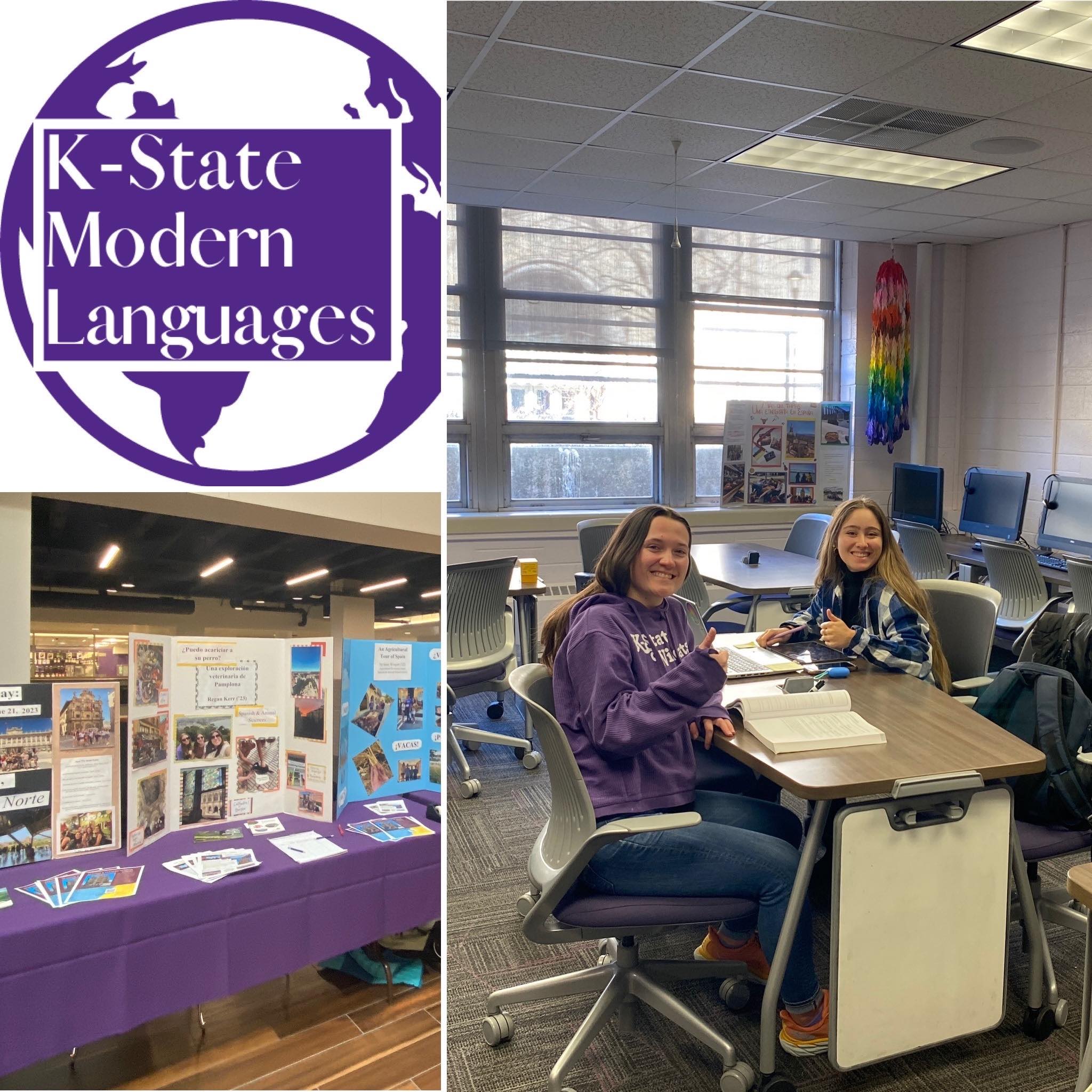 JOIN US! Guest lecture & workshop on Effective L2 Reading Strategies
Monday, April 3, 5:30pm, Eisenhower Hall 218
Teacher, Trainer & Coach, and Educational Consultant Bryce Hedstrom will give an invited interactive workshop for graduate and undergraduate students interested in teaching language. "Practical Applications to Increase Reading Comprehension and Fluency" will feature practical tools to implement in L2 courses and interactive, collaborative workshopping. As an educational consultant and teacher, Bryce Hedstrom empowers world language teachers with the right training, materials, and support to become confident, successful educators who motivate their students to learn. His expertise will complement what students are learning in the classroom for their BA or MA, especially in Dr. Loschky's MLANG 804 TEFL practicum on Written Communication.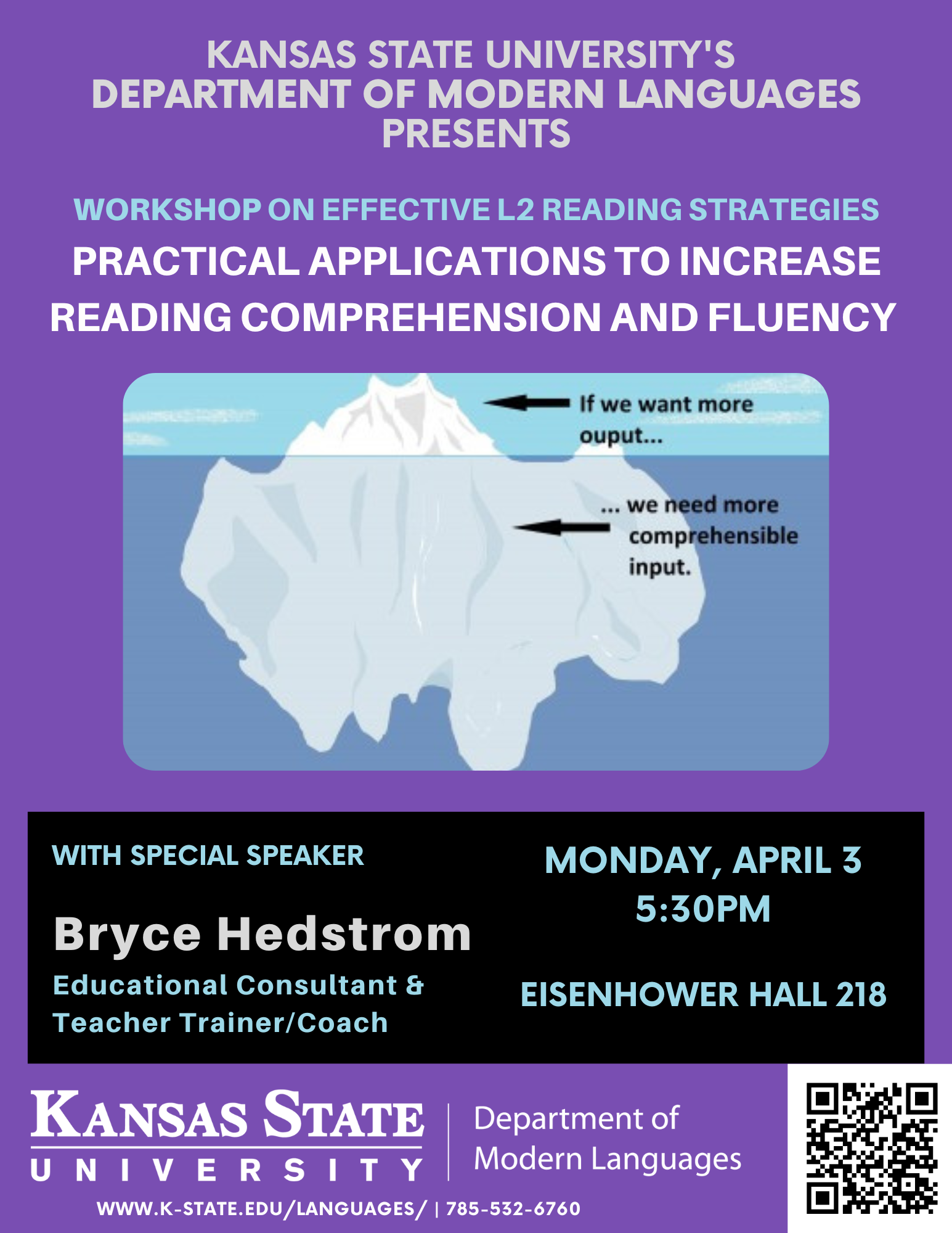 Summer 2023: Faculty-led Study Abroad
Earn 3 credits in Japanese Culture & Language, plus an optional 1-credit in Computer Science for Professionals. Visit Japanese tech, software, and gaming companies, while experiencing Japanese popular culture, history, and cuisine. Faculty leader, Dr. Miki Loschky. Learn more and apply here.
Earn 6 credits in Spanish (2 courses) by studying at the Universidad de Navarra in Pamplona. Trip begins in Madrid (5 days) and includes day trips in Basque Country, Navarra, and Castilla León. Faculty leader, Dr. Rebecca Bender. Learn more and apply here.
Earn 6 credits (2 courses) in Spanish while studying at International House in the beach city of Playa del Carmen. Faculty leader, Dr. Laura Valentin-Rivera. Learn more and apply here.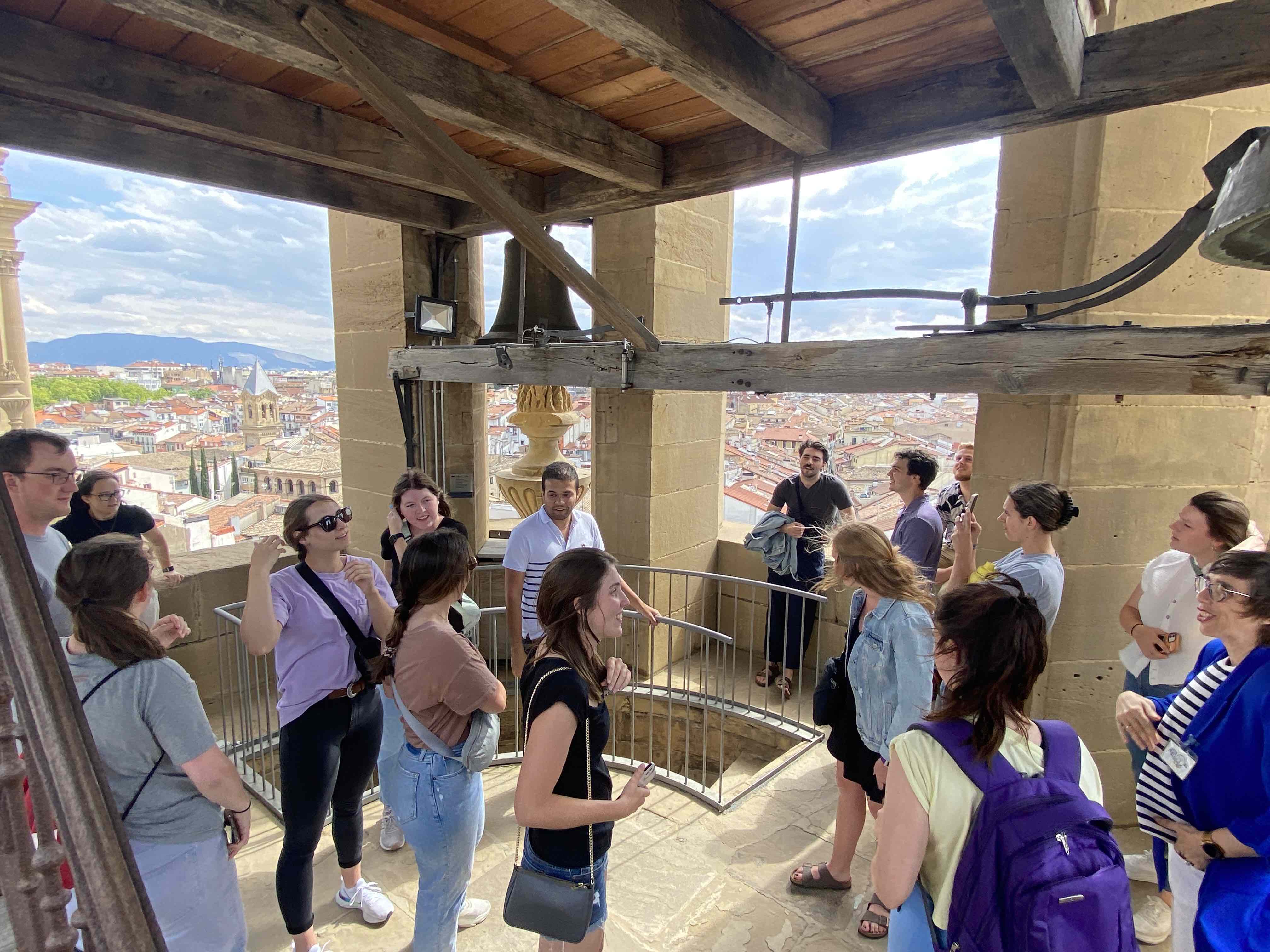 Modern Languages Ambassador!
We have a great group of majors and minors, plus dual-degree and double majors, who will be representing our department and advocating for language study this year. Keep an eye out for our social media updates for Ambassador profiles and outreach events.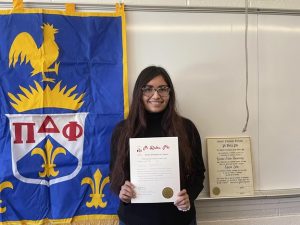 Naomi Galindo ('23), President of the Modern Languages Student Association & Ambassadors. French major & International Area Studies secondary major.
Culture Clip videos!
If you want to watch a full interview or simply pick a topic you like and watch a clip of Dr. Kanost discussing it, we've got both! Check out the series, and our other videos, on our YouTube channel HERE!