Nutrition Counseling
Lafene's Registered Dietitian Nutritionist is available to provide free, individualized nutrition counseling for K-State students. Students commonly seek advice about weight and body image concerns, general nutrition, eating disorders, medical nutrition therapy for special diets, and nutrition for fitness. Make an appointment by calling 785.532.6544 or through the myLAFENE+ portal.
Our Nutrition Philosophy:

Eating for Well-being: A Mindful Approach
Dianna Schalles, MS, RDN, LD, is a licensed 'Am I Hungry'® mindful eating facilitator and is passionate about helping students heal their relationship with food. She promotes a Health at Every Size, weight inclusive approach and will partner with you to find sustainable, positive solutions…..paving the path to a lifetime of well-being rather than dieting and deprivation.
Health at Every Size® Principles:
Accepting and respecting the diversity of body shapes and sizes
Recognizing that health and well-being are multi-dimensional and that they include physical, social, spiritual, occupational, emotional, and intellectual aspects
Promoting all aspects of health and well-being for people of all sizes
Promoting eating in a manner which balances individual nutritional needs, hunger, satiety, appetite, and pleasure
Promoting individually appropriate, enjoyable, life-enhancing physical activity, rather than exercise that is focused on a goal of weight loss
www.sizediversityandhealth.org
About 'Am I Hungry"®


Using a simple model called the Mindfull Eating Cycle (developed by Am I Hungry? Founder Michelle May, M.D.), you learn how to be in charge of your eating decisions without restriction, deprivation, or guilt.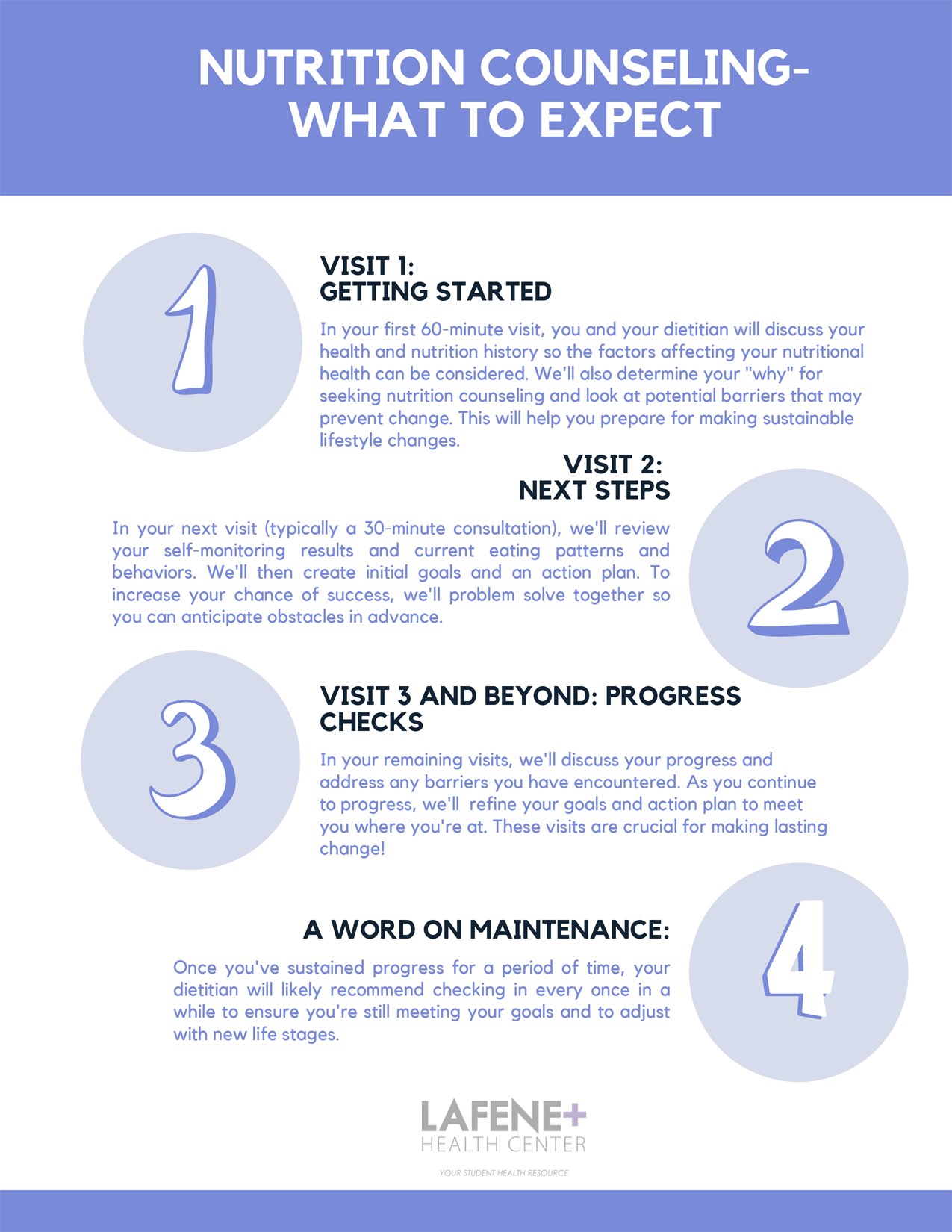 Useful links:
Help for Disordered Eating Brochure

FREE Campus and Community Food Resources

Free, Confidential, Online Screening: Disordered Eating
(https://www.nationaleatingdisorders.org/screening-tool)