August 24, 2020
A letter from K-State Chief Diversity and Inclusion Officer Bryan Samuel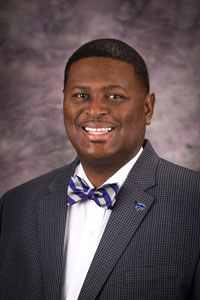 Greetings K-Staters,
As we are now one week into a semester unlike any other, I am optimistic that as K-Staters the challenges we are facing will make us stronger. We have already experienced several successes this year that we will build on this fall — continuing our commitment to diversity and inclusion and a culture characterized by pride and respect for all. These opportunities include:
Community Action Talks (CATs)
In the wake of national unrest around issues of social justice, xenophobia and civil liberties such as free speech, K-State began a new virtual Community Action Talks (CATs) initiative this summer. CATs is a monthly series that features panelists on various topical issues and provides an opportunity for the community to participate in diversity, inclusion and social justice dialogues coupled with an opportunity to learn how we can all take action to achieve transformative change for our university, our state and the world. In partnership with the Center for Student Involvement, our next CATs will tackle the topic of free speech. The CATs on free speech is currently slated for the week of Sept. 14-18. Stay tuned to K-State Today for more information.
Difficult Dialogues
Without fail, there will be times when tough topics arise in the classroom or our work environments. A short while after the passing of Mr. George Floyd, a colleague shared with me that they didn't know what to say to a student when the student brought up #BlackLivesMatter. Last fall, in partnership with the Dow Center for Multicultural and Community Studies and the Teaching and Learning Center, we began a new initiative, Difficult Dialogues. Difficult Dialogues was created to help faculty and staff make progress on their knowledge and skill in facilitating difficult conversations as challenging topics arise. Previous sessions of this lunch and learn series have focused on topics such as race, mental health, empathy and diffusing difficult situations through role-play. Faculty and staff interested in facilitating a difficult dialogue session are encouraged to contact me at bsamuel1@k-state.edu.
University Climate Survey
After three months of a planning phase that involved multiple groups and discussions, the 2020 Kansas State University Climate Survey was deployed to four primary groups across all campuses of the university in early spring 2020: students, faculty, staff and administrators. As a result of a collaborative effort among different units, the survey received nearly 7,000 responses with a universitywide survey response rate of 26%. View the results of the 2020 University Climate Survey. Over the summer break, nine focus groups were held with students, faculty and staff. Results from the focus groups will be made available to the university community and used to support the creation of actions and initiatives for the climate and intergroup relations theme of the strategic diversity and inclusion plan.
Strategic Diversity and Inclusion Plan
During the 2019-2020 academic year, the PCMA met 10 times with an average attendance totaling approximately 26 participants — including faculty, staff and students. A great majority of the PCMA's work centered on finalizing a strategic diversity and inclusion plan for K-State. Currently all themes, except climate and intergroup relations, have been grounded in the 6A framework inclusive of narratives for awareness and alignment, as well as actions, accountability and assessment. The PCMA's climate and intergroup relations theme team will utilize the results from the 2020 University Climate Survey and the Climate Survey Focus Groups to solidify actions, accountability and assessment for this theme. Opportunities to review the plan and provide input will be presented this fall.
KSUnite 365: Difference Makes Us Stronger
Since February 2020, numerous students, faculty and staff have been involved in exploring a forward direction for KSUnite. Many students have informed us that they see KSUnite as a one-day event. KSUnite is intended to be a calling to raise the collective consciousness of all university community members. To this end, much work goes into identifying themes, developing criteria for presentations, selecting speakers and et cetera. Moreover, much of this work happens before and after the actual KSUnite conference. Consider the work in colleges, diversity summits, teach-ins and lectures, as well as guest speakers and activities in Student Life, academic departments and co-curricular programs. All of which will now be connected under the KSUnite365 umbrella. Thinking about diversity, equity and inclusion every day, KSUnite365 will recognize all the programs, events and activities across the diversity continuum at our university. Working with students, faculty, staff and administrators from across the university, we have adopted a theme — Difference Makes Us Stronger — for all diversity-related programs and activities for the academic year 20/21. This year's KSUnite will take place from 1-4 p.m. Tuesday, Oct. 13, and will feature two plenary sessions and 20 breakout sessions. Stay tuned for more information in the coming weeks. Also, we are unveiling a new process for identifying student speakers for the KSUnite conference. K-State students can now nominate their peers for speaking during the KSUnite conference. For more information on nominations, please visit the KSUnite website.
Sincerely,
Bryan Samuel, CCDP/AP
Chief Diversity and Inclusion Officer