August 21, 2020
Wildcat Dialogues: An intercultural leadership experience for new students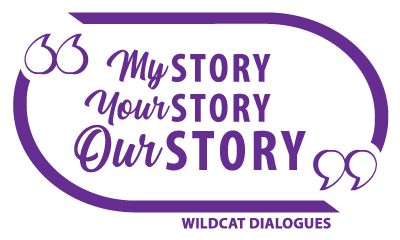 Mark your calendars for Wildcat Dialogues, an intercultural learning and leadership event designed for all first-year students, scheduled for 7-9 p.m. Monday, Sept. 21. Please share the date for this virtual event with your students.
Wildcat Dialogues provides an opportunity for meaningful dialogue to build connections and to create a community of belonging for all.
Students will gain the following during Wildcat Dialogues:
Learn how to create communities of belonging.
Build cross-cultural relationships through meaningful dialogue.
Engage in active listening to foster empathy and perspective-taking.
Build skills to understand human difference and to look for similarities.
Students will meet virtually in groups of approximately 10 students, led by a small group facilitator. Facilitators are trained students, faculty, staff and community members.
We appreciate your help in sharing this information with students. In the last two years, we gathered more than 1,000 new students together to engage in challenging conversations that elevate intercultural learning and development of the K-State family. This year, we want to grow the event by reaching as many students, faculty and staff as possible to help contribute to the conversation and continue building on our commitment to intercultural learning at K-State.
First-year students are required to RSVP for the event by Monday, Sept. 14. All students who register will receive a free Wildcat Dialogues face mask.
For more information please visit the Wildcat Dialogues website.
We also encourage faculty, staff and returning students to sign up to serve as small group facilitators. Our committee members are available to talk to your department or student group about Wildcat Dialogues. Committee members can share what it means to be a small group facilitator. RSVP here to serve as a small group facilitator.
This event is coordinated in partnership between the Staley School of Leadership Studies and Diversity and Multicultural Student Affairs, alongside a large committee representing students, faculty and staff. This collaboration represents the commitment by our campus community to create a culture of belonging for all.
For any questions, please contact Tamara Bauer, Staley School of Leadership Studies, at tamara@k-state.edu or Debra Bolton, Diversity and Multicultural Student Affairs, at dbolton@k-state.edu.