February 7, 2020
16th annual K-State Drag Show: 'Burlesque' takes the stage Feb. 14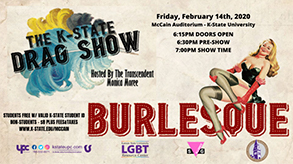 Mark your calendars for the 16th annual K-State Drag Show: "Burlesque" on Friday, Feb. 14, in McCain Auditorium. The doors will open at 6:15 p.m., the pre-show will begin at 6:30 p.m. and the show will begin at 7 p.m. Monica Moree '10 will serve as the host for the burlesque-themed show. Guest performers will include Victoria Fox, Lil KimChi, Valaree Love, Penny Tration, Alexander Cameron and Ginger LeSnapps.
The event is free for students with valid K-State student ID with a limit of one ticket per ID. Students may pick up their tickets from noon to 4 p.m. on Tuesday, Feb. 11, through Friday, Feb. 14, at the McCain box office. Students must present their K-State IDs and tickets to be admitted into the show. A specific seat is assigned to each ticket.
Non-student tickets are available for $8 plus fees and taxes. Tickets may be purchased in person at the McCain box office, by phone at 785-532-6428 or online at tickets.mccain.ksu.edu.
This event is co-sponsored by Union Program Council, the LGBT Resource Center, and the Sexuality and Gender Alliance. Additional funding is provided by the K-State Student Governing Association.
The show may contain adult themes and language.