Schedule Exams with the Student Access Center
The Student Access Center (SAC) supports faculty who are unable to provide testing accommodations in the classroom environment. Effective Summer 2016 faculty should submit their request via KSIS to notify the SAC to proctor tests for students who need testing accommodations.
To schedule a time for an exam or quiz, do the following:
Navigation:
Go to www.ksu.edu/accesscenter/faculty. Click Enter Test Information to access Exam Accommodations in KSIS. Alternatively you can use the navigation shown below within KSIS.





Search for the class or select an existing class from the Classes list, then click Enter Test Information.




Test Information:
To schedule a test for the SAC to proctor, fill out the following information:
A test date or checking The Test Dates are not scheduled box.

Note: Test dates can be added at any time but need to be added 48 hours prior to the scheduled test.




Online Tests: SAC will proctor online exams only if the regular on-campus class is proctored. For proctored online exams, click the Online Test checkbox for the appropriate test date.


Comment box: Clarification comments concerning the test, test date, time, etc. are welcomed.


Choose the Test Type from the drop-down menu.
Student Information:
Enter the Student eID. Use the magnifying glass to search for student in the course selected.

Note: Only students who are registered with the Student Access Center can be scheduled.





Alternative test times are scheduled when tests occur outside regular business hours of 8-5 or to accommodate the students back-to-back classes. If an alternative test time is needed, click the Add alternate test times button and select the date and time for the student's exam. If you select the date, but are not concerned about the time of day, please select 8:00 a.m. and write in the Comment box that the student can take the test at any time.

Time and Materials Information:
This section allows you to select Materials and Time allowed for Quizzes, Exams, or Final Exams depending on the Test Type selected above.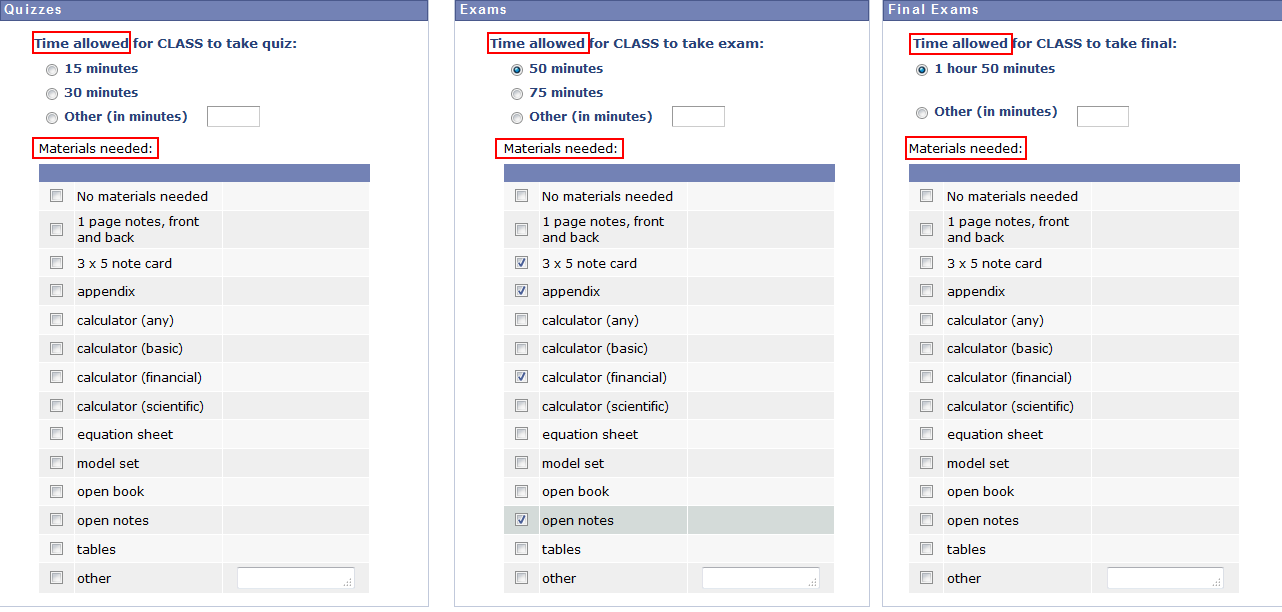 Delivery Information:
Select how the test will be provided and the test return manner.




Click Submit when all options are provided.

After submission:
The confirmation page confirms the requested exam data has been saved. Click Return to add a new student and/or exam or Go to another class to schedule a test for another class or section.