KAWSE Summer Newsletter 2020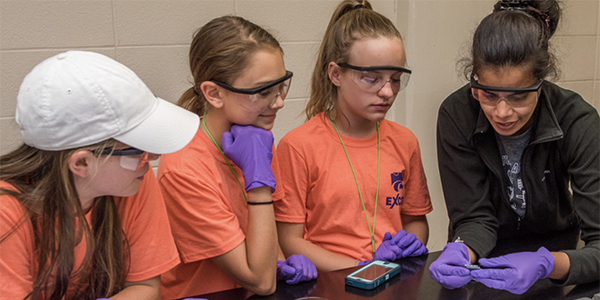 Mission and History
KAWSE, or the K-State Office for the Advancement of Women in Science and Engineering, was established in 2011 to enrich the lives of girls and women in the science, technology, engineering, and mathematics fields (STEM). Housed under the Office of Student Success, KAWSE serves as an umbrella program for STEM pre-college outreach, undergraduate retention, graduate and postdoctoral fellow support, and faculty support programs. We also collaborate with other university programs serving students from groups historically marginalized in the science and engineering fields. KAWSE provides activities through our successful GROW, EXCITE, SUCCEED and ADVANCE programs:
Girls Researching Our World (GROW) offers hands-on programming for 6th-8th grade students to foster their interest in STEM.
Exploring Science, Technology, and Engineering (EXCITE) supports high school students' continued interest in STEM fields.
SUCCEED is designed for undergraduate and graduate students, to help students learn strategies to overcome common barriers to women's success in male-dominated fields, through networking, professional development and the KAWSE Ambassadors departmental student organization. We also recruit students to mentor the middle and high school students who attend our GROW and EXCITE events. In fact, we often have K-Staters who were a part of GROW and EXCITE when they were younger!
ADVANCE offers networking, professional development, and support for postdoctoral researchers and faculty. It also raises awareness about gender inequality and inequity in academia and STEM fields and communicates best practices for increasing diversity and inclusion.
We partner with units campus-wide, including STEM Colleges and Departments. This past year we are proud to have partnered with the College of Agriculture, the College of Architecture, the College of Arts and Sciences, the College of Engineering, the College of Health and Human Sciences and the College of Veterinary Medicine. Likewise, we love collaborating with Wildcat alumnx--contact us if you'd like to get involved!
Chardie L. Baird, Ph.D. (she/her/hers)
KAWSE Executive Director
---
Staff Introductions
We are pleased to meet you! Feel free to contact us by emailing kawse@k-state.edu.
| | |
| --- | --- |
| Dr. Chardie Baird has served since 2012 as KAWSE Executive Director while also maintaining her position as a faculty member in the Department of Sociology, Anthropology, and Social Work. Dr. Baird oversees the ADVANCE program for postdoctoral researchers and faculty. | |
| Morgan Greene is KAWSE's Program Coordinator where she has overseen the GROW, EXCITE and SUCCEED programs since starting at KAWSE in the spring of 2019. Morgan's passion for diversity and inclusion, paired with her STEM background, makes her a valuable team member | |
| Amber Bebout provides support for KAWSE in the Administrative Assistant position since starting at KAWSE in the fall of 2019. She assists with all four of KAWSE programs and is a great point of contact if you have any questions | |
---
K-State 2025 Visionary Plan & KAWSE
As a K-State alumnx, you may be familiar with the 2025 Visionary Plan, the university's guide to fostering excellent teaching, research and service that advances Kansas, the nation and the world. The plan embraces diversity and encourages engaging with folks from all walks of life. KAWSE strives to support the 2025 Visionary Plan by aligning its four core programs—GROW, EXCITE, SUCCEED and ADVANCE—to the plan's key elements.
This newsletter, we are featuring our contributions to Theme 4: Engagement, Extension, Outreach & Service through the GROW and EXCITE programs. These unique programs offer hands-on learning to middle and high school students—the age at which girls' interest in STEM typically declines. Through GROW and EXCITE, we expand K-State's engagement opportunities, reach diverse audiences, increase the university's involvement in K-12 initiatives, and support faculty efforts to generate funding through engagement activities.
In the 2019-2020 academic year, we're proud to have accomplished the following:
Connected with over 280 middle and high school students during our STEM-themed events

Provided virtual learning opportunities for students during the COVID-19 pandemic. This included the first ever Virtual GROW and EXCITE Summer Workshop, which we were able to offer free of charge, thanks to the financial support of donors like you.
Reached diverse audiences, with 31% of our participants self-identifying as a historically underrepresented person, as defined by the National Science Foundation

Collaborated with seven faculty as they pursued grant funding from agencies like the National Science Foundation and National Institutes of Health
---
GROW & EXCITE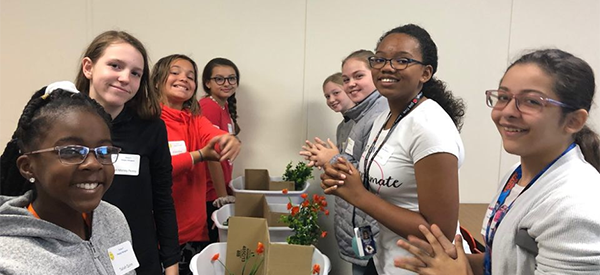 During the 2019-2020 academic year, 29 high school students joined our EXCITE Shadow Days at the K-State Manhattan campus to experience a day in the life of a STEM college student. Students spent the day with a current K-State undergraduate majoring in a field of shared interest. Together, they attended classes, toured campus, ate lunch and discussed life as a Wildcat. Among this year's highlights was a surprise feature by The Collegian and the ability to show off the newly redesigned Hale Library on opening day. EXCITE Shadow Days are offered 3-4 times each semester and are open to all students in grades 9-12. The EXCITE website has more program information and a schedule of our upcoming events.
K-State's future looks bright: We hosted the next Wildcat generation on K-State's Manhattan campus during our two GROW Saturday Workshops. In all, 195 middle school students—representing communities across Kansas and beyond—attended! During these workshops, K-State faculty, students and staff facilitate activity-based sessions to explore and enrich the students' lives in the world of STEM. We were thrilled to partner with facilitators with expertise in geology, art, engineering, entomology, animal sciences, landscape architecture and more, to foster excitement and curiosity in our middle school audience. The themes of GROW's two workshops this year were It's Elemental, Dr. Watson which celebrated the periodic table's 150th birthday and Back to the Future: 2020 to usher in the new year and new decade. GROW's website has archives of these events and what we have scheduled for the 2020-2021 year.
A global pandemic didn't slow our momentum, though it did encourage KAWSE staff to think creatively! Our GROW and EXCITE Summer Workshops went online, with a week-long virtual experience. Despite the altered format, a total of 85 students joined us for sessions such as "Field Station 4: Art and Science Fiction" and "Transpiration: Water Consumption by Plants," --even a STEM-themed trivia night! Our students—and staff--had a blast during the summer workshop; we were especially grateful for our financial partners and supporters. Thanks to their support, we were able to offer the workshop free to all participants. Thank you!
---
Leadership
SUCCEED

KAWSE's SUCCEED program offers networking, professional development, and leadership opportunities for K-State undergraduate and graduate students. Perhaps one of our most popular opportunities is the ability to mentor younger students. By serving as an ambassador during EXCITE Shadow Days or a mentor during our GROW Workshops, students gain leadership and outreach experience. In fact, many of our ambassadors and mentors participated in the GROW and EXCITE program themselves when they were younger! This year we had 22 ambassadors who spent a day with high school students on campus sharing their college experience, knowledge and skills to promote interest in education beyond high school and to promote K-State as the amazing university we all know it to be. We also hired 15 K-State students who served as mentors for middle school students during an interactive day of STEM activities. Mentors not only get to share their excitement for STEM and K-State with their group of middle school students, but they also get to earn some spending money as this is a paid position. A win-win for everyone! We sat down with one of our mentors, sophomore Sara Haggard, to learn more about why she chose to participate:
As the daughter of a biology teacher, Sara has always been fascinated by how the world works. "Curiosity is an incredibly important and undervalued trait that is essential to learning within STEM," says Sara, "and when I heard about GROW I immediately wanted to get involved; to help foster this incredible curiosity in the younger female generate. After all, the future of STEM is female!"
Sara began as a mentor during her freshman year, serving as a role model for middle school students during the 2019-2020 academic year. According to Sara, "it was an incredible experience--to be part of their excitement and enjoyment of the program, and relive my budding passion for science." But the middle school students were not the only ones who benefited from Sara's involvement: it helped her become a more well-rounded student too! "As of right now, I plan to be a dentist or oral surgeon. I've always really enjoyed working with kids, and working with girls in STEM is the perfect activity to remind myself of why I love to learn, and what makes me passionate about my future career. Interacting with and working alongside people invested in STEM prepares me for the everyday life of a dentist, but more importantly, keeps me excited about my future and focused on the present," she says.
It's mentors like Sara that help make our GROW workshops the success they are. Sara states, "I believe that there's nothing more beneficial for the future of humanity than education our younger generation: especially young women. Girls are already out there changing the way we think about STEM in every field, and it's important that we continue to encourage their involvement and embrace comprehensive, positive change." We could not agree more!
And so, we design our events to help students like Sara learn strategies needed to overcome common barriers to women's success in male-dominated fields. As an example of one such event, KAWSE collaborated with the K-State Career Center to offer a "Salary Negotiation" workshop. Drawing from the American Association of University Women's Work Smart program, this interactive workshop discussed the gender wage gap, and provided practical tools and tips that can help participants negotiate salaries in the workplace and help identify and advocate for their personal value. We look forward to the new academic year starting shortly and have a great line up of opportunities planned for our SUCCEED audience that will be offered virtually in ensure program availability to all given the many unknowns of the current pandemic.

Since 2012, KAWSE has held an annual event to recognize the academic achievements of K-State women by hosting the Women of Distinction Recognition Ceremony. The ceremony recognizes K-State women faculty and staff members for their academic and career achievements, such as earning tenure and promotion, being promoted to full professor or an administrative position, or winning a university-wide award. Our 2019 celebration was the largest yet: we had the pleasure of recognizing 68 faculty and staff! We value the importance of recognizing these women and hope to have the opportunity to hold our ninth annual ceremony in-person in spring 2021. ADVANCE has a Women of Distinction Recognition Ceremony webpage where you can see the information for our next ceremony and view the archives of previous year programs and photos.
---
ADVANCE
The ADVANCE program provided many opportunities for K-State postdoctoral researchers and faculty this year through groups like our online Accountability Research & Writing Group, professional development on promotion and tenure documents and a session on Inclusive Leadership: Tips from HERS Alumnae (HERS Leadership Institute is a Higher Education Leadership Development Program that provides a "transformational leadership development program for women in higher education, founded to fill leadership pipelines across the United States with dynamic women, each capable of ushering their respective institutions into a more inclusive and equitable future."). Each opportunity provided information and resources related common barriers that women often face in academia, such as balancing responsibilities, changing inequitable department policies, and creating inclusive spaces. This year KAWSE also held its inaugural book club, featuring "White Fragility: Why It's So Hard for White People to Talk About Racism" by Robin Diangelo. K-State faculty met with KAWSE Executive Director throughout the year to discuss, digest and implement the ideas share through this book. KAWSE is looking forward to the personal and group growth this next year will prompt while we read "An Inclusive Academy: Achieving Diversity and Excellence" by Abigail J. Stewart and Virginia Valian.
---
Giving to a Good KAWSE
To support KAWSE's mission to enrich the lives of girls and women in STEM, the
KAWSE Giving Page
provides the opportunity to make a one-time or monthly donation that will support our programming and provide opportunities for the next Wildcat generation!
---
Social Media
KAWSE can be found on our website, Facebook, Twitter and Instagram!