Email Applicant
SWITCH TO THE LEGACY INTERFACE
The Email function is currently only available in the legacy interface. If you signed in to the updated UI, switch to the legacy interface.
Click your initials (top right), select 'Return to Legacy UI'.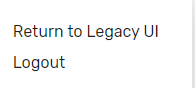 EMAIL APPLICANT
Use this process to email one applicant or multiple applicants.
1 - Select the Pool Folder
Select a pool folder (left side of view) to see a list of application records:

2 - Choose the Record
To Email one applicant:
Choose an application record from the list; double-click on the record to open the record:

To Email multiple applicants:
Click the checkbox for each applicant you wish to email, proceed to Step 3.

3 - Open the Email feature
Click the email icon.

4 - Select a Template or Type Email
If you have a an existing email template, choose it from the template option. The template must be type 'EMAIL_APPLICANT'.

Otherwise, type out/paste your email message. Be sure to complete the header information. You must enter a From: email address that ends with @ksu.edu. Enter a Label and Subject for the message.

5 - Preview / Send
Click Preview to see the finished email(s). Click Preview again to cancel the preview. When you are ready to send the message(s) click Send.
6 - Confirmation
A confirmation dialog will confirm that the message has been sent.