Assign Evaluators - Updated UI
SWITCH TO THE UPDATED INTERFACE
If you signed in to the legacy interface switch to the updated interface.
Click your username (top right), select 'Updated UI'.

ASSIGN EVALUATORS
1 - Select a Review Pool
Select a …Ready for Review pool folder.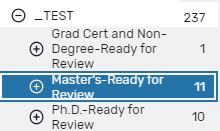 TIP: : Do not assign applications for review from the top pool folder, always use a ...Review folder.
2 - Select Applications to Assign
Select (using the check box) one or more applications listed in the review folder.



3 - Manage Evaluators
Choose Actions menu, select Manage Evaluators.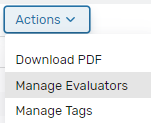 4 - Select Evaluators
Select one or more evaluators from your list. Click Assign.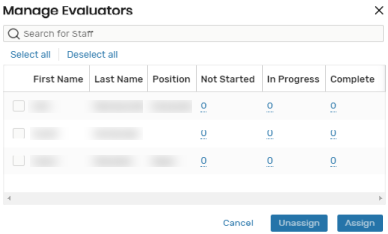 TIP: To unassign an evaluator, select the evaluators and choose Unassign.
5 - Review Action Message
A message will display the result of the assignment.


6 - Review Evaluation status
Review the Evaluation Status, Not Started, In Progress, and Complete columns.:


TIP: The status may change based on the user signed in (for example, if you are assigned to review an application, a red dot indicates this).
If your department has automatic assignments setup, you can still use this process to manually assign additional evaluators or change evaluators assigned to an application . The status columns will show numbers actively assigned. To change automatically assigned evaluators you will need to notify the graduate school.