Fleming Lab Personnel
Sherry Fleming
Professor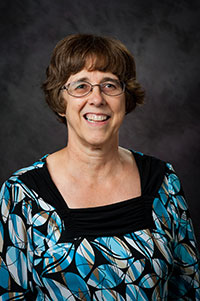 I received my BS and MS in Microbiology with an emphasis in Immunology from Kansas State University. I continued my education with a PhD from University of Colorado Health Sciences.
My thesis studies examined the ability of macrophages to kill Listeria monocytogenes in Dr. Proscilla Campbell's laboratory at National Jewish Medical Center in Denver, CO. I studied the effects of alcohol on the innate immune response in mice during a brief, initial post-doc. In a longer second post-doc, I established the mouse model of intestinal ischemia/reperfusion in Dr. George Tsokos' laboratory at the Walter Reed Army Institute for Research. In this model, we examined the role of complement and natural antibodies in tissue damage.
I joined the faculty in the Division of Biology in Fall 2004.
Email: sdflemin@ksu.edu (preferred)
Phone: 785-532-6130
Lab Members 2017

Jen Rowe
Technician

I'm from Junction City, KS and received my BS in Biology from Kansas State University. In the lab, I like to maintain cell lines, isolate DNA and my favorite is performing immunohistochemistry.

Haley Smalley
Undergraduate

I'm a junior in microbiology. I've been in the lab for three years because I just love research! My current project is looking at how Beta2 Glycoprotein I can affect tumor angiogenesis

Jaymond Kelly
Undergraduate

I'm Jaymond Kelly from Kansas City, MO and I am currently a Developing Scholar. My research focuses on melanoma tumors. The official title of my research is "Hypoxic tissues in Females."

Jonathan Ferm
Undergraduate

Hello, I am Jonathan Ferm from Independence, KS pursuing a Bachelor's degree in Biology. I am working on the molecular aspects of sex differences in intestinal ischemia reperfusion and assisting with other experiments within the lab. My plans for the future are not clear cut, but I do plan to pursue graduate school and a career in biological research and teaching.