News from the Department of Economics
Specialized Tracks Approach to the Economics Major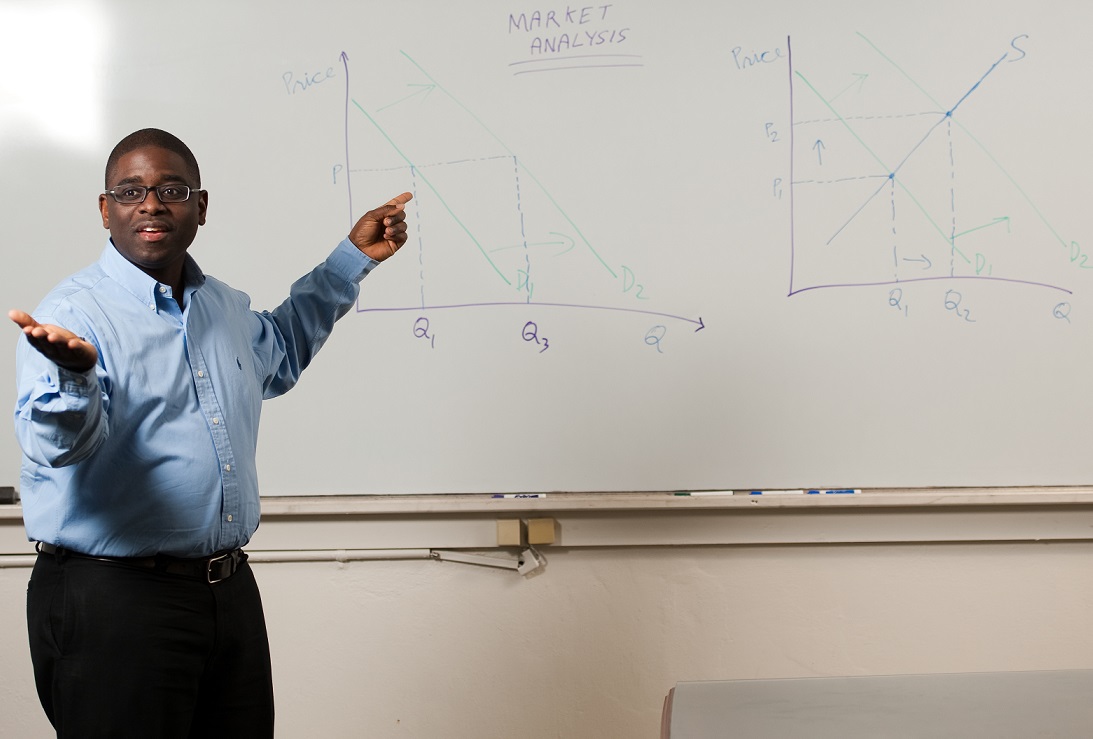 The breadth of economics as a discipline accommodates a wide variety of interests. The diversity of course options is optimal for some students while others prefer a more focused set of courses. To facilitate these different needs, the department now offers both a general degree option and four different specialized tracks.
The economic analyst track is designed for students who are drawn to economics by its formal modeling of economic activity and abundant analytical tools. This track provides ample opportunity to develop technical expertise. Students will be prepared for technical and analytical positions in the public or private sectors. For example, the track is ideal for students wishing to be a policy analyst or economist analyzing economic data for a consulting firm, private sector employer, or government agency. Upon completion, students will be able to apply the more advanced empirical methods used in the field. This track will also prepare students for higher-level graduate study in economics or related fields.
Policy analysis is an excellent way to learn and apply economics. An understanding of the nexus between policy and economic outcomes requires a balance of technical tools and ground-level knowledge of economic institutions. The economic policy track strikes this balance with training over a range of policy issues and enough technical training to take a deep dive into the data relevant to the particular issues. Students can study public policy related to the macro economy, labor markets, business, international trade, and public finance. This track will be ideal for students who seek a law school degree, employment in a less technical policy position or a graduate degree in public policy. It is also a good option for those who want a general background in economics. The critical thinking skills developed will be broadly applicable as graduates build careers in the private or public sectors.
Most economics majors enter the business world upon graduation. The economic way of thinking and tools of the trade can prove valuable in any business setting. A basic understanding of more purely business related topics is a useful complement to a graduate's economics background when embarking on a business career. The business economics track is focused on preparing students with the economics most relevant for success in the business world. It combines a thorough treatment of economics for real-world applications with a general background in business. For double majors, this track overlaps well with a business degree and focuses on providing a rich combination of business and economic skills. It is also an excellent preparation for those considering an eventual MBA degree.
Finance and economics are a natural match. For many students, it is a curiosity about the stock market and other financial markets that sparks an initial interest in studying economics. An understanding of the economic forces driving fluctuations in stock prices, interest rates, and exchange rates gives an important advantage to anyone employed in the financial services sector. It is not surprising, then, that a good share of economics majors from K-State are employed in the finance industry. The financial economics track is designed for those who wish to enter the finance industry with an economics background. Students choosing this track will be prepared for advanced work in the industry. The track provides a deep knowledge of financial markets and the mechanisms that move them. It also provides students with analytical tools for work in the field.
For students who wish to build their own area of emphasis, the general economics degree is built for flexibility. Students can take courses from any of the tracks. This option is particularly useful for students who are working toward a double major or earning a minor in a different field. It also works well for student who come to economics a bit later in their studies.
Graduate Student Scholarship Honors Dr. Lloyd Thomas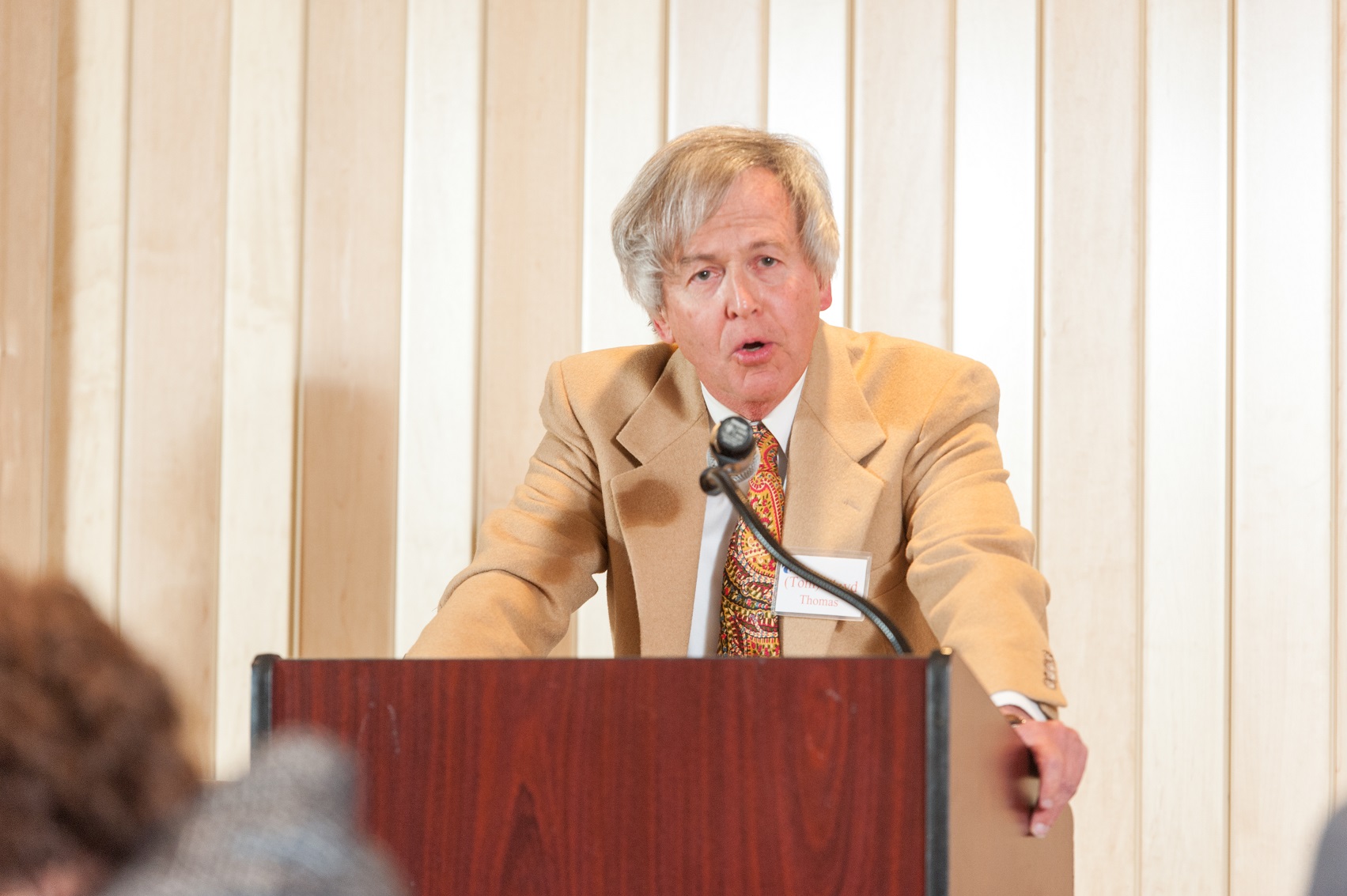 We are pleased to announce that Jim and Kathy Haymaker have endowed a second graduate student scholarship in the Department of Economics. In 2015, the department announced that the Haymakers have endowed a graduate student scholarship to honor Dr. Wayne Nafziger. This second scholarship has been established in honor of Dr. Lloyd Thomas and his wife Sally. The graduate scholarships are part of a joint effort with the Department of Economics Advisory Council to raise funds for five graduate scholarships endowed at $100,000 each.
These scholarships are designed to make the department competitive for exceptional talent. Graduate students are important contributors to our teaching and research missions. Graduate students teach more than 1,500 undergraduate students annually and contribute to the intellectual energy and research productivity of the of the department. For this reason, a strong graduate program is a central component of our ambitious K-State 2025 goals. With these gifts, the Haymakers have demonstrated exceptional support of this goal.
We are particularly pleased that the new scholarship recognizes Sally and Dr. Lloyd (Tom) Thomas. Dr. Thomas retired in 2015 after serving the department for 47 years. He earned B.A. and M.A. degrees in economics from the University of Missouri in 1963 and 1964 and a Ph.D. in economics from Northwestern University in 1970. He was promoted to full professor in 1983. Tom has served the KSU economics department in numerous roles, including chair of the faculty recruiting committee over most of the period from 1976 to 1996. He served as department head from 2004 to 2009. In this time he initiated the departmental newsletter, annual awards banquet, and the active recruiting of talented principles of economics students to major in economics. He also initiated the drive to endow the first departmental chair, the Trenary Chair in Economics. In addition, by soliciting contributions from graduate students and colleagues of former KSU Professors Ed Bagley and John Nordin, Thomas was instrumental in the endowment of the Bagley Award and Nordin Award, given annually to outstanding KSU graduate students in economics.
Tom has made numerous teaching and scholarly contributions to the economics department. He has served as major professor for more than 25 Ph.D. and M.A. students and published in numerous peer-refereed journals. His research interests have been principally in applied macroeconomics and financial market phenomena. Tom authored textbooks in money and banking and principles of economics in multiple editions with such publishers as Prentice-Hall, McGraw-Hill, HBJ, and Dryden Press. He published the second edition of his well-received book on the recent financial crisis with Palgrave-Macmillan in 2013. Tom's contribution to the teaching mission has been significant. Regularly teaching the large principles of macroeconomics and money and banking classes at KSU, Tom reckons he has taught more than 10,000 students over his long career. Throughout, his teaching has been characterized by exemplary effort and outcomes. He was recipient of the College of Arts and Sciences Stamey Teaching Award in 1990, 1991, 1994, and 2001, and has been elected to "Who's Who Among America's Teachers." Lloyd also gained teaching experience at Northwestern, Florida State University, University of California-Berkeley, University of Delaware, Indiana University, and Adelaide University in Australia.
Department Welcomes Ross Milton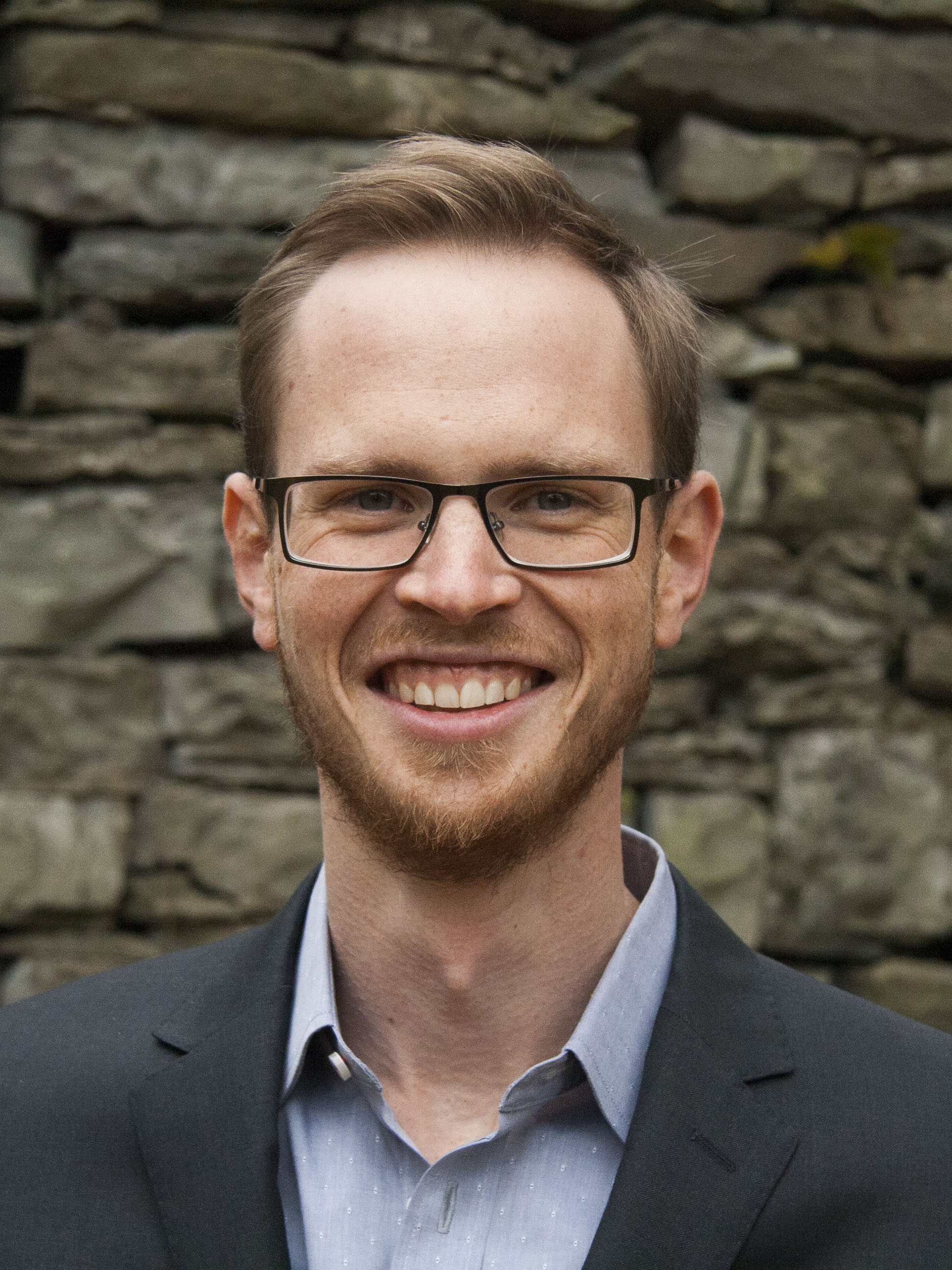 We are pleased to welcome Ross Milton as a new assistant professor in the department. Ross received his Ph.D. from Cornell University. His research interests are in public finance, the economics of education, and political economy. Ross' research has focused on whether local school taxes crowd out private, voluntary contributions to public education. He is also researching the extent to which school expenditures influence housing prices and the optimal design of fiscal limits.
Economics Club Activity 2015-2016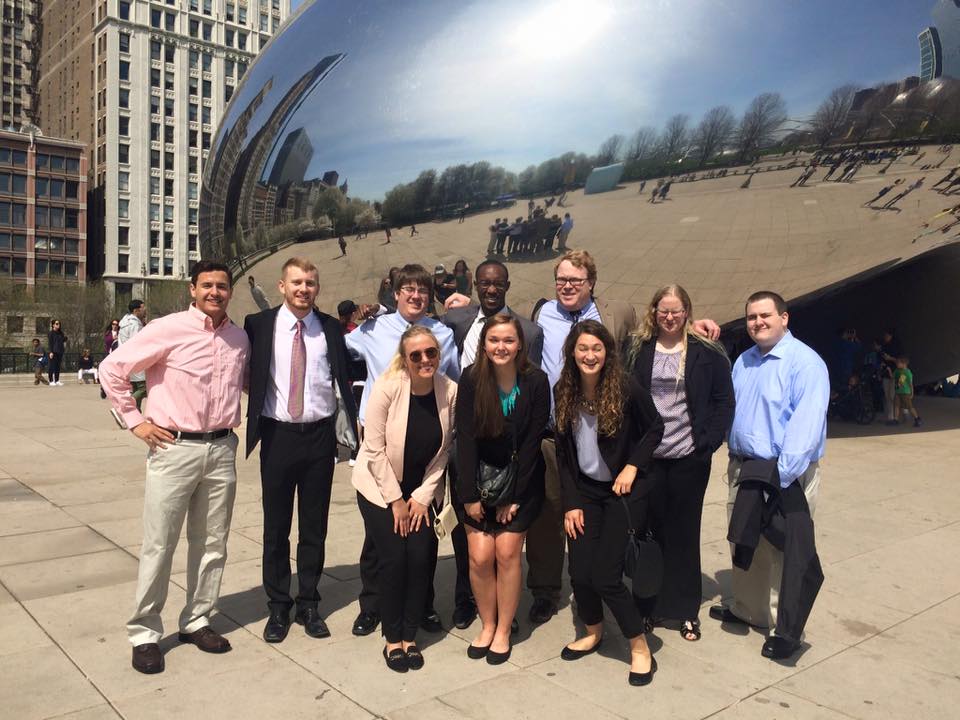 The Economics Club had a busy academic year, highlighted by a field trip to Chicago. John Nelson, President of Applied Research Corporation, helped arrange the trip by setting up meetings with successful business leaders. This included meetings with leaders at Epsilon Economics, Datascope, and Trading Chicago. There was also time to explore the city including Navy Pier, the Chicago Fed, and several museums.
The centerpiece of the speaker series was the annual economics club debate underwritten by the Fred and Mary Koch Foundation. This year the debate featured David Neumark from the University of California-Irvine and Michael Reich from the University of California-Berkeley in a discussion of the minimum wage.
It is always fun when alumni are part of the speaker series. This year featured alumnus R. Lee Harris, President of Cohen-Esrey Real Estate Services who gave an exciting talk on "Dynamic Decision Making in Apartment Investing." Also featured was alumnus Katie Gustafson from the global trade practice at Ernst and Young speaking on "A Primer in International Trade and Customs."
The club hosted several talks about career opportunities. Alumnus Gavin Koester and his colleague Kendall Clawson gave a presentation on job and internship possibilities at Koch Industries and Ryan Clark, Assistant Vice President of State Street Global Services, spoke about career opportunities at State Street. Rounding out the speaker series were talks by Andrew Maness of Pit Rho Consulting speaking on multimedia rights fees in sports and a talk by Don Boudreaux of George Mason University entitled "Is America's Middle Class Stagnating?"
These events were interwoven with regular meetings and plenty of social events. Faculty Advisor Dan Kuester was pleased with the variety of activities. "We had a really great year with the club. I felt we did a great job of balancing the desire to hear about current economic events and provide our students with meaningful networking opportunities. Also I know that speakers such as Andrew, Ryan and Katie have stayed in touch with some of our students and provided them with some career advice."
"We had a great set of speakers this year" said Shawna Smith, President of the Economics Club. "I really enjoyed hearing from Katie, it is really valuable to see how successful one of the recent graduates of our department has been. Gavin provided us with a similar type of inspiration. We really were able to find a diverse group of speakers with many different interests. I know the Chicago trip was great also from talking with several students who attended."