News from the department of economics
Dr. Lloyd (Tom) Thomas retiring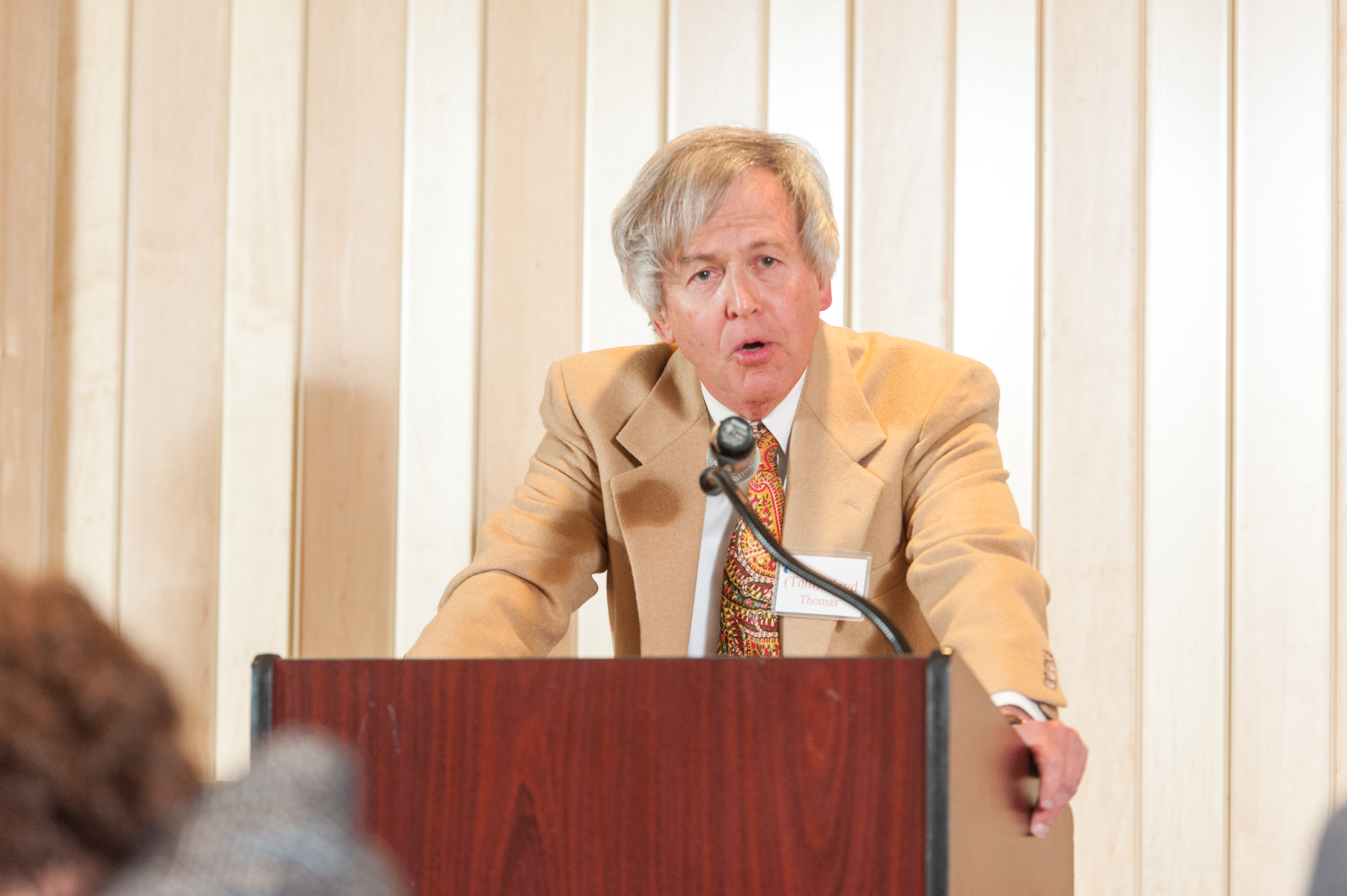 At the end of this semester, Dr. Lloyd (Tom) Thomas is retiring. Tom has been an important part of the department for 47 years. He earned B.A. and M.A. degrees in economics from the University of Missouri in 1963 and 1964 and a Ph.D. in economics from Northwestern University in 1970. He was promoted to full professor in 1983.

Tom has served the KSU economics department in numerous roles, including chair of the faculty recruiting committee over most of the period from 1976 to 1996. He served as department head from 2004 to 2009. In this period he initiated the departmental newsletter, annual awards banquet, and the active recruiting of talented principles of economics students to major in economics. He also initiated the drive to endow the first departmental chair, the Trenary Chair in Economics. In addition, by soliciting contributions from graduate students and colleagues of former KSU Professors Ed Bagley and John Nordin, Thomas was instrumental in the endowment of the Bagley Award and Nordin Award, given annually to outstanding KSU graduate students in economics.

Tom has made numerous teaching and scholarly contributions to the economics department. He has served as major professor for more than 25 Ph.D. and M.A. students and published in numerous peer-refereed journals. His research interests have been principally in applied macroeconomics and financial market phenomena. Tom authored textbooks in money and banking and principles of economics in multiple editions with such publishers as Prentice-Hall, McGraw-Hill, HBJ, and Dryden Press. He published the second edition of his well-received book on the recent financial crisis with Palgrave-Macmillan in 2013.

Tom's contribution to the teaching mission has been significant. Regularly teaching the large principles of macroeconomics and money and banking classes at KSU, Tom reckons he has taught more than 10,000 students over his long career. Throughout, his teaching has been characterized by exemplary effort and outcomes. He was recipient of the College of Arts and Sciences Stamey Teaching Award in 1990, 1991, 1994, and 2001, and has been elected to "Who's Who Among America's Teachers." Lloyd also gained teaching experience at Northwestern, Florida State University, University of California-Berkeley, University of Delaware, Indiana University, and Adelaide University in Australia.

Congratulations to Tom on all of his successes at K-State!
From the Linkedin group: New econometrics course to be offered this semester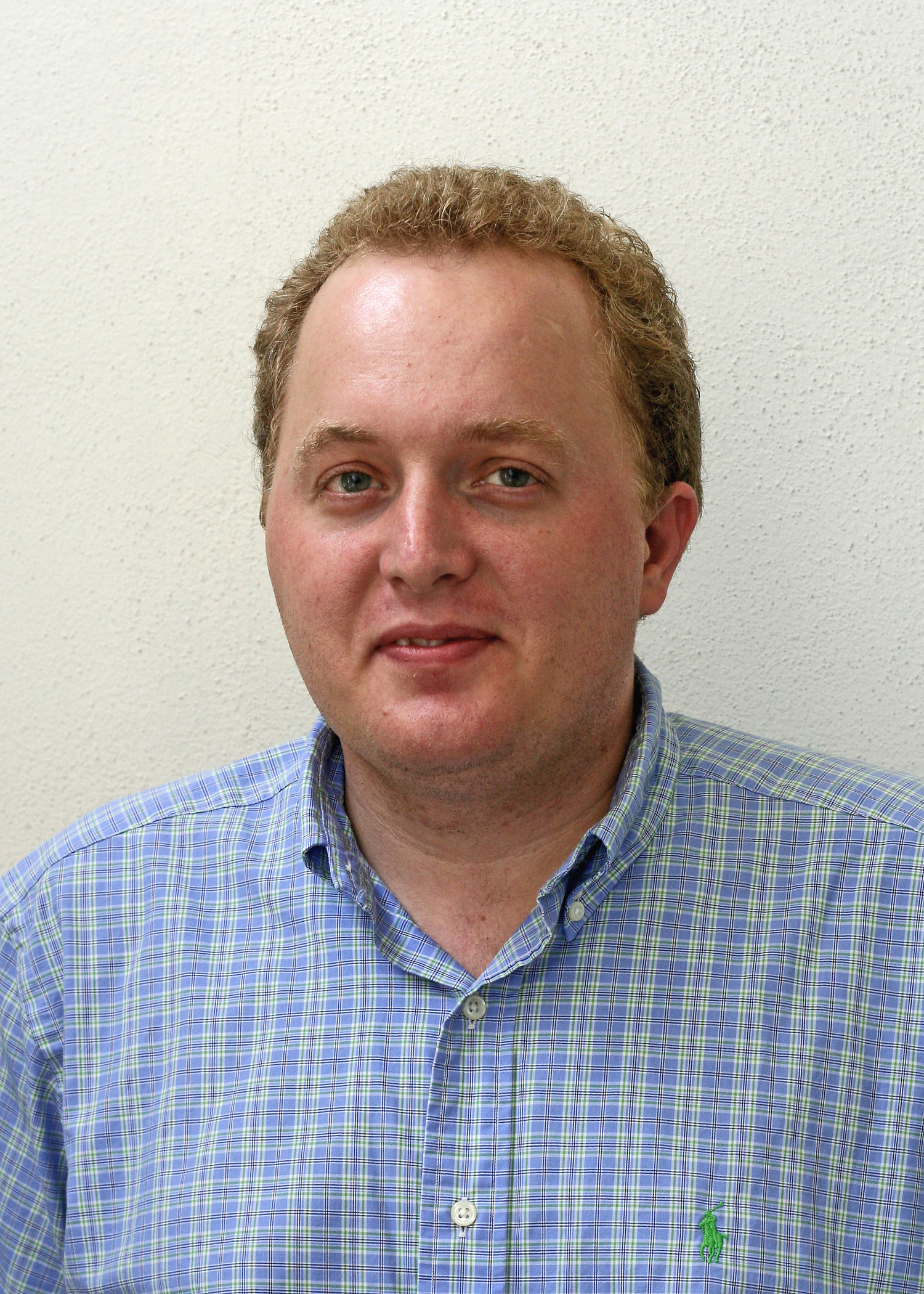 Lance Bachmeier: I will be teaching a new course this semester, ECON 686: Economic Forecasting. As you would expect from the name of the course, I will be covering methods that are commonly used by economists to make forecasts, but I plan to do a lot more than that. I'm going to draw on my related experience in the areas of tax revenue forecasting, sales forecasting, and Federal Reserve forecasting. In particular, I am a member of the Consensus Revenue Estimating Group for the state of Kansas, and I plan to walk them through the process that we use to arrive at a forecast of tax revenues. Our next set of forecasts will be released in mid-April, so students will get to see how the process works in real time.
I hope students walk out of my class with some new skills. One is the ability to present their work to others. Whether they are reporting their findings to management, to coworkers, or to the public, they have to decide which of their results are important, and then they have to explain them clearly and concisely. Another skill is the ability to use a computer to clean and analyze a large dataset. R is a statistical package that is rapidly becoming popular with corporations, startups, and government agencies, and online job postings indicate that it is one of the most sought after skills. The students will be very comfortable with R when they leave my class.
As an aside, I will be using two textbooks that are (legally) freely available on the internet. They are "Forecasting: principles and practice" by Rob Hyndman and George Athanasopoulos and "Elements of Forecasting" by Frank Diebold. I'm happy to see the growing trend in the direction of open textbooks, and I was excited to find that the two best available textbooks on forecasting come with open licenses.
This class is being offered as part of the department's new distinction option. As part of this, students will complete a three course sequence of Introduction to Econometrics, Economic Forecasting, and a research methods course methods course being developed by Tracy Turner. This course sequence is one part of the improvements we will be making to the undergraduate program as we pursue our K-State 2025 goals. Ideally, it will make our students competitive for the best data analyst jobs.
New graduate student scholarship honors Dr. Wayne Nafziger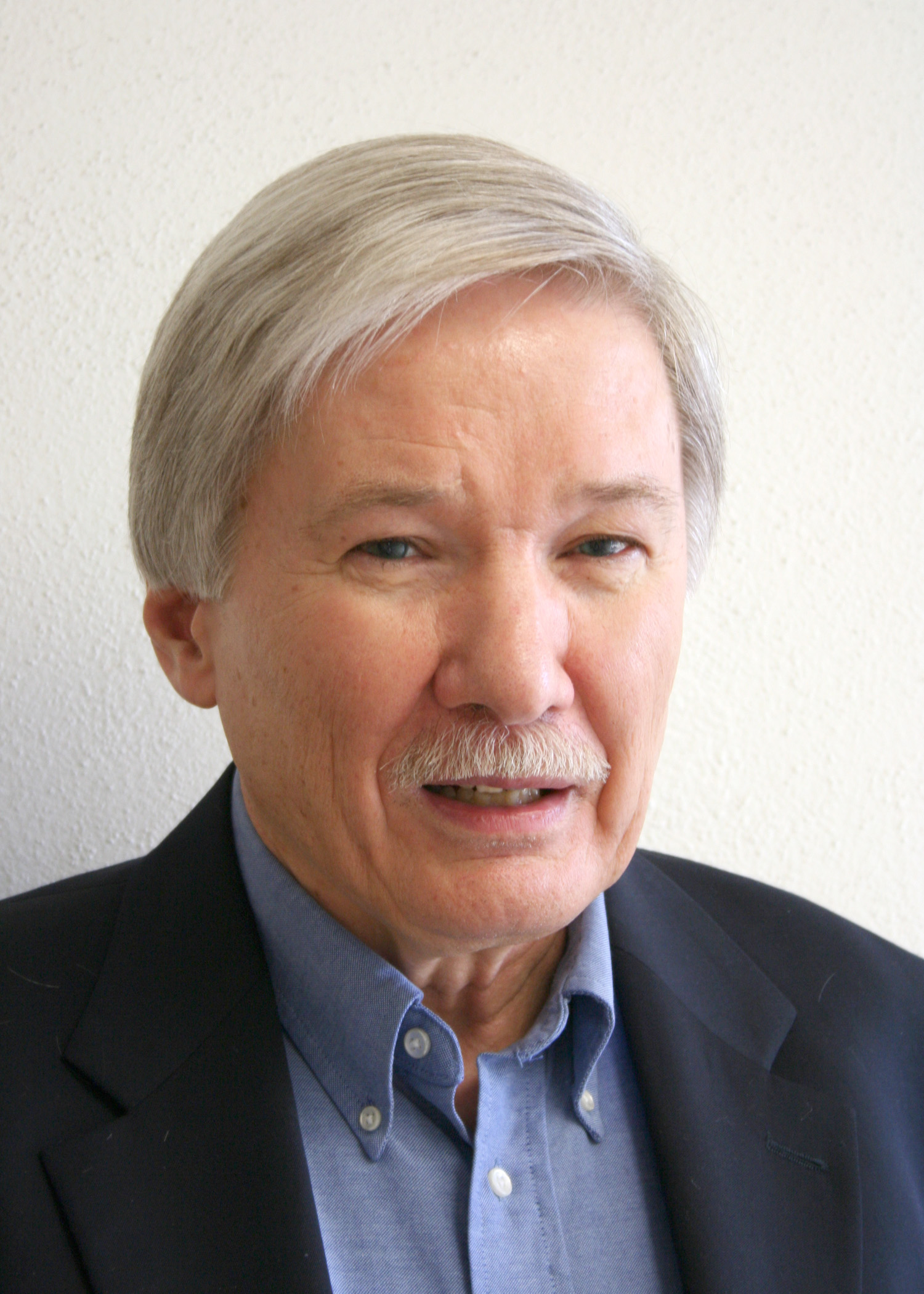 K-State alumnus Jim Haymaker has generously endowed a graduate student scholarship in the Department of Economics. With this gift, the department is on its way to achieving its goal of increased support for graduate students. "Graduate students bring to the program exceptional enthusiasm and talent that cannot be matched in any other way," said Bill Blankenau, K-State economics department head. "Economics graduate students participate fully in the mission of the department. They contribute greatly to the department while they are here and have a global reach throughout their careers. Our graduate students teach more than 1,500 undergraduate students annually and contribute to the intellectual energy of the department. We are very grateful for this gift which will allow us to recruit and support excellent graduate students."
The scholarship will have the namesake of one the department's internationally distinguished professors, Dr. Wayne Nafizger (pictured above). "Wayne was one of the professors who really positively influenced my K-State experience," Haymaker said. "He gave me the special attention that K-State is known for and he helped to set me on a path to success. With this scholarship we will be able to bring the best and brightest to K-State to study economics." Blankenau added, "Wayne is a testament to the importance of what we do. To see Jim make this generous donation in Wayne's name shows the impact that higher education can have in our lives."
Nafziger is a University Distinguished Professor emeritus. He is the author or coauthor of more than 15 books, including a widely-known economics textbook and has published in prominent journals. In his nearly 50 years at K-State, he has travelled the world as a researcher and teacher. This includes time as a Fulbright Professor in India and a United Nations University Research Fellow in Oxford and Helsinki.
The new graduate scholarship is part of a joint effort with the alumni council to provide scholarships for students. With generous support from alumni and friends, great strides have been made in providing undergraduate scholarships. The department has gone from four annual scholarships to 23 in the past few years and several new scholarships will be given out next year. With this excellent momentum toward its goal of 35 undergraduate scholarships, the department and council are now additionally focusing on graduate scholarships. Attracting the best graduate students is an integral part of the department' ambitious K-State 2025 goals. With scholarship support for graduate students, the department will be able to offer funding at levels making it more competitive for exceptional talent. The new goal is to have five graduate scholarships endowed at $100,000 each. With the first already established, these efforts will have an immediate impact as the department recruits graduate students for the fall semester.
Distinguished economics grad gives back to K-State, credits university as 'core' of success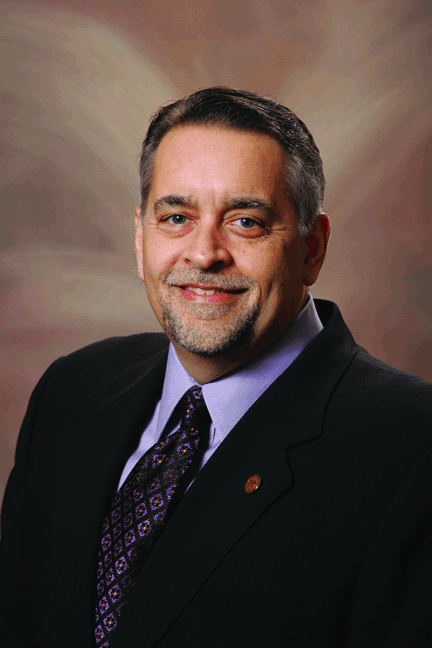 By Sheila Ellis-Glasper

Duane Cantrell, a 1978 K-State economics graduate, has an impressive business track record and credits his undergraduate experience at Kansas State University as the "foundation" of his career. "It is somewhat cliché that K-State grads exemplify a 'strong work ethic', but it is cliché because it is true," Cantrell said. "I believe that one of the consistent values demonstrated and deeply ingrained in most K State grads is that work ethic and drive to do well and succeed."

Cantrell's extensive background in growing companies in tough competitive environments led him to his current role as the Kansas Bioscience Authority president and CEO. Before his role with KBA, he was a managing partner of Genus Consulting where he counseled clients on optimal performance whether they be equity fund managers in the retail sector, organizations undergoing transformational change or businesses looking to align culture, strategy and structure.

"While my career experiences and responsibilities have ranged widely across multiple disciplines and industries, at the core is my experience and education at K-State," Cantrell said. "It is the foundation that has allowed me to have the confidence to take on new challenges, experience success and be able to give back to the University and State of Kansas." Previously, and for more than 25 years, Duane worked at Payless Shoe Source, Inc., where he worked his way up to president and director, guiding a $185 million regional footwear retailer with 575 stores to an international footwear company with revenues of $3 billion with operations in more than 10 countries. Cantrell previously served as chair of the KSU Foundation Board of Trustees, co-chaired a $500-million KSU campaign for scholarships, faculty enhancement and learning environment and served as board chair of the KSU College of Business Administration. In 2003, he was named a College of Business Administration Distinguished Alumni Fellow. Cantrell and his wife Leslee, have contributed generously to the K-State economics department.

"Duane and Leslee's generosity will have a lasting impact on individual students and on the department. These scholarships have significance well beyond the essential financial assistance," said Bill Blankenau, K-State economics department head. "They will help students stay focused on their studies and provide recognition of their achievements." "The leadership of distinguished alumni like Duane is critical as we pursue the ambitious goals laid out in the department's K-State 2025 strategy. A key component is improved financial assistance to our undergraduate and graduate students."

"It is gratifying to see alumni reflect on their time at K-State and see investment in the department as an important way to help the next generation of students build the 'foundation' for an exciting career."

Cantrell says scholarships have always been important, but with the cost of education today, he is concerned that bright and capable young people would choose not to pursue higher education purely for reasons of cost. "If we can provide some level of scholarship that can lessen that financial burden, then the value is multiplied in the lives of those students and in the marketplace," he said.

"Leslee and I have always felt that we have lived a blessed life and have a sense of obligation and duty to try and give back wherever we can. The education that I received at Kansas State University was the foundation for a wonderful career and we want to make sure that other young people have the same opportunities that we have enjoyed and if in some small way the scholarships can enable those students to realize their potential then we will have made some contribution to that end," Cantrell said.
Economics student receives Truman Scholarship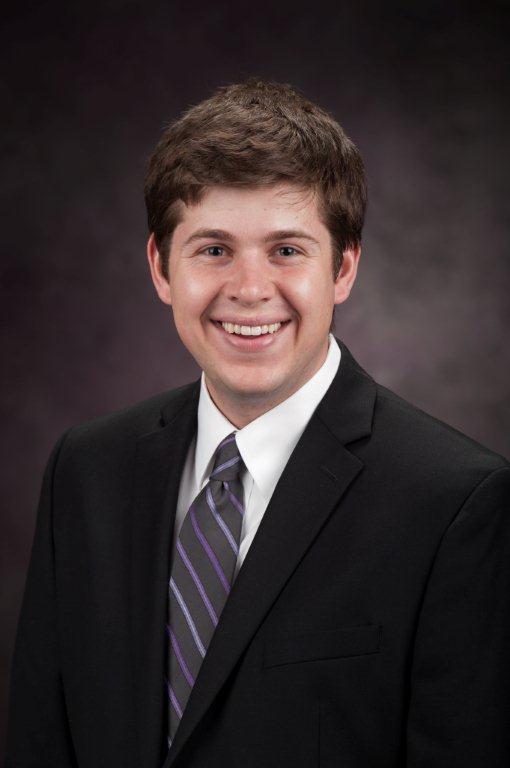 The Department of Economics is proud to announce that one of its students has received the Harry S. Truman Scholarship, which is one of the most prestigious academic awards in the country. Ross Allen, junior in economics and philosophy minoring in nonprofit leadership, received the scholarship this past spring. The Truman Scholarship is a nationally competitive award that provides as much as $30,000 for graduate study to students committed to future careers in public service. Allen, who is from Soldier, Kansas, intends to make a positive impact on the world through continued study in the field of nonprofit leadership, public policy, and ministry.
Nonprofits have the unique opportunity to go beyond merely transactional servant leadership, where an exchange of goods happens from people with resources to people in need, and engage in transformational servant leadership — where both those offering and those receiving resources collaborate and experience meaningful personal development," Allen said. Aside from being a Truman Scholar, Allen is heavily involved on campus in organizations like Student Governing Association, Student Alumni Board, Nonprofit Leadership Student Alliance, and many others. Since the establishment of the Truman Foundation in 1977, 34 Kansas State University students have been awarded the Truman scholarship, ranking the university first among all public state-supported universities for the number of Truman scholars in the nation.
Student from Lenexa named 2014 Cargill Global Scholar
Sierra Lake has been selected as a Cargill Scholar for the 2014 academic year. Sierra Lake, Lenexa, is majoring in economics and political science as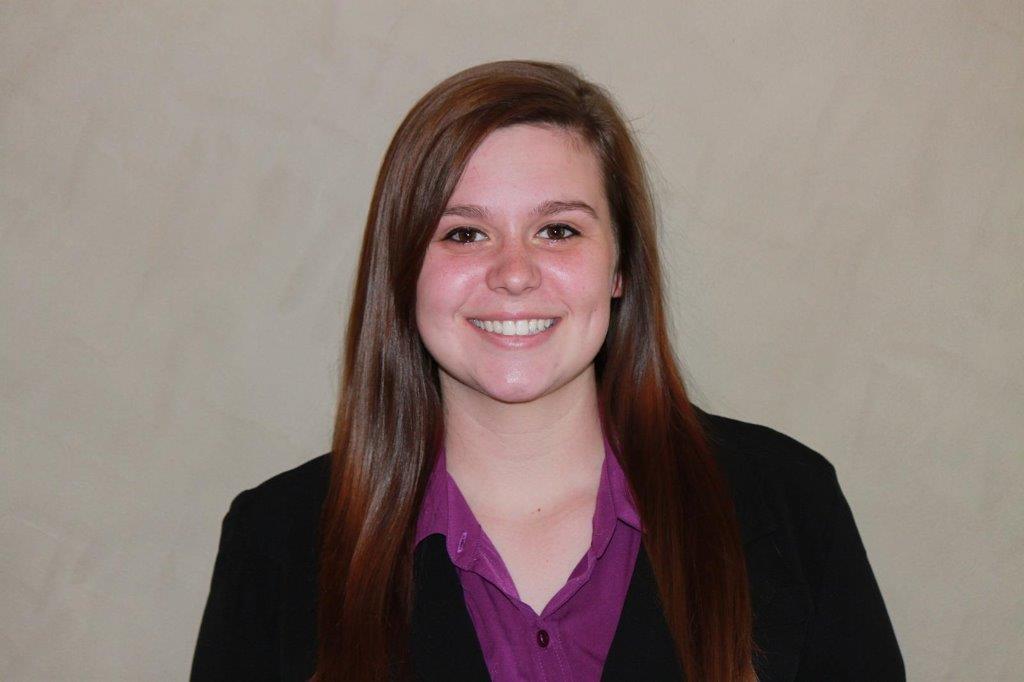 well as pursuing a secondary major in international relations.
She is one of two Kansas State University students selected for the honor this year. Since the program began in 2013, the university has had four recipients of the prestigious honor. Only 10 students in the U.S. are selected for the scholarship each year. More than 250 students applied for the scholarship this year.
Cargill Global Scholars are high performing first- or second-year university students, studying in a field that relates to Cargill's business goals of providing innovative solutions to meeting today's economic, environmental and social challenges. The program is designed to equip students with the tools necessary to become global leaders and decision-makers.
As a scholar, Lekie will have the opportunity to develop leadership competencies through training modules; receive mentoring and coaching by Cargill employees; and get learning and networking opportunities with Cargill businesses. Scholars are eligible to receive an annual scholarship award for up to three years to help offset any academic-related expenses.
"I am honored to have been selected as a Cargill Global Scholar," Lekie said. "It's amazing to see a group of students from different backgrounds and disciplines come together to work on developing skills to be effective future leaders. The individuals at Cargill and the Institute of International Education have provided us with a unique opportunity to learn and develop these leadership skills. I cannot wait to continue this learning and development in the future with this program."
At Kansas State University, Lekie has been active with the Student Alumni Board, Model United Nations and the Economics Club. She is a member of Silver Key, the sophomore honorary, and also served as a member of Quest, the freshman honorary. Lekie is a 2013 graduate of Shawnee Mission West High School.
The Cargill Global Scholars program awards scholarships to students in China, Brazil, India and Russia in addition to the United States.
Dr. Wayne Nafziger Retiring after 48 Years of Dedicated Service
Dr. Wayne Nafziger is retiring this summer after 48 years of dedicated service to the Department of Economics. Wayne earned his undergraduate degree from Goshen College in Indiana, where he majored in mathematics and social science. After teaching high school in Ligonier, Indiana during 1960-61, Wayne went on to earn a master's degree from the University of Michigan in 1962 and a Ph.D. in 1966 from the University of Illinois. He joined the KSU faculty the same year.
Over the years, Wayne has compiled a remarkable academic record. He has authored or co-authored more than 15 books, including those published by such prestigious outlets as John's Hopkins University Press, Oxford University Press, and the Hoover Institution at Stanford University. His textbook, Development Economics, has been published in five editions, most recently with Cambridge University Press. Wayne has authored more than 30 journal articles, including publications in several of the top journals in the field of economic development. In 2008, he was named editor of the Journal of African Development.
Wayne has received many honors over the years for his academic work. Among the foremost of these honors are his selection as a University Distinguished Professor in 1999 and a Higuchi Endowment Research Award in 2006, an award given annually to one distinguished faculty member in the state of Kansas. Only approximately 20 KSU faculty members have received this award over the years. Wayne has served as a visiting scholar at eight universities and institutions including appointments as a Fulbright Professor to Andhra University in India from 1970 to 1971 and a United Nations University World Institute for Development Economics Research Fellow in ​Oxford and Helsinki from 1996 to 1998.
Wayne is a well-known figure on the KSU campus, having served on many university-wide committees, and as president of the KSU Faculty Senate. His name is well known to students who attended the KSU graduate program in economics over the past half century. He has served as major professor for more than 20 Ph.D. students over the years, as well as supervising numerous master's theses and reports. In his free time, Wayne has been a long-time supporter of KSU basketball, seldom missing a home game in the past 48 years.
Congratulations to Wayne on such a distinguished career!
Joe Tiao Lecture on Economic Issues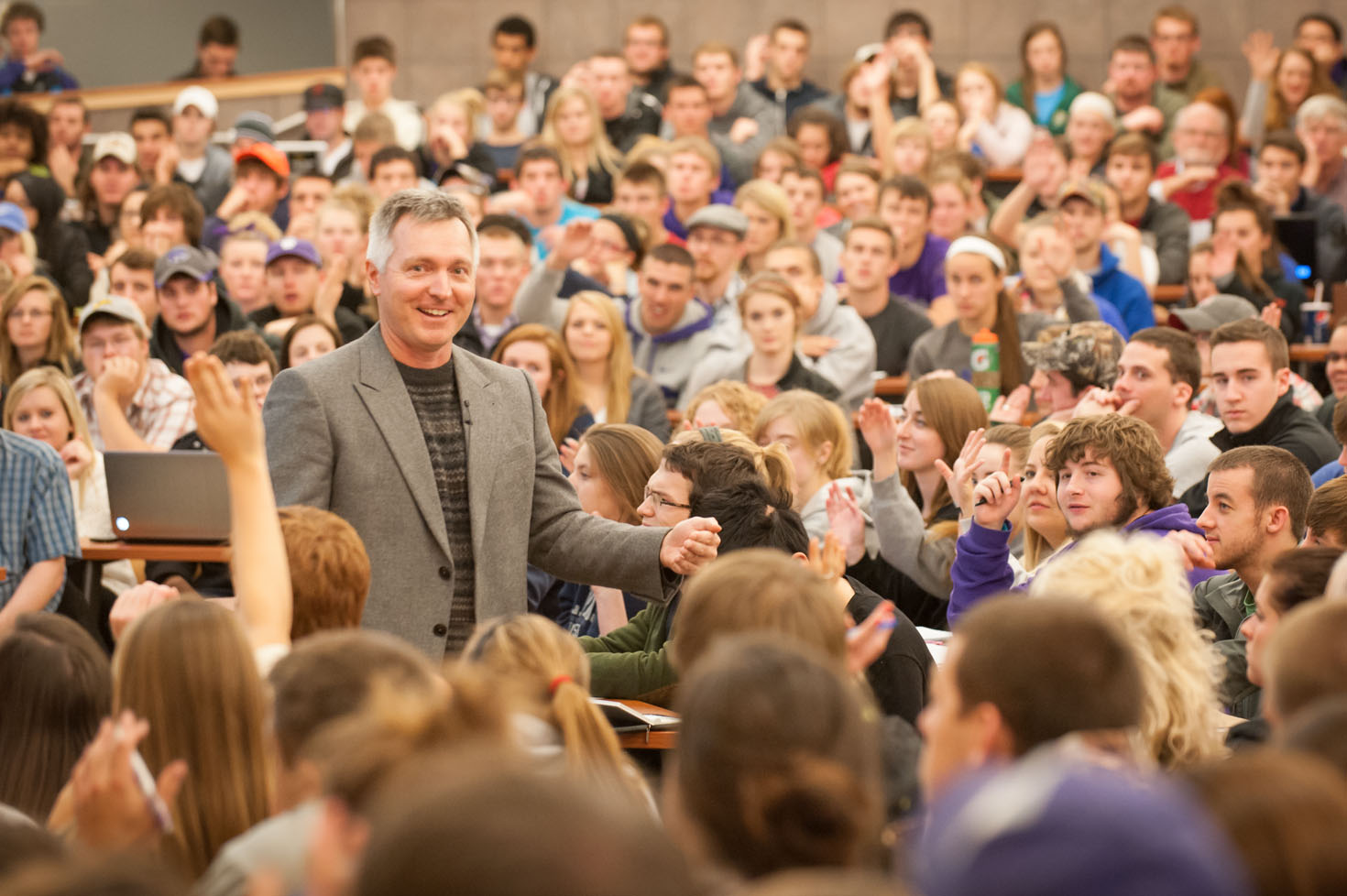 Professor JohnList from the University of Chicago gave this year's Joe Tiao Lecture on Economic Issues on November 14th to a packed house of more than 400 students, faculty, and community members. The title of his talk was "The Why Axis: Hidden Motives and the Undiscovered Economics of Everyday Life." He also gave a talk to the department on how field experiments can be used to understand the economics of crime.
Dr. List is a pioneer in using field experiments to get deep insights into human behavior. He has found innovative and intriguing ways to use field experiment to test economic theory, move it forward, and keep in solidly grounded in observed behavior. His talk centered around three intriguing questions from his recent book:
How can we shrink the racial achievement gap in one minute?

What seven words can end third degree price discrimination?

Why do women get paid less than men in labor markets?
In each case Dr. List described how field experiments can lead to important insights on pressing economic questions.
Dr. List currently serves as the Homer J. Livingston Professor in Economics and Chair of the Department of Economics at the University of Chicago. He also holds a position as a National Bureau of Economic Research Associate and has previously served as a Senior Economist on the President's Council of Economic Advisers (2002-2004).
Fulbright award fund's student's research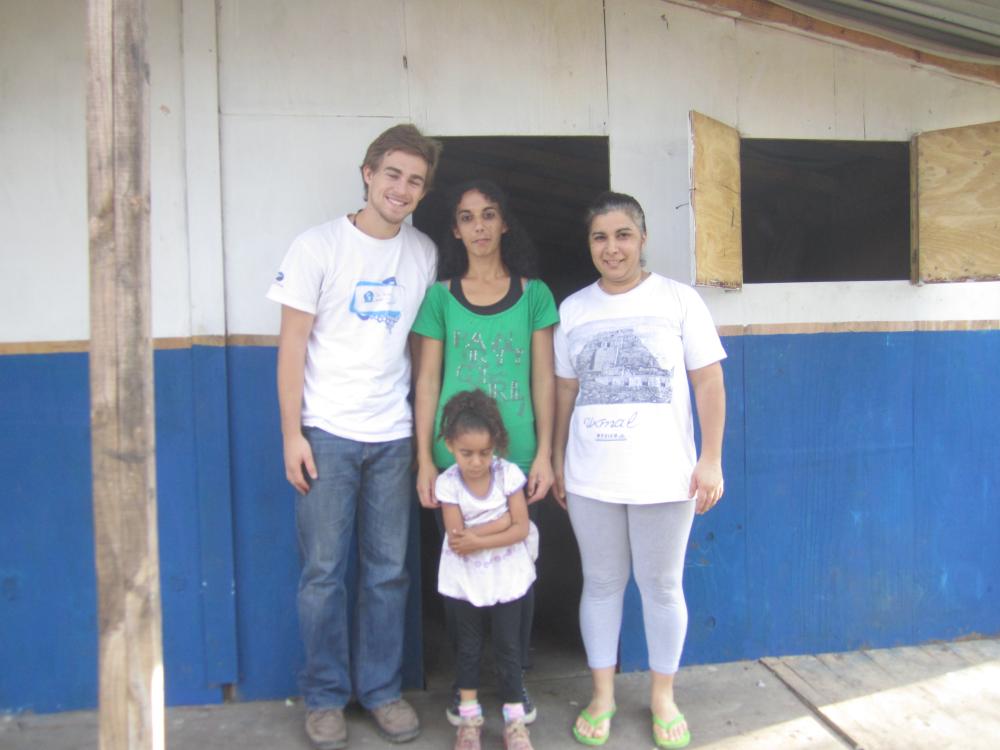 Sam Kenney has received a prestigious Fulbright award to fund his continued research on microfinance. Sam earned his undergraduate degree in economics from K-State in May, 2103, and is now working on his M.A. degree in economics in our department. His research on microfinance began during his study abroad experience as an undergraduate student.
Sam has always been interested in studying internationally. The K-State Study Abroad program provided him with information, support and opportunities that made it possible. Sam chose to study abroad in Montevideo, Uruguay. "Uruguay has an excellent university system, is one of the most developed South American countries and is a great place live and study. I took courses in Economics, Spanish and International Studies at the Universidad Catolica for two semesters. In addition to my studies, I volunteered with an NGO in their microfinance program. " This volunteer effort provided Sam with interesting opportunities. The program lends small sums of money to groups of micro entrepreneurs in the marginalized neighborhoods of Montevideo. With the small upstart capital provided by the NGO, the entrepreneurs and the volunteers work to grow micro businesses and increase community involvement and development.
Sam's experiences with microfinance in Uruguay provided the basis for his senior research paper in international studies. "With the help and support of Dr. Kuester and the undergraduate Economics Club this paper was presented at the Undergraduate Research Forum at the Dallas Federal Reserve Bank. In addition, I participated in a poster presentation of the research at the Undergraduate Research Day at the State Capitol under the supervision of Dr. Dandaneau."
Sam states, "These wonderful study abroad and academic undergraduate opportunities coupled with faculty support placed me in a position to compete for a Fulbright award. I applied for the award during my senior year at K-State and with much help from Dr. Hohenbary, who was instrumental in guiding me through the process, I was privileged to be offered the opportunity work as a teaching assistant at a University in Brazil and expand on my microfinance research." Beginning next semester, Sam will be in Brazil for a year and then will return to complete his M.A. degree.
Department offering new introductory seminar in economics
The Department of Economics offered a Sophomore/Junior Introductory Seminar in Economics for the first time during the spring 2013 semester. This was a tremendous success. This course provides an introduction to the discipline of economics while allowing students to improve their writing and public speaking skills.

Dr. Kuester teaches this course. Topics are diverse. Dr. Kuester presented a talk to the class on sports economics and the NCAA. Students heard from Dr. Li as he provided an introduction to econometrics, and Dr. Belley provided an overview of his research in labor economics. Dr. Kara Ross from the agricultural economics department presented her research on behavioral economics and heuristics. The students attended the Joe Tiao Lecture presented by Dr. Christina Romer and were fortunate to hear from alumnus Jim Haymaker about his exciting career as a corporate leader at Cargill.

Students are required to write reflection papers about the outside speakers who present to the class and they also make a class presentation over a topic in Daniel Hammermesh's "Economics is Everywhere" book. These presentations have led to meaningful discussions about basic economic concepts such as sunk costs and externalities.

This course also introduces students to the resources available to them at Kansas State. Each semester students hear from career and employment services, the office of student life, the study abroad program, and the economics librarian at Hale Library. They also have presenters from groups such as Cargill and Powercat Financial to inform them about employment and internship opportunities. Each semester students will visit with graduating seniors who will provide them with advice to aid them in their future academic career.

The students who participate in this optional course will be better prepared for the more rigorous senior seminar class they must complete before graduation.