Specialized Tracks Approach to the Economics Major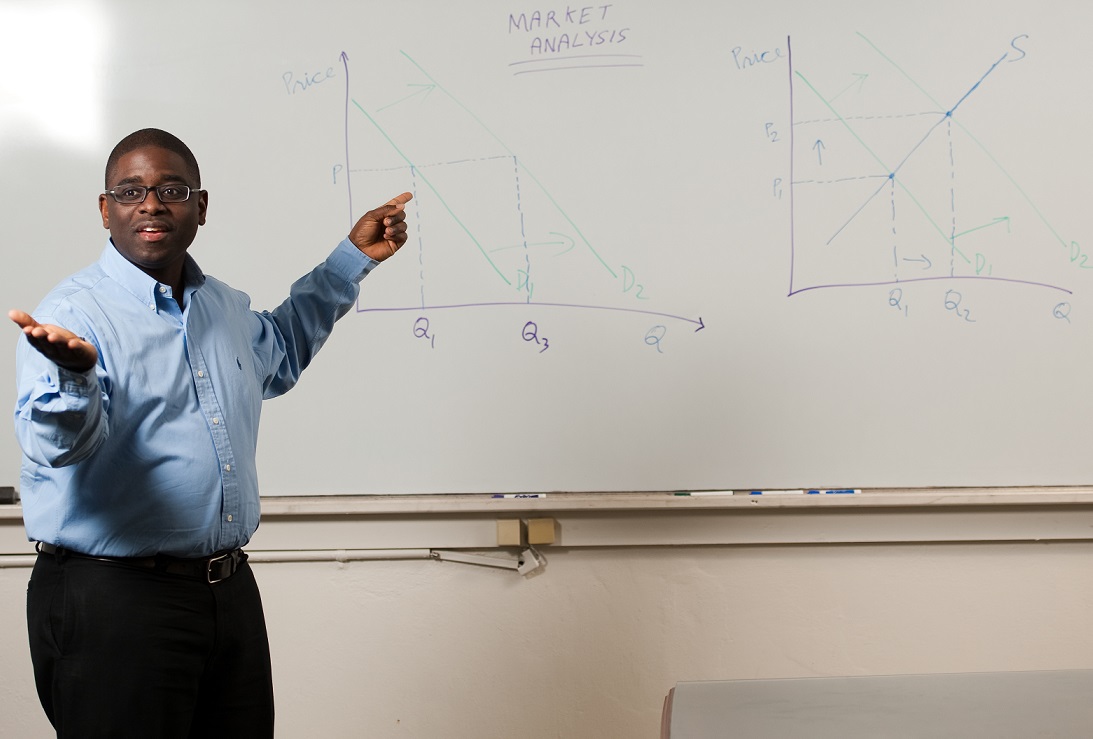 The breadth of economics as a discipline accommodates a wide variety of interests. The diversity of course options is optimal for some students while others prefer a more focused set of courses. To facilitate these different needs, the department now offers both a general degree option and four different specialized tracks.
The economic analyst track is designed for students who are drawn to economics by its formal modeling of economic activity and abundant analytical tools. This track provides ample opportunity to develop technical expertise. Students will be prepared for technical and analytical positions in the public or private sectors. For example, the track is ideal for students wishing to be a policy analyst or economist analyzing economic data for a consulting firm, private sector employer, or government agency. read more
2021 Student Learning Outcomes Report is Out
The Annual Progress Report on Assessment of Student Learning for Undergraduate Programs has been completed and made available for review. The purpose of the Annual Progress Report (APR) is to provide a continuous improviement process through meaningful assessment of students. To read more about the APR, click here.
Department Welcomes Valerie Bostwick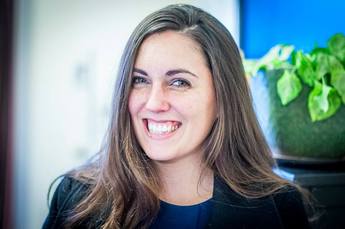 We are pleased to welcome Dr. Valerie Bostwick as a new assistant professor in the economics department. Dr. Bostwick received her Ph.D. from theUniversity of California, Santa Barbara. Her research interests are in Economics of Education and Labor Economics. Dr. Bostwick's research focuses on policy-relevant issues affecting post-secondary students. Her recent work highlighting the importance of female peers in doctoral STEM programs has been featured by press outlets such as Inside Higher Ed and Science magazine.
Congratulations to Professor Yang-Ming Chang for winning the 2018 Gaches Lifetime Teaching Award!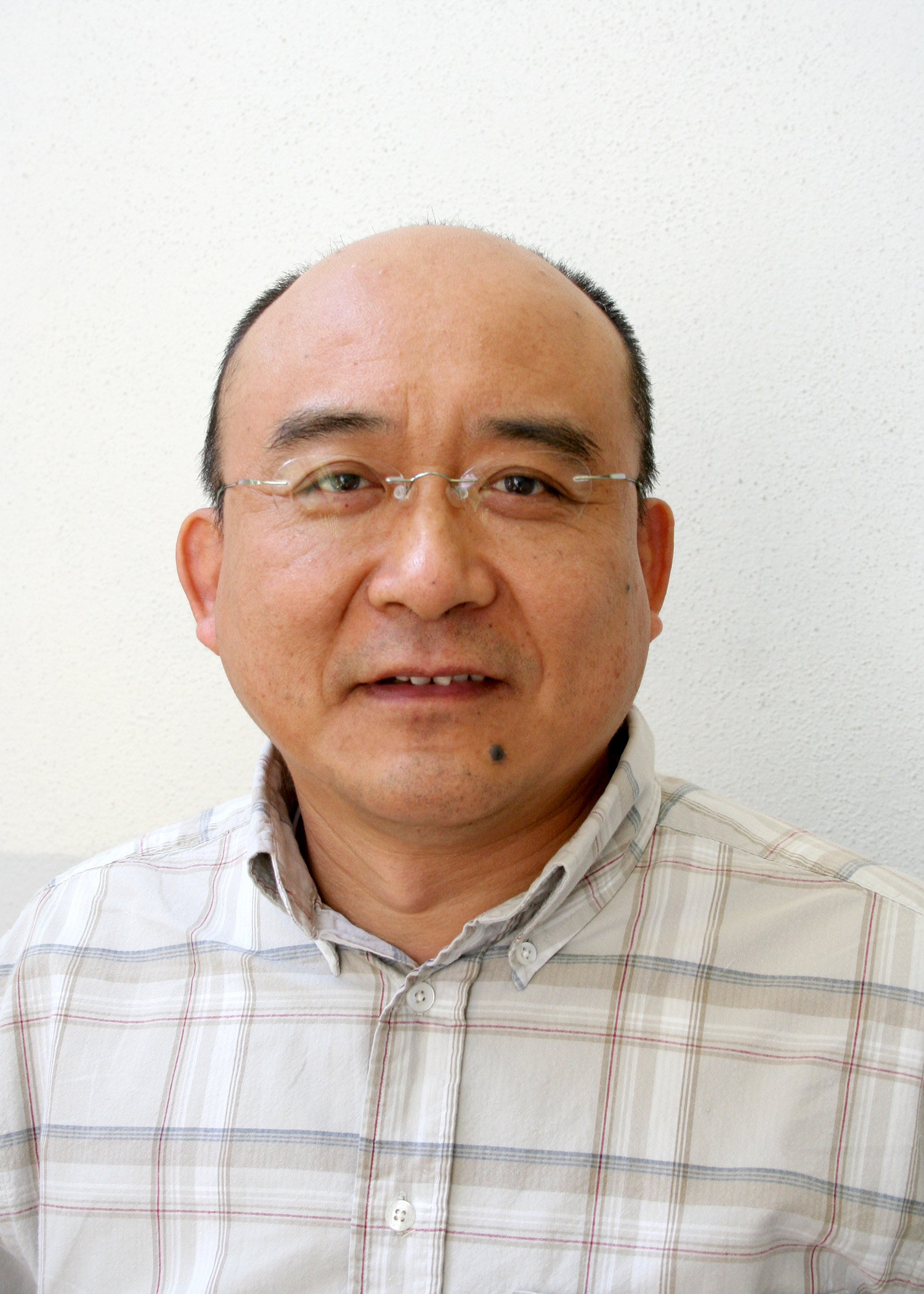 The College of Arts & Sciences established the Ronald N. Gaches awards to acknowledge ongoing excellence in undergraduate teaching, as well as teaching innovations that improve pedagogical practices within the college. We are proud to announce that Professor Yang-Ming Chang is a winner of the 2018 Gaches Lifetime Teaching Award.
Professor Chang will be recognized during the Arts and Sciences commencement ceremony at 8:30 a.m. Saturday, Dec. 8, at Bramlage Coliseum.
The Jack and Peggy McCullick- Mary Vanier KSU Family Scholarship
Recently, a new scholarship was endowed and we are pleased to be able to award this for the current semester. The Jack and Peggy McCullick- Mary Vanier KSU Family Scholarship is a $2,000 award which will be given to a student in the economics department each fall. Representatives from the faculty had to meet quickly and determine which of our many deserving students should be awarded this scholarship.
We are pleased to announce that the first winner of the Jack and Peggy McCullick- Mary Vanier KSU Family Scholarship is Haley Harrison. Haley has been a top student in our department from a GPA standpoint while taking many of the most difficult courses we offer and double majoring in mathematics. In addition to that, Haley has been extremely active in supporting the department and the university in various outreach activities such as serving as President of the Economics Club.
New Economics Scholarships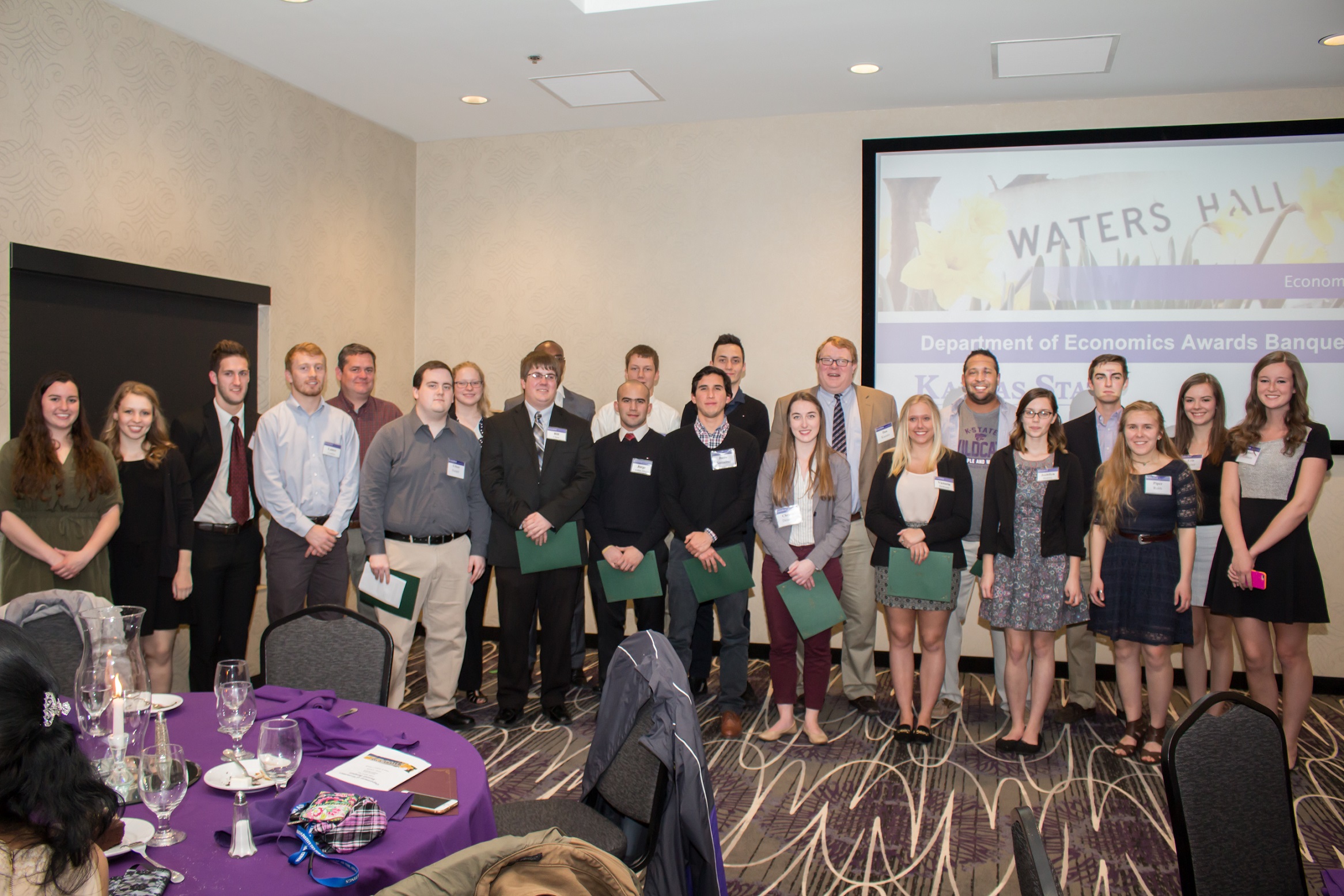 The department now has nearly thirty undergraduate scholarships to offer, and more are on the way! It is all part of our ambitious goal to provide more financial support for economics majors. In 2011 we had the inaugural meeting of the Department to Economics Advisory Council. The group quickly identified financial support for students as a priority. read more
Graduate Student Scholarship Honors Dr. Lloyd Thomas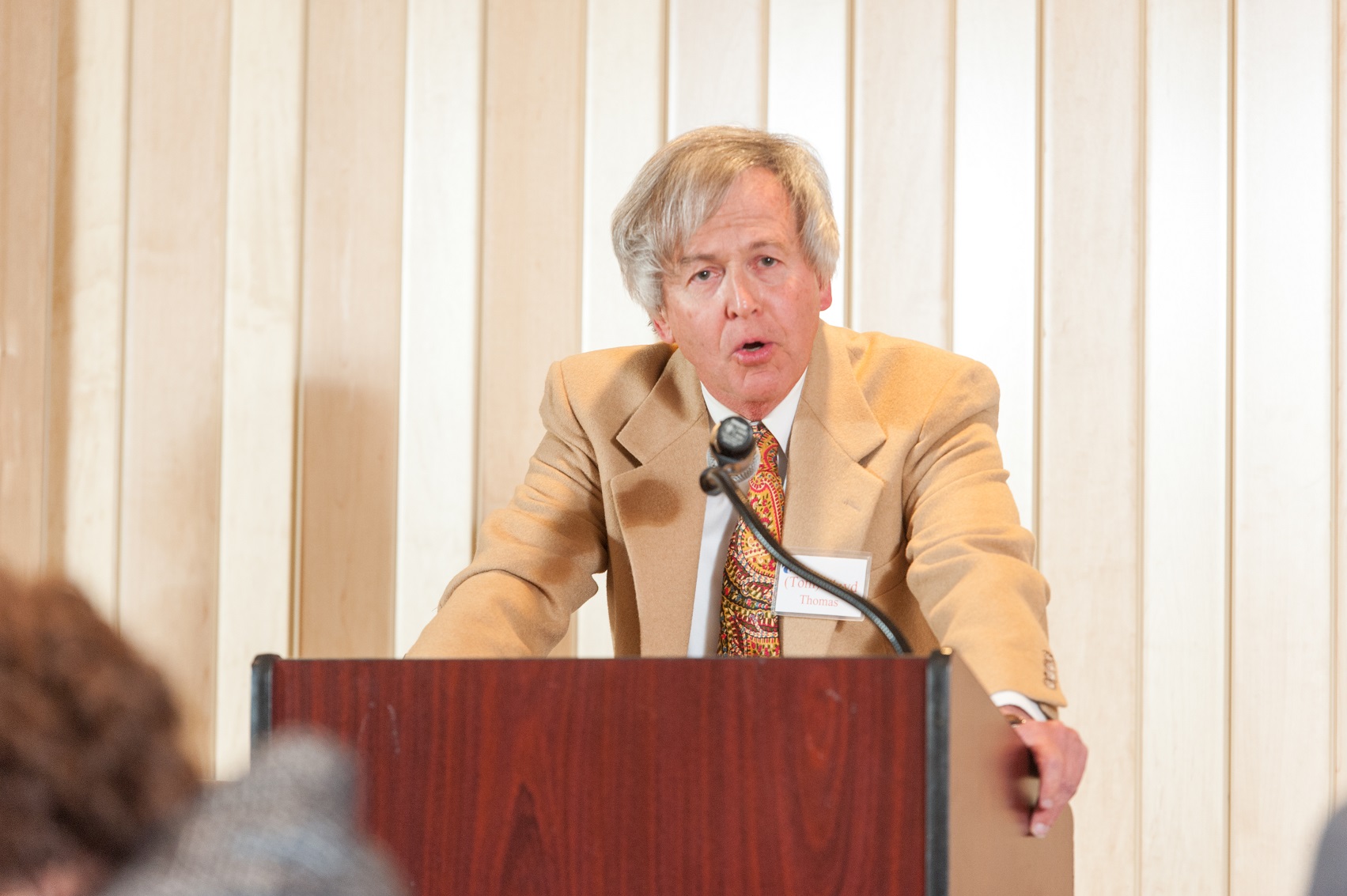 We are pleased to announce that Jim and Kathy Haymaker have endowed a second graduate student scholarship in the Department of Economics. In 2015, the department announced that the Haymakers have endowed a graduate student scholarship to honor Dr. Wayne Nafziger. This second scholarship has been established in honor of Dr. Lloyd Thomas and his wife Sally. The graduate scholarships are part of a joint effort with the Department of Economics Advisory Council to raise funds for five graduate scholarships endowed at $100,000 each. read more
Economics Club Activity 2015-2016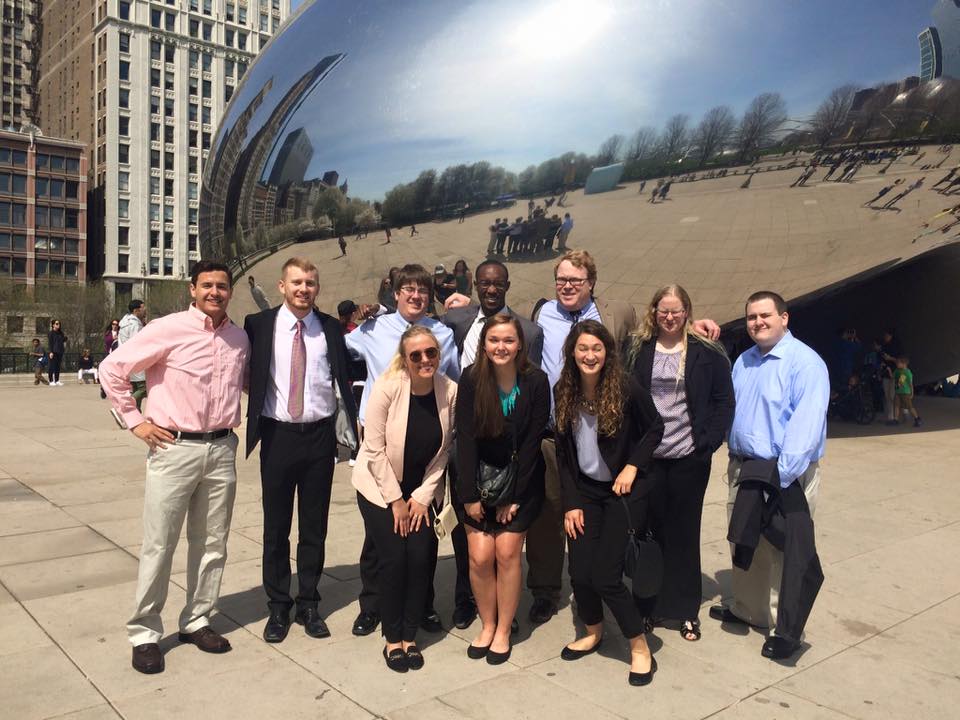 The Economics Club had a busy academic year, highlighted by a field trip to Chicago. John Nelson, President of Applied Research Corporation, helped arrange the trip by setting up meetings with successful business leaders. This included meetings with leaders at Epsilon Economics, Datascope, and Trading Chicago. There was also time to explore the city including Navy Pier, the Chicago Fed, and several museums. read more
Join our Linkedin group!

We have created the Linkedin group "Kansas State University Economics." To join, just click on our logo to the left or search for us at Linkedin. With over 270 members so far, it is a place for alumni, professionals, supporters, and friends of K-State Economics to connect and network with each other while staying updated on departmental news.