Diversity and Multicultural Student Affairs
We are committed to promoting diversity in every sector of Kansas State University by providing vision and leadership in diversifying all university functions as well as students, faculty, staff and the curriculum.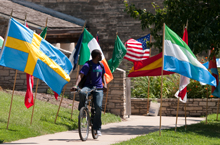 ---
Upcoming Events
It's been 53 years since Dr. Martin Luther King Jr. visited Kansas State University, advocating for nonviolent approaches to remedy social tensions and lead our nation into the future. We're proud of our connection to Dr. King, and we celebrate his legacy through campus events, as well as in our hearts. Please join us for a week of university wide programing to commemorate the life and legacy of Martin Luther King, Jr.
Please join us for our 8th Annual Black Student Union Leadership Conference hosted by the Department of Diversity and Multicultural Student Affairs and the K-State Black Student Union. We invite you to attend a university immersion experience that includes a morning keynote speaker to inspire students and get them excited for a day of learning; as well as an array of breakout sessions designed to help develop leadership skills, challenge student's self-efficacy, and bring awareness to social and political issues.
This conference is for high school and college level students and is free for all of those that would like to attend. *In-person attendance is limited due to COVID-19.*
Contact
Please direct any questions you might have to Mirta Chavez, Director of Multicultural Programs & Services at 785-532-6276 or mirta@k-state.edu.
*Please note that photos may be taken throughout the day that may be used by Kansas State University or the Kansas Department of Children and Families publications. If you have any questions or concerns, please contact us.*
Communications
Diversity and Multicultural Student Affairs is so proud of the graduating class of 2020! This is a great achievement and huge milestone, and we wish to share our continued congratulations with you all! Congratulations and go Cats!