Remember to check k-state.edu/COVID-19 for updates and answers to frequently asked questions.
We are here for you
The staff of the Office of First-generation Students is available at our new location in Holtz Hall 101 as well as remotely. You may email us at rpaz@ksu.edu or firstgen@ksu.edu with a question or if you would like to set up a time to meet. Please let us know how we can support you!
---
First-Generation Student Graduation Celebration
The First Generation Gradation Celebration will be held May 12, 2023 from 7:00pm-8:00pm in the K-State Union Forum Hall. To RSVP for this event pleas follow this link.
The link will lead you to a qualtrics page were you will provide some information, photos, and k-state memeories. Suring the ceremony there will be a slideshow recognizing each graduating student and the information that they have provided us.
The Front Line of Success
The Office of First-generation Students supports students whose neither parent or guardian completed a four-year college degree by connecting them to campus resources, coordinating efforts across the university to serve them and fostering a first-generation community.
---
First-Generation Stories Podcast 2022
Listen/watch various interviews of K-State faculty, staff, and students on what it means to be First-generation. Dustin Meritt, Professor of Practice in the College of Education and First-gen graduate, hosts.
Faculty/Staff:
Dr. Thomas Lane, Dean of Student Life (Video)
Dr. Debbie Mercer, Dean of College of Education (Video)
Ryan Van Dusen, Compliance and Conflict Resolution Manager (Sound)
Students:
Tram Pham, Business Major (Video)
Tyoni Williams, Mass Communications Major (Sound)
Kevin Johnson, President of Tri-Alpha and Geology Major (Sound)
Zoom Backgrounds
Check out our First-gen Zoom backgrounds here!
Tri-Alpha Honorary Society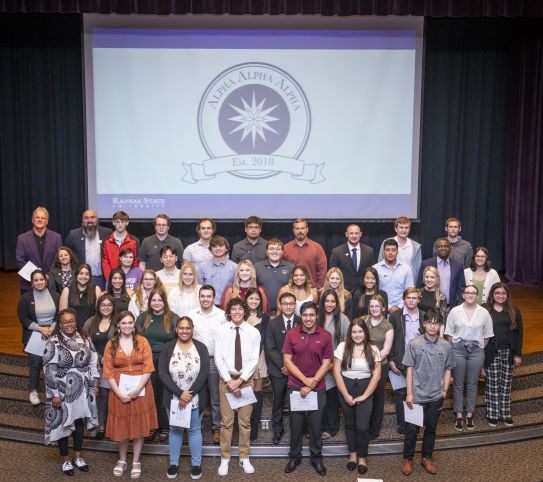 To learn more about Tri-Alpha Honorary Society click here!
If you have more questions, email us at firstgen@ksu.edu
---
Financial Aid
FAFSA information: Follow this link to go to K-State's Office of Student Financial Assistance webpage. There you will find videos from the Federal Student Aid YouTube page that cover how to fill out the FAFSA to what to do next. Check out all the important information about the FAFSA on this webpage.
Scholarship and financial aid process: Follow this link to see a step-by-step guide on how to obtain aid, and keep the important dates in mind
---
Instructions to fill out the FAFSA in Spanish, instrucciones para llenar el formulario de FAFSA en español: