K State's Land Acknowledgment: As the first land grant institution established under the 1862 Morrill Act, we acknowledge that the state of Kansas is historically home to many native nations including the Kaw, Osage and Pawnee among others. Furthermore, Kansas is the current home to four federally recognized native nations: The Prairie Band Pottawatomie, the Kickapoo Tribe of Kansas, the Iowa Tribe of Kansas and Nebraska and Sac and Fox Nation of Missouri in Kansas and Nebraska. Many native nations utilized the western plains of Kansas as their hunting grounds and others, such as the Delaware, were moved through this region during Indian removal efforts to make way for white sellers. It's important to acknowledge this since the land that serves as the foundation for this institution was, and still is, stolen land. We remember these truths because K State's status as a land grant-institution is a story that exists within ongoing settler colonialism and rests on the dispossession of indigenous peoples and nations from their lands. These truths are often invisible to many. The recognition that K State's history begins and continues through indigenous contexts are essential. https://www.k-state.edu/indigenous-alliance/about.html
2021
Richie Garrett, senior in American ethnic studies, is the recipient of the 2021 Rohrer Scholarship. Garrett will graduate in December,with a degree in American ethnic studies. Garrett said that receiving a degree at a university like Kansas State is a very difficult task because of the very low percentage of African Americans who attend K-State. His decision to major in American ethnic studies was tied to his sense of reclaiming his own African American heritage and history, which is generally not taught at educational institutions. "I personally wanted to study American ethnic studies because there is so much of my history and my culture being hidden," he said. Garrett was born and raised in north St. Louis County, Missouri. He grew up in a predominantly Black neighborhood and attended predominantly Black schools. He is a first-generation college student. "I want to make sure to set positive examples all the time and possibly become an icon for others," Garrett said. At K-State, Garrett is a member of the Kappa Tau chapter of Alpha Phi Alpha Fraternity Incorporated. He serves as historian for his chapter, maintaining the fraternity's social media sites. "Alpha Phi Alpha motivated me to improve on my academics and leadership skills and got me involved on campus and in the community," Garrett said. Garrett's passion for uncovering Black history and heritage motivates both his dedication to the American ethnic studies major and his dedication to photojournalism. His education at K-State has prepared him to tell what he calls "true stories" and "real news." "I want to become a photojournalist so I can help document daily life news ... I want to be the voice and use my platform for others who are afraid to stand up for equal rights," Garrett said.
Dr. Malatino will address the ways care institutions (such as medical services and educational environments) can create societies of violence for those who rely on them. His public talk with be followed by a 20-minute Q & A session.
In addition to his public talk, Dr. Malatino will also host a "Coffee Hour" (on Zoom) with interested students on **Monday April 19th 12:30-1:30PM** and a Zoom "Scholar Seminar Discussion with Author" on **Wednesday April 21 from 5-6pm** for faculty and students interested in a more in-depth engagement with his books: Queer Embodiment and Trans Care. For access to these readings, please contact us at
fire@KSUemailProd.onmicrosoft.com.
Hil Malatino
is a research associate at the Rock Ethics Institute and assistant professor of Philosophy and Women, Gender and Sexuality Department at Penn State University. He is the author of two recently published groundbreaking books (
Queer Embodiment
&
Trans Care
) that address how queer, trans, and gender nonconforming people endure, resist and develop radical collective practices of care to survive and thrive against long histories of institutionalized violence.
Co-Sponsors: Diversity Programming Committee, DOW Center for Multicultural and Community Studies, Gender, Women and Sexuality Studies, Philosophy, LGBT Resource Center, Arts & Sciences College Committee on Diversity

2020
K-State senior Marco Antonio Saucedo awarded Rohrer Scholarship. Marco has consistently demonstrated a strong commitment to improving race relations since his arrival at K-State. He states, "Because of my life experiences and education, I have sought to fight to create change in the world whether it is to change one life or a whole generation. I want to consistently lend a hand and be a person that can bring significant change to others. I have learned to understand myself in a manner to which I can listen carefully to others. For my future, I want to work in areas that fight for the common good of society and the underrepresented." Saucedo's triple majors—American ethnic Studies, Gender, Women & Sexuality Studies, and Political Science—are surely a strong preparation for his future social justice work in the legal profession. After graduating, Saucedo hopes to attend law school and focus on human rights, civil, or constitutional law.
December 8, 2020
Shireen

Roshanravan recognized as Professor of the Week honoree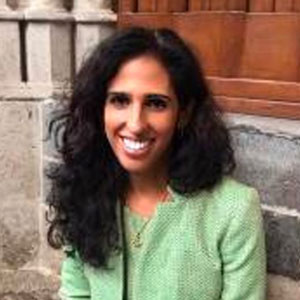 Shireen Roshanravan, associate professor of American ethnic studies in the College of Arts and Sciences, was recognized as Professor of the Week at the Dec. 5 men's home basketball game.
Roshanravan joined K-State in 2007. Roshanravan's important courses in American ethnic studies — such as Racist Love: Asian Americans and the Model-Minority Myth, Islamophobia, Transformative Thought, Intro to Cultural Competence, Politics of Women of Color, Research Methods, etc. — often center on decolonial and intersectional methodologies. Roshanravan teaches the Asian American studies courses in American ethnic studies, which are of vital importance as K-State works to deliver on its pedagogical commitments to teaching students about the diverse cultures and ethnicities that make up our state and our nation. On average, Roshanravan has advised about 18 American ethnic studies minors and/or majors annually. She has mentored students through the Developing Scholars Program and served on master's thesis committees for grad students outside American ethnic studies. Roshanravan won the 2020 College of Arts and Sciences Davids-Dunham Professional Development Award and 2018-19 Big 12 Faculty Fellowship Award.
2019
K-State junior Citlally Orozco awarded the Rohrer Scholarship. Citlally has consistently demonstrated a strong commitment to improving race relations since her arrival at K-State. During her sophomore year she served as President of the K-State LULAC chapter. The League of United Latin American Citizens (LULAC) was established in 1929 and is the oldest Latino/a civil rights advocacy organization in the United States. Currently, Citlally holds a statewide position as LULAC Deputy Director of Young Adults. Her responsibilities include supervision of state committees and work areas pertaining to young adults. She also works closely with LULAC scholarship recipients to ensure they are progressing well in college. Citlally also currently serves as vice president of The Multicultural Coalition, a student organization that advocates for "the programmatic, curricular, and physical presence of historically underrepresented peoples at Kansas State University" in addition to "fighting racism on and off campus.
American Ethnic Studies Department Head, Dr. Yolanda Broyles-González is a 2019 nominee for the CNN Hero Award
The nomination document was submitted to CNN by Greg Hoyt, former principal at Manhattan High School. The document references various community arenas where Dr. Broyles-Gonzalez has made a difference in the lives of many. It cited, for example, her "dedication to uplifting the poorest and most marginalized sectors of our society: documented and undocumented poor immigrants." Greg Hoyt stated, "As the outgoing principal of Manhattan High School, I am well aware of the challenges, young people of color in general, experience in a school system whose teachers are almost all white and unaccustomed to engaging with youth of color. This is the social context within which Dr. Broyles-Gonzalez actively promotes intercultural understanding, as she dedicates herself to helping the neediest sectors of our population. She is richly deserving of the CNN Hero Award!"
Some of the specifics of Dr. Broyles-Gonzalez's work in the Manhattan community include intercultural competence teacher training at Manhattan High School; the creation of social justice student internships that bridge the American Ethnic Studies Department with local social justice organizations and movements; the creation of an immigrant self-help network; and the institutionalization of a concurrent enrollment American Ethnic Studies college course at Manhattan High School, a course that will foster interracial understanding while also growing the high school to college pipeline for students.
2018
November 14
American ethnic studies professor publishes new book on Asian American feminisms and women of color politics
Shireen Roshanravan, associate professor of American Ethnic Studies, published "Asian American Feminisms and Women of Color Politics" with the University of Washington Press.
Co-edited with Lynn Fujiwara, associate professor at the University of Oregon, the book brings together original essays to map Asian American feminist politics. The essays confront settler complicities, motivate cross-racial solidarity, and challenge cultural justifications for sexual and gender violence shaped by the model-minority racial project and neocolonial projects of the U.S. empire.
Copies of the book are available for order from the University of Washington Press.
---
October 5
Ebony Theatre students honoring American ethnic studies department
K-State's Ebony Theatre will honor the College of Arts and Sciences' American ethnic studies department at its First Friday event at 6 p.m. Friday, Oct. 5, in the West Stadium Purple Masque Theater lobby. This event will feature food, music and an open mic for artists of color. All students are welcome to perform.
"The American ethnic studies department helps us create bridges of understanding, patience, and love during a time where these things are greatly needed," said Chelsea Turner and Kenedi Kelley, president and vice-president of Ebony Theatre. "Love is achieved through coalition, and American ethnic studies is an incredible teacher and coalitional partner. The Ebony Theatre collective honors the department of American ethnic studies because we know that our curriculum and discussion is geared toward making us put our pointing fingers down and open our hearts and our minds.
"We live in a world full of questions that have become incredibly difficult to answer and social problems that are seemingly too complex to solve. This frustrates us, makes us bitter and hateful, and often makes us blame those different from us, we don't understand. Ebony Theatre works in coalition with American ethnic studies to widen our understandings through art and influence from artists of color. The American ethnic studies department leads K-State in the creation of an equitable, diverse, and inclusive curriculum," Turner and Kelley said.
The following is Ebony Theatre's mission statement on its First Friday events:
As an extension of Ebony Theatre, First Friday exists as a platform for Black artists to share their work and collaborate with one another, while simultaneously serving as a safe space for dialogue and open discussion between members of the K-State and Manhattan communities. First Friday will recognize diverse multicultural organizations on campus as a way to build ongoing coalition between these organizations, as well as promote the underlying talent among marginalized communities that are often overlooked.
This event is free and open to any and all K-State students and staff.
---
---
Save the date! Monday April 30 at 6pm in Bosco Plaza, FIRE will be leading another Take Back Our Lives rally and march.
Take Back Our Lives marks our current political moment as one that requires a literal fight for our lives, for life without systemic abuse, exploitation, gun violence, genocide, police murder, rape, incest, sexual coercion, poverty, settler-colonialism, military occupation and war, environmental racism, white supremacy, walls and mass deportations, transphobia, homophobia, Islamophobia, xenophobia, heteropatriarchy and all the other weaponry used to take us from our selves.
The event will begin with an open mic rally at 6pm in Bosco Plaza and terrace of the KSU Student Union, followed by a march through Aggieville, and concluding with a "block party" back at Bosco Plaza where we will enjoy more open mic time, spoken word, poetry, music and food. All are welcome!
This year Chicago-based Black lesbian spoken word artist and poet e. nina jay, author of the recently released Body of Rooms, will be joining us to help kick off the rally and march.
Thank you to American Ethnic Studies, the Dow Center for Multicultural and Community Studies, Leadership Studies, LGBT Resource Center and the Gender, Women, and Sexuality Studies Department for co-sponsoring this event.