Get your B.A. or B.S. in Philosophy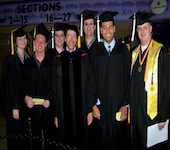 The Department of Philosophy at KSU is an undergraduate-only program. The department offers both a minor and a major, with several optional tracks.
In the last ten years, we have placed students in philosophy graduate programs at University of Arizona, Rutgers University, UC Irvine LPS, University of Nebraska, UC Riverside, and University of British Columbia.
Graduate work
Most faculty in the department are also members of the Graduate Faculty at KSU. This enables the department to offer courses at the graduate level for students in other programs. Many philosophy faculty also sit as outside readers or chairs on graduate degree committees in other departments.