2013 Seminar
Working Together to Create High-Performing Teams
17th Annual K-State Leadership Seminar
Wednesday, March 27, 2013
8:45 a.m. – 4 p.m.
K-State Alumni Center
Manhattan, Kansas
Who's attending this year?
2013 K-State Leadership Seminar Participant Roster (PDF)
Posted 3.28.13
Keynote speaker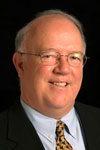 Tom Champoux is a nationally recognized and dynamic speaker, energizing trainer and effective coach who dramatically demonstrates the need for organizations to shift focus away from power and toward collaborative responsibility. The heart of his work lies in creating an organizational culture built around empowerment and the exchange of trust, respect and dignity.
He will present material that reflects his belief that every leader, manager and individual has the potential to create a positive impact on team and organizational performance.
This seminar will give participants:
Practical, hands-on information and tools.
Best practices for effective leadership.
Inspiration to exercise leadership when it really counts.
An idea of where to go for additional leadership resources.
A connection to others who are working to grow their leadership skills.
Join us to learn more about how to remain inspired and to bring others along with you.