Apply now to be a Snyder Leadership Legacy Fellow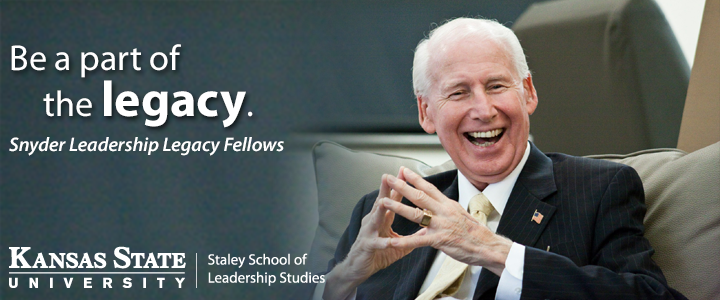 Applications are now being accepted for the Snyder Leadership Legacy Fellows Class of 2016. Throughout this year-long program, Fellows will work on personal development, community engagement, and exercising leadership in their personal and professional lives. Throughout the year, Fellows will participate in four different sessions, beginning in April 2016, and concluding in April of the following year, with many opportunities for additional engagement in between sessions. The program is open to all K-State undergraduate students who will be entering their final year at K-State during the 2016-2017 academic year. The Snyder Fellows program is a noncredit leadership development program, offered at no cost to K-State students.
Applications are due on Friday, February 26. To learn more and to apply click here.
Volunteer with Manhattan Good Neighbors for their annual Fake Patty's Day Clean Up
Manhattan Good Neighbors will host their annual Fake Patty's Day Clean Up on Sunday, March 6, 2016 the day following Fake Patty's Day from 10 AM - 12 PM. Volunteers are needed to clean up Aggieville and surrounding neighborhoods in the Manhattan area in an effort to help keep our community a safer, friendlier, and cleaner place to live. Remember: "There is nothing fake about the mess we make". For more information or interested in volunteering contact mgn@ksu.edu.
Noorjahan Akbar to visit K-State to mark International Women's Day

Internationally acclaimed gender equality and human rights activist Noorjahan Akbar will give a keynote talk on Empowering Women to Lead Worldwide: Overcoming Political and Social Struggles in the K-State Student Union's Forum Hall at 4 PM on March 8 to mark International Women's Day.
Other opportunities are planned for students, faculty and the community to interact with Akbar during her visit, March 7-9. These events are co-sponsored by the American Association of University Women, or AAUW; Staley School of Leadership Studies; Department of Women's Studies; Women of K-State; K-State First; and International Student and Scholarship Services.
Online course designed to prepare students for global social impact work
The Staley School of Leadership Studies is offering Introduction to Global Development, Partnerships, and Social Change, a fully-accredited online course designed to deepen students' thinking in respect to social impact work in international contexts. Through a unique partnership with the nonprofit organization Omprakash Edge, the course will use multimedia content from across the social sciences to help students grapple with the social and ethical complexities of attempting to do "service" across gaps of culture and power. The program encourages participants to think critically about international aid and volunteering, and works to push back against problematic trends in "voluntourism". Through the Omprakash online methodology, students enrolled in the course will be in dialogue with a network of mentors engaged with global community development work. The Staley School faculty member leading the course is Dr. Eric Hartman, who holds a Ph.D. in Public and International Affairs from the University of Pittsburgh, focused on international development. Learn more about this partnership, Omprakash and how you can get started.
Certificate in Community-Engaged Leadership
The Staley School of Leadership Studies is very excited to announce, in partnership with Points of Light, the certificate in Community-Engaged Leadership! The certificate is available to anyone across the country with a passion for positive community impact and is ideal for undergraduate students or national service members. Learn more about our Community-Engaged Leadership certificate.