Join us at the Staley School of Leadership Studies - We are Hiring: Program Coordinator/Instructor
The Staley School of Leadership Studies at Kansas State University in Manhattan, Kansas, is seeking candidates for a program coordinator/instructor. The successful candidate for this 12-month, regular position will coordinate programs in leadership development, service learning and student civic engagement, teach courses in the leadership minor, advise undergraduate students, advance the goals of the Staley School's strategic plan, and support the mission of the Staley School of Leadership Studies in ways that reflect its values-based mission. You can learn more about how to apply here.
Spring Furniture Amnesty Day to take place Friday, May 6th
HandsOn Kansas State, Manhattan Good Neighbors and the City of Manhattan are teaming up for a Spring Furniture Amnesty Day. Furniture Amnesty Day (FAD) is a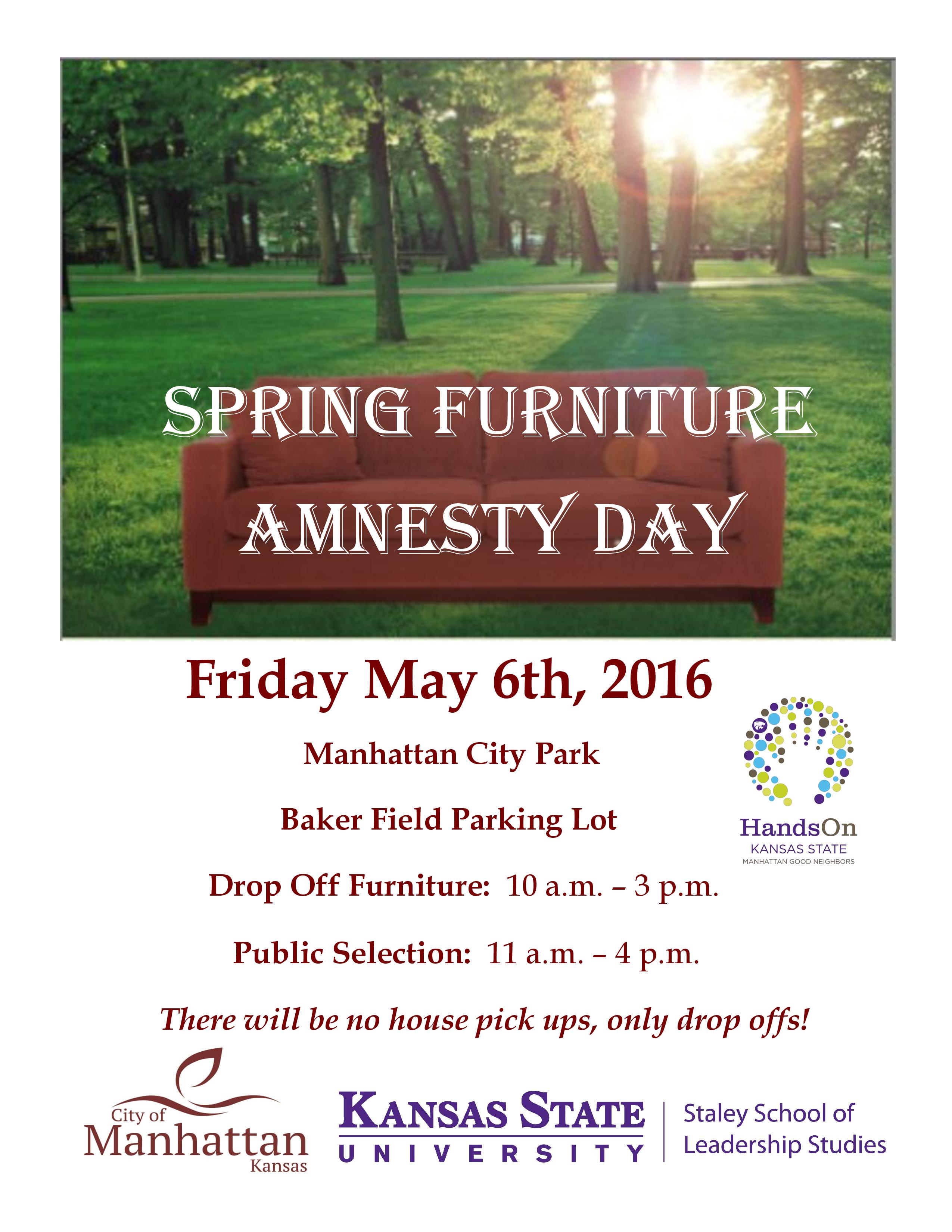 community-wide event held during the summer. However, this year a second FAD is being added for this spring. Spring FAD will take place Friday, May 6th at the Baker Field Parking Lot in City Park. There will be no house pick ups, and only drop offs for this event. Community members are welcome to select furniture throughout the day. FAD's purpose is to reduce the amount of unwanted furniture by fostering an opportunity for neighbors to help neighbors. Instead disposing unwanted furniture improperly, citizens can recycle and reuse furniture to Manhattan residents and K-State students in need through this event.
As this event grows, the need for more volunteers grows as well. Volunteers can sign up through the HandsOn Kansas State web sign up at: http://bit.ly/HOKS_signup. Fill in the Volunteer Information and select Furniture Amnesty Day. For more information or have any questions please email mgn@ksu.edu.