Introducing the Snyder Leadership Legacy Fellows Program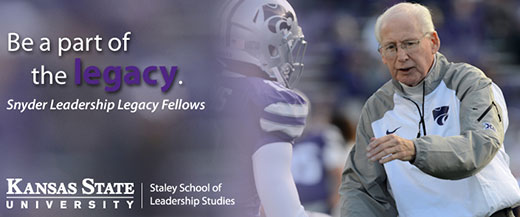 The Staley School of Leadership Studies, in partnership with K-State Athletics, is excited to announce the inaugural Snyder Leadership Legacy Fellows Program. The program will initially include a class of up to 50 outstanding K-State students who will be entering their final year at K-State during the 2015-2016 school year. Our hope is that through the Snyder Leadership Legacy Fellows, students have the opportunity to grow as leaders and prepare for their future after leaving Kansas State University. Prospective fellows must apply by Friday, February 20, 2015.
Volunteer with HandsOn and the Manhattan community for the Martin Luther King Jr. Community Celebration and Day of Service - January 17-19, 2015
Together HandsOn Kansas State and the Manhattan community will be coming together during the weekend of January 17-19, 2015 for the Dr. Martin Luther King Jr. community celebration and Day of Service. This Day of Service is recognized all across the country as a day of service and is being led by the world's leading organization of volunteer work, the Points of Light organization and the Corporation for National and Community Service. Locally, MLK Day of Service is observed in conjunction with the community-based Martin Luther King Memorial Committee. K-State students join members of the community in serving at local non-profits and on special projects around Manhattan.
Volunteers will meet at Manhattan Town Center Mall for registration, no later than 8:30 am on Monday, January 19, 2015, and then proceed to their designated service site. Volunteers will serve, at their respective sites, from 9:00 am until noon. Service sites include Stoneybrook Assisted Living, Ogden Friendship House of Hope, Manhattan Public Library, Manhattan Arts Center, Manhattan Emergency Shelter, Salvation Army, and Stoneybrook Retirement Community.
To register as an individual volunteer, visit: bit.ly/HOKS_signup. To register as an volunteer group or for more information, contact: HandsOn Kansas State at (785) 532-3670 or handson@k-state.edu.
Leadership Studies in Ecuador: Experience Development, Social Change, and Cross-Cultural Leadership
Early this summer spend one month learning and serving with Ecuadorian university students in Quito, Ecuador. Through an innovative partnership with the Universidad San Francisco de Quito, Kansas State University students may earn three leadership studies credits while supporting English language learning in Ecuadorian K-12 classrooms. In addition to learning and serving across cultures, students will have the opportunity to experience market day in the historic indigenous community of Otavalo, visit base camp at Mt. Chimborazo (the farthest point from the center of the earth), tour the world famous cloud forest, and take in Quito's breathtaking and historic Old City. Contact Dr. Eric Hartman with any question, or learn more and apply.
Travel Dates: May 25 - June 25, 2015.
Faculty Director: Dr. Eric Hartman, Assistant Professor in Leadership Studies

Be a LEAD 212 Class Leader
Applications for 212 Class Leaders are currently being accepted for Fall 2015. Applications are due by 5 PM on Friday, January 30, 2015.
Steps to becoming a class leader:
Apply to be a LEAD 212 Class Leader and turn packet into room 103 Leadership Studies Building
See the LEAD 212 webpage for more information
Apply to be an Alternative Breaks Site Leader for Spring 2015
Every year our Alternative Breaks program sends teams across the nation to work on different social issues such as AIDS/HIV & Healthcare, Healthcare Access/Low Income Healthcare, Urban Youth Development, Education in Low Income Populations, and Backyard Break. Locations have included Denver, Co, Dallas, Tx, Kansas City, Mo, and more. Site Leader Application can be accessed now. Applications are currently being accepted.
Certificate in Community-Engaged Leadership
The Staley School of Leadership Studies is very excited to announce, in partnership with Points of Light, the certificate in Community-Engaged Leadership! The certificate is available to anyone across the country with a passion for creating positive community impact, and is ideal for undergraduate students or national service members. Click the banner below to see the details!
Academic Mentoring is Seeking New Mentors
Apply to be an Academic Mentor and you could be part of the dedicated group of students committed to helping children in the Manhattan community!