Cabarete, Dominican Republic
This year students will work with an organization called The Dream Project in Cabarete. Students will be advocates for educational empowerment as they come alongside The Dream Project as counselors for a summer program for at-risk youth. Additionally, students will expand their language as they learn the culture of the Dominican Republic. Preference to applicants with experience in the Spanish language.
Applications are being accepted for the 2016 Dominican Republic International Team until Friday, December 18, 2015.
Staley School honors Coach Snyder's work through Snyder Leadership Legacy Fellows program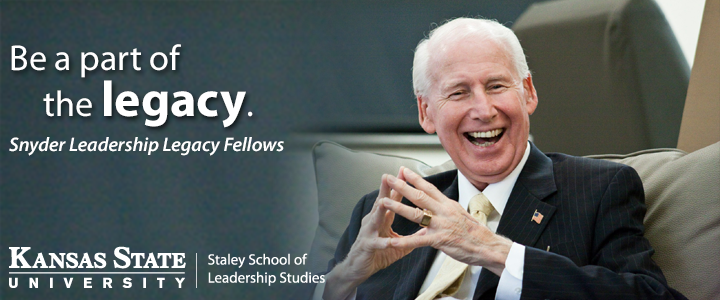 Hall of Fame Coach Bill Snyder is a developer of leaders, whose legacy continues to have a tremendous impact far beyond the game of football. The Staley School of Leadership Studies and K-State Athletics honor Coach Snyder's leadership legacy in a manner that, like his understanding of leadership, serves individuals and communities broadly. The Staley School is thrilled to honor Coach Snyder's work in developing a family of leaders through this exciting new program. Learn more about how you can be a part of the legacy here.
Online course designed to prepare students for global social impact work
The Staley School of Leadership Studies is offering Introduction to Global Development, Partnerships, and Social Change, a fully-accredited online course designed to deepen students' thinking in respect to social impact work in international contexts. Through a unique partnership with the nonprofit organization Omprakash Edge, the course will use multimedia content from across the social sciences to help students grapple with the social and ethical complexities of attempting to do "service" across gaps of culture and power. The program encourages participants to think critically about international aid and volunteering, and works to push back against problematic trends in "voluntourism". Through the Omprakash online methodology, students enrolled in the course will be in dialogue with a network of mentors engaged with global community development work. The Staley School faculty member leading the course is Dr. Eric Hartman, who holds a Ph.D. in Public and International Affairs from the University of Pittsburgh, focused on international development. Learn more about this partnership, Omprakash and how you can get started.
Call for papers: Civic Leadership for Social Justice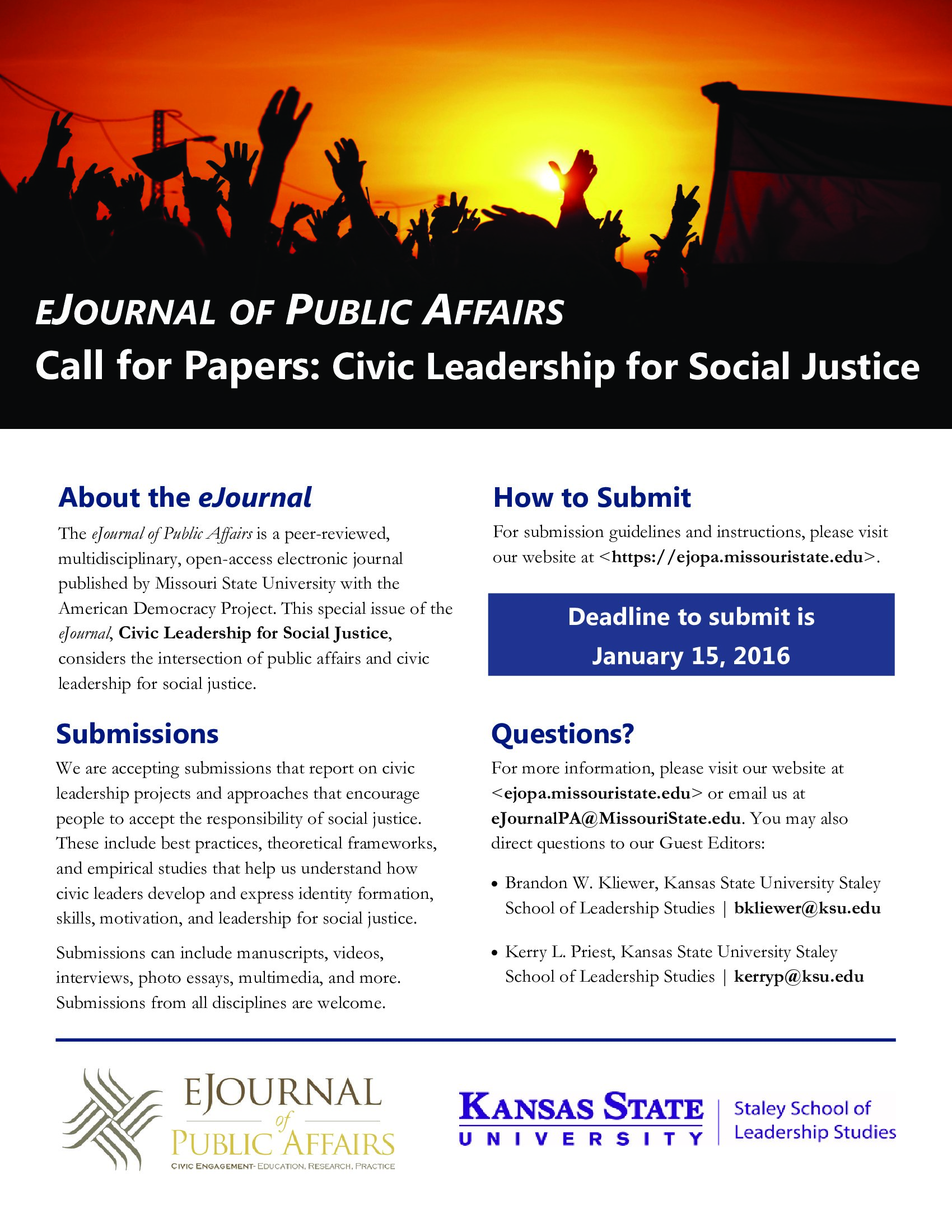 The eJournal of Public Affairs is a peer-reviewed, multidisciplinary, open-access electronic journal published by Missouri State University with the American Democracy Project. This special issue of the eJournal, Civic Leadership for Social Justice, considers the intersection of public affairs and civic leadership for social justice. Staley School of Leadership Studies faculty members, Kerry Priest PhD and Brandon Kliewer PhD, are currently serving as guest editors. They are accepting submissions that report on civic leadership projects and approaches that encourage people to accept the responsibility of social justice. For submission guidelines and instructions, please visit: https://ejopa.missouristate.edu. For more information please contact, Brandon Kliewer at bkliewer@ksu.edu or Kerry Priest at kerryp@ksu.edu.
Certificate in Community-Engaged Leadership
The Staley School of Leadership Studies is very excited to announce, in partnership with Points of Light, the certificate in Community-Engaged Leadership! The certificate is available to anyone across the country with a passion for positive community impact and is ideal for undergraduate students or national service members. Learn more about our Community-Engaged Leadership certificate.