Serve around the Globe with International Service Teams
International Service Teams is a service-learning program of interdisciplinary teams of Kansas State University students who serve in communities around the world during the summer break. They are currently accepting applications for summer 2015. Learn more and apply by Saturday, October 25th at 12:00 PM.
We also invite you to attend one of our information sessions:
Oct. 14th 8:00 PM Leadership Studies room 111
Oct. 16th 2:30 PM Leadership Studies small conference room
Oct. 20th 3:30 PM Leadership Studies room 112
Tech Advisors Needed for Senior Assistance
Manhattan Good Neighbors is looking to students to serve as Tech Advisors to seniors in the Manhattan community. The purpose of a Senior Assistant is to build relationships with elderly citizens at the Riley County Senior Center and to help the organization in areas of need.
Applications due Friday, September 19th
Learn|Serve|Lead on Break with Alternative Breaks
Now is the time to apply for the 2015 Winter Breaks through our Alternative Breaks program. Students will have the opportunity evaluate the root causes of homelessness and the various programs for relief in Fort Worth, TX, or explore the socioeconomic impacts on public education in Denver, CO.
Site Leader Applications due Friday, September 19th
Participant Applications due Friday, October 10th
The Facing Project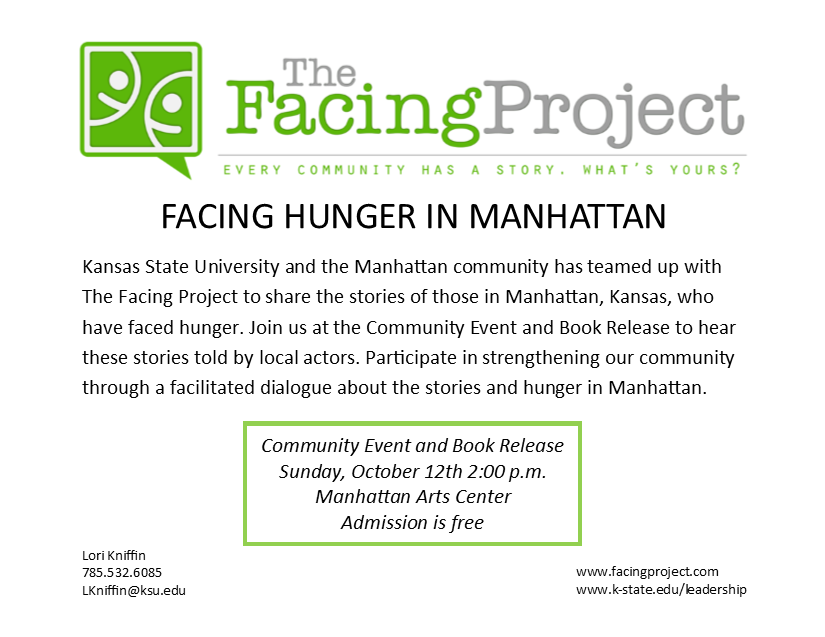 Watch this video for a sneak peak of one of the stories!
Certificate in Community-Engaged Leadership
The Staley School of Leadership Studies is very excited to announce, in partnership with Points of Light, the certificate in Community-Engaged Leadership! The certificate is available to anyone across the country with a passion for creating positive community impact, and is ideal for undergraduate students or national service members. Click the banner below to see the details!
You're Invited to the Fourth Annual Spirit of Leadership!
The School of Leadership Studies invites you and your guest(s) to this signature alumni and friends event! RSVP at:
www.k-state.edu/leadership/events/spiritofleadership/.
Changes to the Leadership Studies Minor Curriculum
All students should take a moment to learn about some recent changes to the leadership studies minor. The changes were a response to student feedback over the last few years. We believe the new and improved format will allow students to more fully engage in their leadership education and development. Overall, credit hours for the minor will be reduced from 18 hours to 16 hours. This is a result of increasing LEAD 450: Senior Seminar from 2 hours to 3 hours and a reduction in elective courses from 9 hours to 6 hours. Students will still apply leadership to their majors through choosing 6 hours of electives from one broad list. These changes will affect both standard and nonprofit students. Click here to learn more.
Academic Mentoring is Seeking New Mentors
Apply to be an Academic Mentor and you could be part of the dedicated group of students committed to helping children in the Manhattan community!