Apply to be a LEAD 212 Class Leader!
LEAD 212 Class Leaders are students who help teach the large lecture sections of LEAD 212 - Introduction to Leadership Concepts. LEAD 212 Class Leaders are asked to facilitate small group discussions, lead active-learning exercises, create a learning community with their students and perform administrative functions (such as grading, attendance, etc). These students serve as a bridge between students and instructors - they are motivated to help first semester freshmen learn the academic discipline of leadership and adjust to the K-State campus community. Applications are due by Thursday, February 9 at midnight. Learn more about becoming a 212 Class Leader!
Graduate Student Leadership Development Program
The Graduate Student Leadership Development Program (GSLDP) provides K-State graduate students an opportunity to develop leadership skills to make positive change in your work, studies, and student organizations. Through this semester-long experience, you will work with peers and professional leadership coaches to dive into challenges that are most important to you. The Staley School of Leadership Studies and the Kansas Leadership Center have created this program specifically for graduate students who want to move beyond technical expertise to solve problems. Learn more about the Graduate Student Leadership Development Program and apply by January 20th!
LEAD 350 in Canada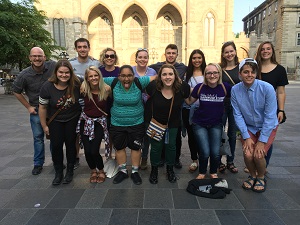 Students have the opportunity to study abroad during the summer of 2017 in Canada with Staley School faculty member Leigh Fine, Ph.D. During the May intersession, students will travel to Quebec, Montreal, and Ottawa. The intent of the course is to assist students to become more interculturally effective. Students, regardless of their identity group, will be challenged to explore and discover their cultural identity from a values-based perspective. Students will explore strategies and skills necessary to analyze intercultural experiences, events, and dilemmas. The concept of power and privilege will be discussed as psychological constructs operating across all cultures and contexts. Exploring other cultures and learning to have fun doing so is also a part of the curriculum. Application deadline is February 1, 2017. Learn more about studying abroad in Canada.