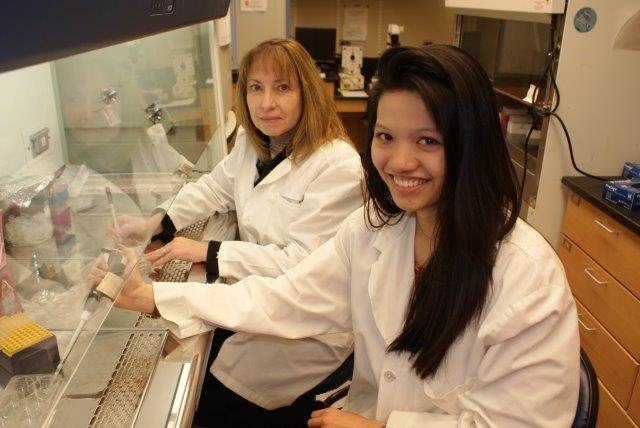 Kathlyn Gomendoza, Biology/Pre-Medicine, with her research mentor, Dr. A. Lorena Passarelli, Professor of Biology. Kathlyn is a University Honors Program student who also participates in the prestigious Developing Scholars Program.
Welcome
Are you the sort of student who enrolls in challenging courses? Do you have lofty ambitions and career plans? If so, please consider applying for admission to the University Honors Program. Apply to join the UHP! The University Honors Program, or the UHP, encourages academic, scholarly, and intellectual growth. Through cultural and performing arts events, skill-development workshops, travel opportunities, and challenging course work, UHP students develop intellectual curiosity about the world, its wonders and its complexity. Download our brochure here.
The Kansas State University Honors Program is designed to provide exceptional students with an understanding of contemporary concepts of common and diverse intellectual traditions, as well as discipline-specific knowledge. Our community of scholars will possess global awareness and competence in dealing with an increasingly diverse world, having had educational experiences that emphasize scholarship, critical thinking, and intellectual curiosity. Students in the program will possess superior written and oral communication skills and will become active participants in the lively discourse of today's world.
The 2016 K-State Ecuador/Galápagos Study Abroad Program featured the study of biology and creative non-fiction, underscoring the vital importance of learning in the arts and in the sciences. The group is pictured at Punta Pitt on San Cristóbal Island. Want to put yourself in the picture? Check out the Program Brochure for the 2017 Ecuador/Galapagos excursion.
Want to know more about Honors study abroad options in general? See the current University Honors Program Abroad Brochure.