Our Department
Located in Chalmers and Burt Halls, the BMB Program offers B.A., B.S., M.S. and Ph.D. degrees. Departmental faculty have research programs supported by over $3 million in annual extramural support for studying various aspects of biochemistry in animals, plants, insects and microorganisms. Founded in 1961, the Department of Biochemistry and Molecular Biophysics recently celebrated its 50th anniversary.
Browse this website to find information about our academics, faculty, seminars and more.
Upcoming events
BMB Seminar
Wednesday, November 5 - Joanna Slusky
Department of Biochemistry and Biophysics
University of Kansas, Lawrence
How do Membrane Proteins Insert Into the Membrane?
PhD Defense
Thursday, Novermber 6 - Sara Duhachek Muggy
Multiple isoforms of ADAM12 in breast cancer: Differential regulation of expression and unique roles in Cancer progression (pdf)
Wednesday, November 19 - Elliot Meyerowitz
George W. Beadle Professor of Biology
Division of Biology and Biological Engineering
California Institute of Technology
Investigator, Howard Hughes Medical Institute
Physical as well as Chemical Signals Control Plant Development
Thursday, November 20 - Colloquium
Computational Morphodynamics: an Approach to the Study of Plant Growth and Development.
Faculty Research Videos
| | |
| --- | --- |
| | |
| Dr. Jianhan Chen | Dr. Timothy Durrett |
| | |
| Dr. Phillip E. Klebba | Dr. Anna Zolkiewska |
Take Note
Kansas State University featured in Princeton Review's best colleges national rankings
National website ranks K-State in top 15 public schools
The Most Exciting Small Cities in America
The 20 Best College Campuses in the U.S.
Kary Mullis, Nobel Laureate, spoke to K-State
October 16, 2013 - "The Unusual Origins of PCR"
K-State Collegian Reports
Provost Lecture on Excellence in Scholarship (watch lecture here)
Hageman Lecture in Agricultural Biochemistry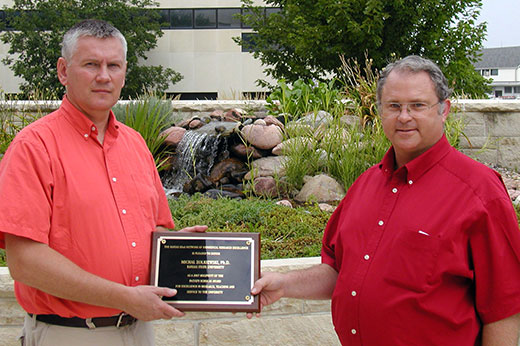 Chalmers Hall is home to the Biochemistry and Molecular Biophysics Main Office and Biomolecular Nuclear Magnetic Resonance (NMR) Facility, in addition to the majority of faculty offices, research laboratories and classrooms.