September 16, 2013
Applications for 2014 K-State Student Ambassadors now open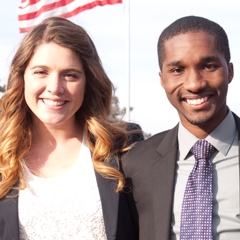 The K-State Alumni Association is now accepting applications for the 2014 K-State Student Ambassadors.
The ambassadors are one male and one female student who spend the year attending alumni and campus activities, speaking to alumni, friends, current and prospective students. The ambassadors serve a one-year term, and each receives a $1,500 scholarship, clothing from Borck Bros. and the official K-State ring from the K-State Alumni Association. Ambassadors are elected by the student body during homecoming each year and serve until new ambassadors are elected. For more information and a full job description of the K-State Student Ambassador program please visit the student ambassadors website.
If you think you could be the next K-State Student Ambassador go to apply today.Applications will be accepted through 5 p.m. on Wednesday, Oct. 2.
Please contact Gavin Hargrave, student ambassador adviser, at ghargrave@k-state.com or 785-532-5057 if you have any questions.