September 16, 2013
Latin American film series is showing '7 Cajas' today
Submitted by Yaritza M Sanchez Gil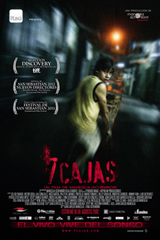 Latin American film series is showing "7 Cajas" at 7 p.m. today in K-State Forum Hall.
The director is Juan Carlos Maneglia and Tana Schembori, Paraguay. It is 105 minutes long and rated PG.
The story summary:
It's Friday night in Asuncion, Paraguay and the temperature is sweltering. Victor, a 17-year-old wheelbarrow delivery boy, with dreams of becoming famous, covets a new television in the infamous Mercado 4. He's offered a chance to deliver seven boxes with unknown contents in exchange for a quick $100. But what sounds like an easy job soon gets complicated. Something in the boxes is highly coveted and Victor and his pursuers quickly find themselves caught up in a crime they know nothing about.
Don't miss it out!!