September 10, 2013
Free throwback Willie tank tops to first 100 fans to the volleyball game tonight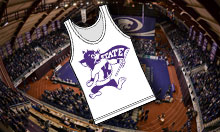 Students, come claim your free throwback Willie tank top tonight at Ahearn Field House as K-State Volleyball takes on Tulsa.
It's Turn Back the Clock night and the first 100 students will receive a free throwback Willie tank top, and if you are not one of the first 100, more will be thrown out during the match. Entry is free with your student ID.
Greek students: This is a Purple Pride Cup event. To earn points for your house just swipe your ID at the door.