September 10, 2013
College of Education launches distinguished lecture series Sept. 12, speaker to talk about race in education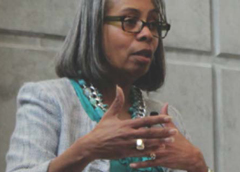 Gloria Ladson-Billings, pedagogical theorist and assistant vice chancellor of academic affairs at the University of Wisconsin, Madison, will be the speaker for the College of Education's inaugural Distinguished Educational Research Lecture Series. The event will be at 10 a.m. Thursday, Sept. 12, in Forum Hall at the K-State Student Union.
Ladson-Billings' presentation will be "Through a Glass Darkly: The Persistence of Race in Education Research and Scholarship." Copies of her books will be available for purchase and time will be dedicated to a book signing immediately following her presentation.
In addition to her duties as vice chancellor, Ladson-Billings also is the Kellner Family Chair in Urban Education and the 2012 Brock international laureate. The teacher educator is known, among other things, for her groundbreaking work in the fields of Culturally Relevant Pedagogy and Critical Race Theory.
Ladson-Billings' work "The Dreamkeepers: Successful Teachers of African-American Children" has been a significant text in the field of education. Her seminal research articles, "Racialized discourses and ethnic epistemologies" and "Just what is critical race theory and what's it doing in a nice field like education," are required reading for education graduate students across the globe.
During the 2005 American Educational Research Association, or AERA, annual meeting, Ladson-Billings delivered her presidential address, "From the Achievement Gap to the Education Debt: Understanding Achievement in U.S. Schools," in which she outlined the "education debt," highlighting the combination of historical, moral, sociopolitical, and economic factors that have disproportionately affected African-American, Latino, Asian and other non-white students.