September 10, 2013
'Military Life' documentary premieres Wednesday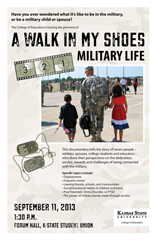 The College of Education will host the premiere of its latest documentary, "A Walk in My Shoes — Military Life" at 1:30 p.m. Wednesday in Forum Hall. The public is invited to attend.
The event will begin with K-State's ROTC color guard presenting the colors. Local military children will lead the pledge of allegiance and K-State student Rachel Hunt will sing the national anthem.
Debbie Mercer, dean of the College of Education is thrilled with the community's response to this event. Art DeGroat, the university's director of military affairs and a retired Army lieutenant colonel, believes this film serves an important purpose.
"After living my adult life in the military, and now serving over a decade as a higher education professional working with the military, I find nothing as accurate, moving and instructive as this film to impart the essence of the lives these special people choose to live," DeGroat said. "Their challenges to resocialize into the public after their service are brought to light in this film. This masterful work will offer its viewers a rare insight into their lives and help inform professional educators how to better serve their educational and life needs."
Following the 40-minute film, four panelists will briefly explain their programs' support of the military. The panel members from K-State are: Suzanne Lueker, the Veteran Center's director of nontraditional and veteran student services; and Elaine Johannes, director of Kansas Operation Military Kids and associate professor of family and human studies. Panel members from the area are: Jennifer Dixon, educator for the Military Child Education Coalition's Parent to Parent program; and Ron Walker, superintendent at Geary County USD 475. Sandy Risberg, instructor and coordinator of the College of Education's Military-Connected Student Education program, will serve as facilitator.
Click to watch a trailer of the movie.