September 9, 2013
The 2013 Latin American film series features 'No' today
Submitted by Yaritza M Sanchez Gil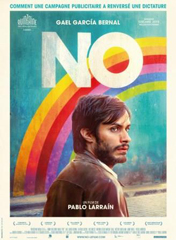 The 2013 Latin American film series, sponsored by the Colombian Association, starts at 7 p.m. today in the K-State Student Union Forum Hall. Admission is free. This is a valuable opportunity to learn about Latin America and its entertainment.
The first film of the series is "No" directed by Pablo Larrain and is a Chile-France-USA production. It is rated R and is 118 minutes long.
The plot of the film: In 1988, faced with international pressure, Chilean military dictator Augusto Pinochet is forced to call a plebiscite on his presidency. The country must vote yes or no on extending Pinochet's rule for another eight years. Opposition leaders persuade a brash young advertising executive, Rene Saavedra, played by Gael Garcia Bernal, to spearhead their campaign. Against all odds, with scant resources and under scrutiny by the despot's minions, Saavedra and his team devise an audacious plan to win the election and set Chile free.