September 6, 2013
Letter from A.D. John Currie: Mike Goss Tennis Stadium dedication tomorrow, and more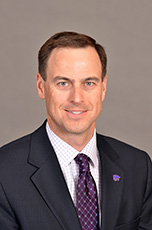 Good morning, K-State Nation.

Let's start off today's letter with K-State volleyball as Coach Fritz and the 'Cats opened the season last weekend by capturing the UNLV Invitational with three straight 3-2 wins over Portland, Cal State Fullerton and the host Runnin' Rebels! Senior Kaitlynn Pelger was named Tournament MVP and Taylor Johnson and Kersten Kober were named to the All-Tournament Team. We start a home-stand today as the 3-0 Cats host the K-State Invitational in Ahearn Field House with matches against Southeast Missouri State (noon), Southern Illinois (7:30 p.m.) and Siena (tomorrow at 1 p.m.). Come on out and support the 'Cats! You can also watch the games live on K-StateHD.TV and listen online at k-statesports.com.

We would like to send a special thanks to the several thousand fans who braved the midday sun to attend last Friday's West Stadium Center dedication and then of course the 53,351 fans who attended Friday night's season opener at Bill Snyder Family Stadium and helped set a record for a home opener (and the second-largest crowd in school history!). The early reviews of the WSC have been overwhelmingly positive, and I very much appreciate the many compliments our staff and the construction team have been getting from fans throughout Wildcatland. Given that we opened the largest construction project in the history of the university exactly one week after taking possession from the contractors with a record crowd and very hot conditions, I thought everything went as smoothly as could be expected. Our staff worked hard to prepare, and our fans were patient! It has been wonderful to see fans pose for pictures before, during and after the game and then throughout this week with the new statue of Coach Snyder, many also taking the time to read the inscriptions on the 3,000 individual donor bricks.

As I walked around the stadium pregame checking out the new south end zone concourse and then over to the WSC main concourse during the third quarter, it was great to hear so many compliments and see our fans enjoying the new amenities. Please continue to come in early once the gates open and check out the multisport displays and heritage of K-State Athletics showcased in the west concourse and especially the interactive features of the Tami Borck Hall of Fame, the Ring of Honor and our football history. We were especially pleased at the improved fan circulation in the south end zone. Many fans have remarked positively about the picnic tables, grassy banks and sitting wall. In fact, it was so uncongested that we will add some additional picnic tables for the comfort of fans in the south end zone this weekend.

I also asked in my last letter for you to let us know of any concerns or suggestions you had as you experienced the WSC and other Phase II improvements for the first time to help us fine-tune the building as our staff learns the operational nuances of the building. The most common question I have received regards sound distribution which, as we expected, is significantly affected by the new structure. Our sound technicians were actively making adjustments through the game as they monitored the added space of the building and how sound carries to new spaces such as the south end zone concourse.
Many fans and our staff noticed that our new lighting system considerably brightened the playing field, a difference positively noticed on the FOX Sports 1 telecast as well. However, the reduced spillover lighting resulted in other areas of the east and south concourses being a bit darker than we would like. We have added some additional temporary lights in those areas for this weekend.

We apologize that our statistical "hustle boards" on the south end of the stadium were not operational for last week's game. Those boards were inadvertently damaged during construction of the WSC, and they are so old that spare parts are no longer in production. Over the last several weeks one of our staff members has actually tracked down the long ago designer of the boards (who is now retired) and a potential temporary fix is in the works! As we have discussed previously we are now actively studying significant sound, video and connectivity improvements for implementation as part of Phase III of the stadium's master plan.

Contrary to national trends showing slightly declining attendance across the nation, our fan support at Bill Snyder Family Stadium has increased substantially since the 2009 season. This past weekend, K-State fans turned out in record fashion with the largest home-opening crowd in school history and the second-largest ever in program history. In fact, K-State has recorded 16 sellout crowds since 2009 and, we are expected to surpass 400,000 total fans this season for the first time in school history by reaching sellout status in all eight of our home games.

While selling tickets and getting fans to the stadium is important, we have placed an extra emphasis on the in-game fan experience for all 50,000-plus fans as well. In last week's season opener, our fans were treated to in-game highlights from games across the nation from our K-StateHD.TV studio desk in addition to a plethora of additional enhancements including social media interaction on the video board through a new partnership with Tagboard.

Finally, with high temperatures again expected this weekend, please be sure and stay hydrated and take extra precautions as you arrive at the stadium. Remember that the northeast and west entrances to Bramlage Coliseum open five hours before kick-off with air conditioning comfort, plentiful restrooms, seating, activities for kids and concession stands.

Here are a few more updates from around the department.

Mike Goss Tennis Stadium Dedication Set for Saturday

Saturday will be a special day for K-State Tennis as we dedicate the new Mike Goss Tennis Stadium at 11 a.m. in an on-court ceremony that will be open to the public in addition to being broadcast live on K-StateHD.TV. The event will feature Provost April Mason, contributor Mike Goss, who played tennis at K-State, as well as head coach Steve Bietau. Guests will be able to tour the facility prior to the dedication ceremony, which will include a ribbon cutting and a ceremonial first serve. The general public is asked to either stand behind the chairs on the court or sit in the south side grandstand. This is such a wonderful improvement for our tennis program -- our team has had to play its home matches 15 miles from campus in Wamego for the past five years due to our former facility not meeting Big 12 and NCAA standards for play. Not only is this new facility an important step in demonstrating our commitment to a world-class student-athlete experience for all 16 of our sports, but the entire K-State student body and population will benefit greatly from this gorgeous new stadium complex and the adjoining campus recreation spaces. Read more about Mike and Becky Goss and this tremendous new facility from yesterday's press release.

New Multi-Year Contracts Completed for Four K-State Coaches

It's been a busy summer filled with updates on the West Stadium Center and other departmental initiatives, and among the work accomplished was finalizing new or extended multi-year contracts for four of our terrific head coaches — track and field coach Cliff Rovelto, women's tennis coach Steve Bietau, equestrian coach Casie Maxwell and rowing coach Pat Sweeney. We are so fortunate to have one of the best groups of head coaches in the country, a veteran group of coaches, each committed to our vision of Model Intercollegiate Athletics Program and world-class experience for all of our student athletes! We appreciate the support of our fans and donors which enables us to make this important commitment to achieve championship performances on the playing field and in the classroom. All of our head coaches now have multi-year contracts. As with standard athletics policy all contracts were approved by the KSA Board and are available online in keeping with our commitment to transparency.

Deadline Approaching for Wildcat Pregame in Austin

While we are excited for the start of football season and first three home games at Bill Snyder Family Stadium, our first road trip of the season to Austin, Texas, is drawing closer. The K-State Alumni Association will be hosting its pregame event on Sept. 21 three hours before kickoff, and registration closes on Sept. 13. For $40 per person, fans can enjoy a barbecue meal and mingle with K-State athletics staff and fellow Wildcat fans. For more information on the event, which will take place at the Recreational Sports Center on campus, click here. Hope to see a lot of purple in Austin in a few weeks!

As we close this letter let me pass along a special welcome home to K-State tennis alumni who have traveled near and far to be here for a special reunion and the stadium dedication! Good luck to our cross country teams as they open the season in Wichita, and of course we look forward to another packed house at 5:30 p.m. Saturday as we take on Louisiana inside Bill Snyder Family Stadium.

Have a great rest of the day, and...
Go Cats!
John Currie