August 30, 2013
K-State track offers 'Back to School Burn' Wildcat fitness camp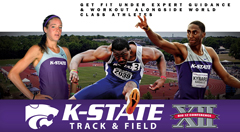 K-State track coaches and Wildcat Fitness are offering a new fitness camp called "Back to School Burn." This camp is open to all ages and fitness levels. The camp begins on Sept. 8 with a registration period starting at 6 p.m. The camp itself will run for four weeks, and will be from 6:30 to 7:45 p.m. every Sunday, Tuesday and Thursday. The cost for the camp is $75 and can be prorated if you join late. Wildcat Fitness is going to be at R.V. Christian Outdoor Track, which is just southwest of Bramlage Coliseum.
The camp is designed to accommodate all fitness levels, and workouts will be modified to allow for everyone to improve, lose weight and become more fit.
You can register for the camp by following this link to our camp brochure. If you are interested in registering for the camp, please contact Coach Kyle at wildcatfitness@kstatesports.com. We look forward to seeing you out there.