August 26, 2013
'Life in a Jar' play coming to campus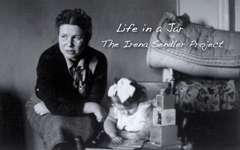 The College of Education is hosting "Life in a Jar," a play about Irena Sendler, a Polish Catholic woman whose network is credited with saving the lives of 2,500 Jewish children from probable death during the Holocaust.
The performance is at 2 p.m. Friday, Oct. 11, at the Little Theatre in the K-State Student Union.
For more information about Sendler and her connection to Kansas, please watch the video, which was produced by Rusty Earl, the college's videographer.