August 26, 2013
Poker 5K run Aug. 31 to support K-State student health peer educators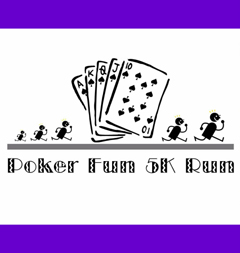 It's more than just a 5K run — you get to play a hand of poker, too.
On Aug. 31, runners will start and end at Lafene Health Center, running through Kansas State University's beautiful campus, picking up five playing cards along the way. Prizes will be awarded to the top three male and female finishers, and of course the runner with the best hand. Come join the fun!

Proceeds from the race will support the K-State student health peer educators. They serve an important role in assisting students to make healthier decisions, bring awareness to student health care needs as well as promote health services provided on campus. Topics presented by peer educators may range from nutrition information to body image issues, avoiding risky behaviors to developing healthy relationship, and so much more.

Your support in this fun 5K run will help the peer educators to plan even more educational and fun health events for the students at K-State.

Don't hesitate, register online now or print out the registration form and mail it in. The race entry fee is $25 before Aug. 27 and $30 from Aug. 27 until race day. Click here to see the route!