August 26, 2013
Design Days in landscape architecture and regional and community planning
Submitted by Communications and Marketing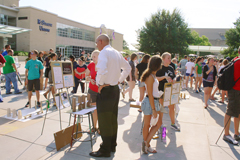 Design Days, an annual two-day event hosted by the landscape architecture/regional and community planning department, brings together landscape architecture and planning students to apply creativity, design and problem-solving to a project in the community.
This year, during the two-day design charette, Aug. 27-28, the students will imagine a future Manhattan, Kan., where K-State is a Top 50 public research institution, NBAF is in operation and the city has grown.
A public exhibit of the students' work will be part of the 2013 Purple Power Play in the Park on the evenings of Aug. 28-29 in City Park.
Before Design Days 2013, community residents were invited to share their desires for the future of Manhattan via a wish ticket. The student teams are developing plans and designs shaped by these wishes. Written wish tickets were collected in boxes at area businesses, during presentations to civic and business organizations, or electronically at Twitter, #iwishmanhattan; on Facebook; and on the event blog.
Past Design Days topics have included developing a more bike-friendly city, creating food-producing landscapes on campus, and rethinking recycling at K-State.