May 8, 2023
Britton granted Blue Key honorary membership
Submitted by Blue Key Senior Honorary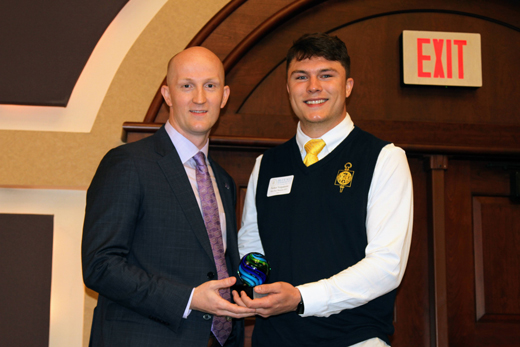 From left: Logan Britton and Parker Vulgamore. Britton was named an honorary Blue Key member.
The Kansas State University chapter of Blue Key Senior Honorary has named Logan Britton, assistant professor of agricultural economics at K-State, as an honorary member for his embodiment of the organization's "Serving, I Live" motto.
Honorary membership may be extended to faculty members, administrators, staff members, university alumni and key support of Blue Key or campus life. This membership status is reserved for individuals who demonstrate unselfish devotion to the best interest of the university or Blue Key. Blue Key recognizes college students at senior institutions of higher education for balanced and all-around excellence in scholarship, leadership and service. Honorary members are selected by the current Blue Key class.
Britton has served as an advisor to K-State Blue Key since 2020. In his short time on campus, he has already made an impact on Blue Key. Britton is committed to supporting not only the chapter as an advisor but also supporting the personal and professional development of individual members. Many Blue Key members, and numerous undergraduate students, are a beneficiary of Britton's eagerness to support through officer and program conversations, career and life discussions, and letters of recommendation. Britton was named the 2023 Outstanding Advisor Award winner at the National Blue Key Conference, nominated by the 2022-2023 members of K-State Blue Key.
Britton earned bachelor's and master's degrees in agricultural economics from K-State and a doctorate in agricultural economics from Oklahoma State University. He teaches courses related to computer decision tools, contemporary issues in global food and agricultural systems, agricultural finance and agribusiness logistics. He also conducts research in the areas of consumer demand, agribusiness supply chains and the scholarship of teaching and learning. Britton also serves as an advisor to College of Agriculture Ambassadors. In addition, he advises undergraduate students, mentors doctoral students for instruction, and serves on graduate student committees.
Britton's prioritization of student success and well-being, through developing students to their greatest potential, is why Britton was enthusiastically granted honorary membership.
Other honorary members of K-State Blue Key include Mary Tolar, dean of the Staley School of Leadership; Pat Bosco, vice president for student life and dean of students emeritus; Alf Landon, former Kansas governor; Bill Snyder, former K-State head football coach; Amy Button Renz, CEO and president of the K-State Alumni Association; Frank Tracz, director of K-State bands; and Jon and Ruth Ann Wefald, former K-State president and first lady.