May 4, 2023
Renz named Mistler Outstanding Blue Key Alumni Award recipient
Submitted by Blue Key Senior Honorary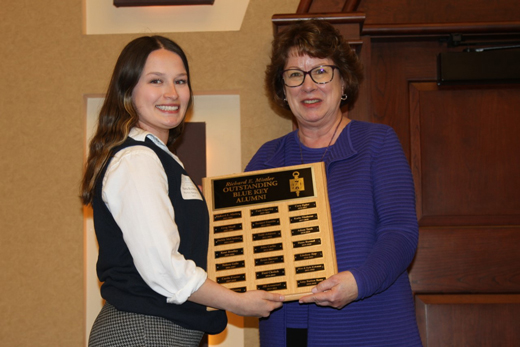 From left: Marta Richenburg, senior in history and political science and Blue Key member, and Amy Button Renz, president and CEO of the K-State Alumni Association. Renz is the recipient of the 2023 Richard E. Mistler Outstanding Blue Key Alumni Award.
The Kansas State University chapter of Blue Key Senior Honorary has named Amy Button Renz as its recipient of the 2023 Richard E. Mistler Outstanding Blue Key Alumni Award for her continued perseverance and achievements in the organization's guiding principles of scholarship, leadership and service.
The Mistler Outstanding Alumni Award was first presented in 2003 to recognize Rich Mistler, inaugural awardee and 1961-1962 class member, for his dedication and commitment to K-State's Blue Key chapter through his time, experience and expertise. Blue Key recognizes college students at senior institutions of higher education for balanced and all-around excellence in scholarship, leadership and service. Mistler award winners are selected by the current Blue Key class.
Since 1994, Renz has served as president and CEO of the K-State Alumni Association. She was a 2007 honorary member initiate of Blue Key. Renz earned a bachelor's degree in political science and a master's degree in public administration from K-State. She will retire from the K-State Alumni Association this June after 45 years of service to the university.
Renz emulates the Blue Key motto, "Serving I Live," every day. She actively gives back to the K-State community through her leadership. Renz has been dedicated to the university and students for more than three decades. She has created leadership opportunities for students through the programming efforts of the Student Alumni Board and the K-State Student Ambassador program.
Through the creation of the K-State license plate program and Wabash CannonBall galas, Renz led the Alumni Association to raise more than $9.7 million for student scholarships. Renz remained involved in the future of K-State through heading search committees to identify the next great leaders for the university. Renz has provided K-State Blue Key with support by connecting programs, such as Quest Freshman Honorary, to the K-State Alumni Association, serving as a mentor to members, and writing letters of support for national Blue Key award applications.
In the K-State community, Renz has left a legacy across every facet of the university. She is known for her leadership and love for her alma mater. Her passion for K-State and the betterment of others is evident in her work throughout the past 45 years.
Renz was recognized for modeling a true commitment to service, leadership and scholarship. She has shown consistent dedication to the university, students and alumni legacy of K-State. Blue Key recognizes that it is because of the legacy of outstanding alumni like Renz that the organization continues to thrive.
Previous Mistler award winners include Paul Edgerley, Bernard Franklin, Todd Johnson, Ernie Barrett, John Carlin, Grace Hwang, Lindsey Roy, Dena Bunnel, Katie Niederee and Jackie McClaskey.