May 2, 2023
Outstanding food science student awards announced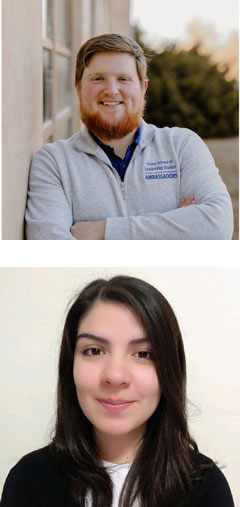 The K-State Food Science Institute announces the undergraduate and graduate Outstanding Food Science Student awards, sponsored annually by National Beef Packing Company in Kansas City, Missouri.
The annual awards recognize food science students who have demonstrated exceptional academic accomplishments, leadership, and contributions to the K-State Food Science program and to the university community over the entire degree timeframe who are likely to excel in their professional food science careers.
Nate Williams, senior in food science and industry, is the recipient of the the 2022-2023 Outstanding Senior Food Science Award. Carolina Velasco Ayala from Monterrey, Mexico, is the recipient of the 2022-2023 Outstanding Graduate Food Science Student Award.
Williams is from Wamego and graduated from Rock Creek High School in 2019. He will receive his bachelor's degree in food science and industry, science option, this semester and will immediately begin his career at Land O'Lakes, Inc. in Black River Falls, Wisconsin, working on the animal milk solutions team. During Williams' time at K-State, he has excelled in the classroom and has made exceptional contributions to the food science and industry program, the Food Science Institute functions, Leadership Studies, and the College of Agriculture, including a significant leadership role in the Kansas Value Added Foods Lab. The lab supports many entrepreneurial ventures in the food processing sector across Kansas. Williams also completed a secondary major in global food systems leadership. He served as a Staley School of Leadership Ambassador, LEAD 212 class leader, 'Cats Connect facilitator, Wildcat Dialogues facilitator and contributor, and a Snyder Leadership Legacy Fellow. He was a member of the prestigious Cargill Global Scholars program where 10 students across the U.S. are mentored in professional and leadership development in global agriculture. He recently received the Pat J. Bosco Outstanding Senior Award presented by the Staley School of Leadership. Williams said he always dreamed of attending Kansas State University and, by combining degrees in food science and industry and global food systems leadership, was able to realize his passions for science, agriculture and people.
After receiving her bachelor's degree in food industry engineering from Instituto Tecnológico y de Estudios Superiores de Monterrey in Mexico in 2020, Velasco Ayala enrolled at K-State to study food science with Elizabeth Boyle as her major professor, earning her Master of Science in fall 2022. Velasco Ayala's thesis research in meat science explored the shelf-life effects of incorporating egg powder from hens immunized with anti-phospholipase α2 in ground striploin beef. While being a stellar student in the classroom, she took many opportunities to enhance her professional credentials through pursuing six professional certifications, coordinating meat processing workshops, participating in processing plant research projects, student teaching an undergraduate research course, going on field trips, judging meat competitions for the Kansas and Nebraska Meat Processing Associations, and being a student member of the Kansas City chapter of the Institute of Food Technologists. Velasco Ayala has recently taken a position in milling research and development with Bunge in Missouri.
Executive management from National Beef will attend a presentation ceremony and ice cream social on Tuesday, May 2, to honor this year's awardees and to interact with faculty and students.