February 20, 2023
Emily Reppert and Audrey Mortimer recognized as Professor and Professional Staff of the Week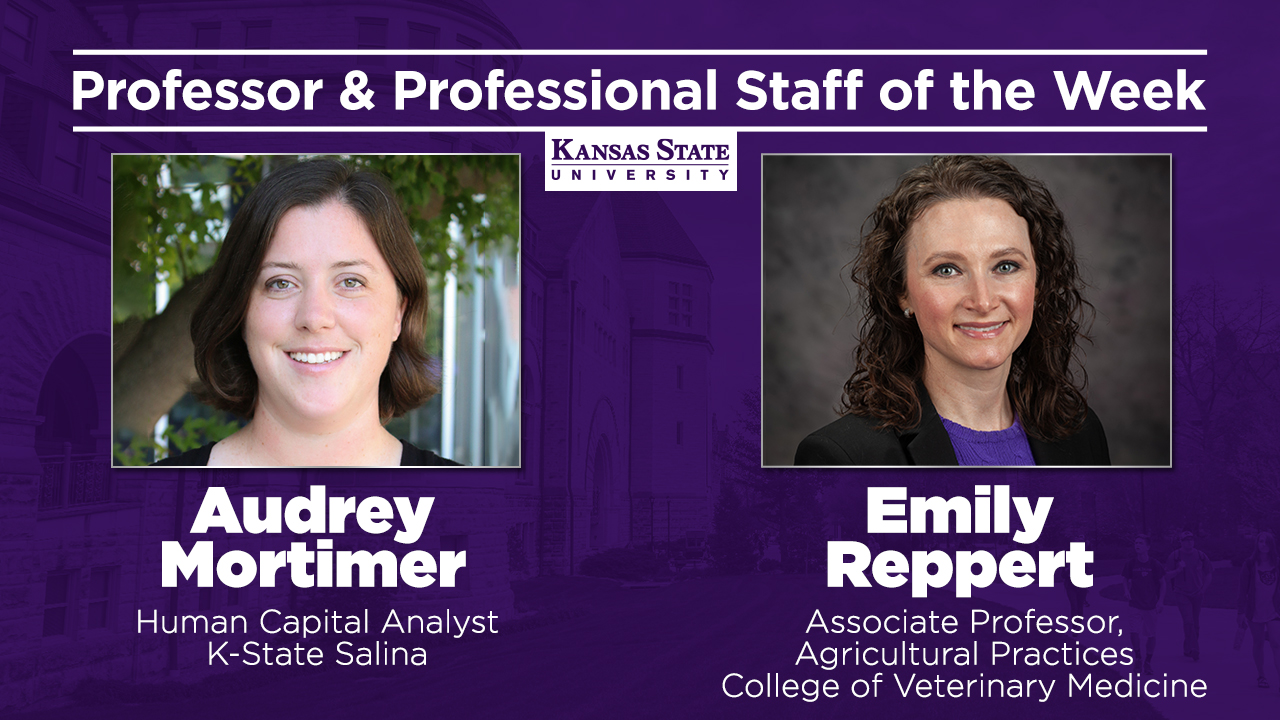 Emily Reppert, associate professor in clinical sciences, and Audrey Mortimer, human capital analyst, were recognized as Professor and Professional Staff of the Week at the Feb. 18 men's home basketball game. Faculty Senate, the Office of the President, K-State Athletics and the Division of Communications and Marketing wish to recognize their contributions to K-State.
Reppert is an associate professor of livestock services in the College of Veterinary Medicine. She is board certified by the American College of Veterinary Internal Medicine, Large Animal. Reppert graduated from Iowa State University with a bachelor of science in animal science in 2006, she completed a doctor of veterinary medicine at Colorado State University in 2010. Reppert then went to Oklahoma State University, where she completed both an internship and residency in food animal internal medicine and surgery as well as completing her Master's of Science. In September 2014, she joined the faculty at Kansas State University as an assistant professor in the department of clinical sciences. In 2020, she was promoted to associate professor with tenure.
Reppert provides clinical service in the Veterinary Health Center within the livestock services section. She contributes to the provision of exceptional patient care, teaching 4th-year veterinary students and mentoring large animal interns and residents with advanced care of livestock patients. Reppert contributes to the livestock services section to provide veterinary care to approximately 1600 livestock patients annually. Additionally, Reppert contributes to the education of approximately 117 senior veterinary students in the hospital setting and the training of 4-5 interns/residents each year. A lecturer in all four years of the veterinary curriculum, she facilitates small ruminant, camelid and livestock skills training laboratories as well as lecturing in an undergraduate course in the Department of Animal Sciences within the College of Agriculture. She is a tremendous asset to students, interns and residents in livestock services. She provides advising and mentorship along with educational rounds, journal clubs and board certification preparation training.
In addition to clinical service and teaching, Reppert has achieved scholarship success as well; she has received more than $3 million in research funding for primary and collaborative projects since she arrived at K-State. Reppert is particularly interested in the diagnosis and therapeutic management of tick-borne disease in cattle. She has also contributed to an expanded understanding of disease and pain management in small ruminants and camelids. Reppert and a collaborator hold a patent on a small ruminant training simulator.
Reppert is involved in cooperative extension activities at all levels and an accomplished faculty member. Reppert is a valuable faculty member, clinician and mentor who regularly makes a significant and positive impact on all professional interactions within the CVM and on the veterinary profession as a whole.
Audrey Mortimer is the human capital analyst at Kansas State University Salina Aerospace and Technology Campus.
During the absence of the Aviation department head, Audrey accepted the responsibility of all payroll duties for all department employees. This went above and beyond her usual role. Her dedication and attention to detail were vital during this time.