February 6, 2023
Career Center hosts Ready, Set, Support event for jobs with local school districts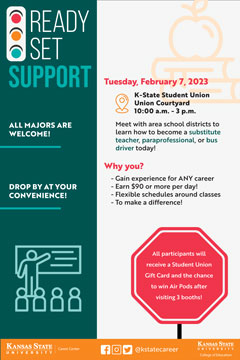 The Career Center and College of Education are co-hosting an event — Ready, Set, Support — with representatives from area school districts where K-State students can learn about flexible job openings such as substitute teacher, paraprofessional, or bus driver.
The event is from 10 a.m. to 3 p.m. Tuesday, Feb. 7, in the K-State Student Union courtyard. Students who visit information booths will receive a gift card and will be eligible to win a pair of AirPods.
"We are so excited about this because it's an opportunity for students in all majors to learn and ask questions about jobs at area schools, which work around your class schedule," said Pat Hudgins, associate director of the K-State Career Center. "It's also a great space and exploration opportunity for open option and undecided majors."