February 6, 2023
Kimberly Kramer and Daniel Cutting recognized as Professor and Professional Staff of the Week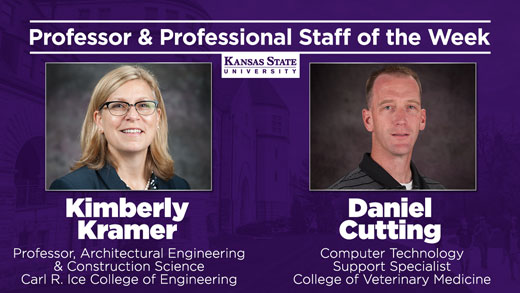 Kimberly Kramer, professor of architectural engineering and construction science in the Carl R. Ice College of Engineering, and Daniel Cutting, IT Support Specialist II in the College of Veterinary Medicine's Support Services, were recognized as Professor and Professional Staff of the Week at the Feb. 4 men's home basketball game.
Faculty Senate, the Office of the President, K-State Athletics and the Division of Communications and Marketing wish to recognize their contributions to K-State.
Kramer came to K-State in 2003 from the consulting engineering industry and is a licensed professional engineer and licensed structural engineer. As a professor in architectural engineering and construction science, she was named the G.E. Johnson Construction Science Endowed Chair. She teaches courses in structural engineering and construction. Kramer's specific areas of interest and research include slender reinforced concrete tilt-up wall systems, the behavior of reinforced concrete, restoration and rehabilitation of structures including resilient design, and strengthening of partially prestressed reinforced concrete structures with fiber-reinforced polymer composites. She conducts research with both graduate and undergraduate students. She has served as the major professor to 59 graduate students and guided 15 undergraduate research projects.
Kramer is active in several professional societies. For example, for more than three decades, she has made contributions through the American Concrete Institute. She was named a fellow of the American Concrete Institute in 2015 and has been the recipient of the institute's Education Award and Sustainability Award.
Kramer has been the recipient of several teaching awards in her career. She was appointed by Gov. Laura Kelly and currently serves on the Kansas Board of Technical Professions as an engineering board member, past chair of the PE/PS committee and current secretary of the board.
The College of Veterinary Medicine has the highest regards for Cutting.
Today's fast-paced information age heightens the urgency of having competent, "just-in-time" assistance with information technology issues. In the College of Veterinary Medicine, where computer systems are relied upon for teaching, research, administrative and clinical functions, robust IT systems and support are a must. Fortunately, the college has first-class help in these areas.
Cutting's can-do attitude, willingness to put others' schedules above his own and long-suffering patience are all keys to his success. On top of his professional communication abilities, Cutting brings the necessary skills and knowledge to sort out and resolve problems with computer hardware, software and security systems. He also possesses a rare ability to winsomely propose or suggest solutions to problems that have not been suggested by others. Indeed, he is the kind of colleague that we need in today's unrelentingly fast-paced information age.