April 11, 2022
Textile design exhibition at Kemper Art Gallery
Submitted by Nadeeshani Ratnayaka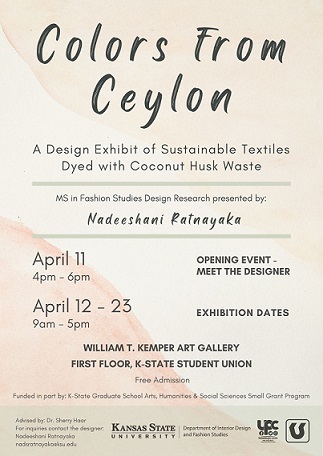 "Colors from Ceylon," a design exhibit of sustainable textiles dyed with coconut husk waste, is presented by Nadeeshani Ratnayaka, a graduate student in the interior design and fashion studies department.
The exhibition runs from 9 a.m. to 5 p.m. April 12-23 in the William T. Kemper Art Gallery at the K-State Student Union. The opening "Meet the Designer" event is from 4-6 p.m. today, April 11.
The research project seeks to create awareness and reintroduce the traditional craft of natural dyeing to minimize the environmental footprint in the fashion industry by incorporating sustainable design methods into practice and provide livelihood opportunities for indigenous artisans through entrepreneurial development to help preserve skills.
The exhibit is open to the public.