April 7, 2022
Bakery Science Club and Milling Science Club sales at the All-University Open House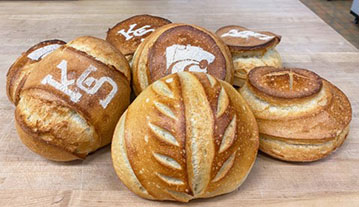 For the All-University Open House on Saturday, April 9, the Bakery Science Club will sell its customary offerings of bread and cookies, plus additional scrumptious baked goods made just for Open House.
The Milling Science Club will be selling beer bread mix, pancake mix, white flour and whole wheat flour. There will be a limited number of 50-pound bags of white and whole wheat flour available.
Both sales will be in Shellenberger Hall. The Bakery Science Club can accept credit cards, while cash and check are preferred for the Milling Science Club. Come visit on Saturday for great hands-on activities and great baked goods and baking mixes for sale.