March 22, 2022
Award-winning author Malinda Lo to speak on Saturday, March 26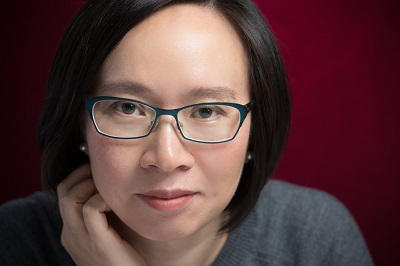 Award-winning author Malinda Lo will be the keynote speaker for the eighth biennial Interdisciplinary Conference on Children's Literature in English, Education and Library Science, scheduled from 9 a.m. to noon Saturday, March 26, via Zoom.
Lo is the bestselling author of "Last Night at the Telegraph Club," winner of the 2021 National Book Award in Young People's Literature, the Stonewall Book Award and the Asian/Pacific American Award for Literature, as well as Michael L. Printz and Walter Dean Myers honors.
Lo's debut novel "Ash," a sapphic retelling of "Cinderella," was a finalist for the William C. Morris YA Debut Award, the Andre Norton Award for YA Science Fiction and Fantasy, the Mythopoeic Fantasy Award and the Lambda Literary Award. Lo's short fiction and nonfiction have been published by The New York Times, NPR, Autostraddle, The Horn Book and multiple anthologies.
This year's conference theme is "(Re)Writing History: Representation Matters in Children's and Young Adult Literature." For her keynote presentation, Lo will speak on "Inside the Telegraph Club: On the Real History Behind 'Last Night at the Telegraph Club.'"
"At a time when schools and libraries are challenging inclusion of diverse representations of children and young adults in literature and history, Malinda Lo's award-winning work reminds us about the importance of representation — how it provides, in the words of scholar and educator Rudine Sims Bishop, mirrors to see ourselves as well as windows on others' experiences," said Karin Westman, department head of English and faculty advisor for the Children's and Adolescent Literature Community, a department-sponsored student organization in English. "We're thrilled to host Lo as our keynote speaker and to learn from her talk."
Morgan Shiver, second-year graduate student in English and co-president of the Children's and Adolescent Literature Community, agrees.
"Focusing on representation in children's and YA literature, our 2022 ChALC Conference offers important professional development and compelling conversations to members of the K-State community and beyond," Shiver said. "I am especially excited for the opportunity to hear from National Book Award winner Malinda Lo, in addition to presentations from K-State faculty and students."
In addition to Lo's keynote lecture, the conference features a joint presentation by Lotta Larson, associate professor of curriculum and instruction, and Vicki Sherbert, assistant professor of curriculum and instruction. Larson and Sherbert will present on "Using Children's Literature to Examine the Past, Imagine the Future and Grapple with Issues of Today."
Graduate students Molly James, Sara Partin, and Adrien Sdao will also present papers on the conference theme.
Conference attendance fulfills requirements for "Service to the Profession: Professional Growth" for undergraduate students in education.
The conference is free and open to students, faculty, staff, and community members, but advance registration is required. To register and receive the Zoom link and passcode to attend, visit tinyurl.com/kstatechalc2022 by 5 p.m. Friday, March 25.
The conference is sponsored by the Children's and Adolescent Literature Community, the Department of English in the College of Arts and Sciences, and the K-State Student Governing Association.