March 3, 2022
SPICMACAY organizes 'Shakti' with John McLaughlin listening session today
Submitted by Prasanth Chandran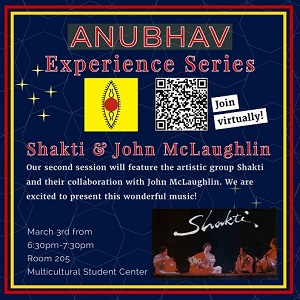 SPICMACAY, a registered independent student organization, invites you to "Anubhav-Experience series: Shakti & John McLaughlin" from 6:30-7:30 p.m. today, Thursday, March 3, in 205 Morris Family Multicultural Student Center or via Zoom. To join via Zoom, please register here.
In this session, SPICMACAY will explore the wonderful and sublime music of "Shakti" — with John McLaughlin — an Indo-jazz fusion band. Formed in 1974, the groundbreaking group consisted of jazz-fusion guitar legend McLaughlin, North Indian tabla master Zakir Hussain, and violinist L. Shankar and ghatam player T.H. "Vikku" Vinayakram, both of whom hail from South India. The band seamlessly bridged jazz and Indian classical music genres previously perceived as disparate traditions. The band's Hindi name means, in English, "creative intelligence, beauty, and power."
Come and join us to enjoy their wonderful music, learn interesting trivia and behind-the-scenes stories.