February 22, 2022
Three Kansas State University students named Truman scholarship finalists
Submitted by Division of Communications and Marketing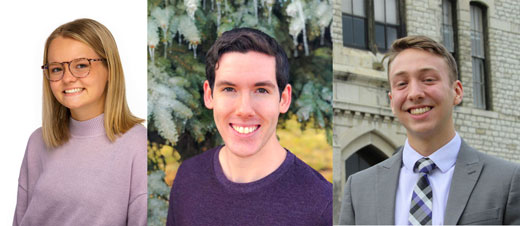 From left: Katherine Sleichter, Thomas Leihsing and Reed Krewson.
Three Kansas State University students, Katherine Sleichter, junior in political science, Clay Center; Thomas Leihsing, junior in fisheries, wildlife, and conservation biology, Emporia; and Reed Krewson, senior in political science, Overland Park, are finalists for the Harry S. Truman Scholarship.
The Truman Scholarship Foundation recognizes college students with exceptional leadership potential who seek public service careers through government or the nonprofit sector. If awarded, it provides up to $30,000 in financial support for graduate education. Sleichter, Leihsing and Krewson are among 189 students from 126 institutions who were selected and will interview virtually on March 21. The scholarship committee will announce the winners of the scholarships nationwide on April 15. According to the Truman Foundation, 705 students from 275 institutions applied for the 2022 competition.
Sleichter is a food security scholar, a program for students interested in understanding food security systems and challenging the way we think about food insecurity. Sleichter serves as the campus culture director for Student Governing Association. She is involved in International Buddies and the Food Recovery Network and is a coordinator for International Service Teams.
Leihsing is a member of Students for Environmental Action, The Wildlife Society and the K-State Water Environment Federation. He served two terms as president of the Maitland E. Smith Scholarship House in 2020 and 2021 and was the director of social media for the Honors Program Executive Board in 2020-2021. Leihsing also assists in research on ranges of plant species at the Konza Prairie Biological Station. He is a recipient of the Rocky Mountain Elk Foundation Leadership Award, Division of Biology Most Promising Student Award, Scott Richards Leadership Scholarship, Robert Nabours Biology Scholarship, Deb Miller-Bosco Family Scholarship and Lyon County Conservation District Scholarship. He was a 2019 Borlaug scholar.
Krewson serves as local relations director and elections commissioner for Student Governing Association. He is also vice president of the Young Democrats and Wildcats Vote student organizations at K-State. He is a recipient of the Louis H. Douglas Scholarship, Wildcat Traditions Scholarship and McKelvie Scholarship.
To learn more about competing for future Truman Scholarships or other nationally competitive honors while a student at Kansas State University, contact Jim Hohenbary at jimlth@k-state.edu. March 28 is the K-State campus deadline for students who wish to seek nomination for the next Truman application cycle; interested students can download the application from the Office of Nationally Competitive Scholarships website.