February 2, 2022
All Faiths Chapel organ's 60th anniversary recital takes place Friday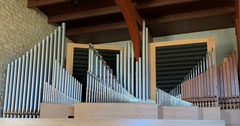 David Pickering, professor of music, will perform the 60th anniversary recital of the Austin organ housed in All Faiths Chapel at 7:30 p.m. Friday, Feb. 4.
Pickering will play solo organ works by J.S. Bach, Cesar Franck, Felix Mendelssohn, Myron Roberts, Sir Arthur Sullivan and Louis Vierne. Erin Wood, lecturer in harp at the University of Kansas, will join Pickering for a performance of Marcel Grandjany's "Aria in Classic Style for Harp and Organ."
The organ has recently been renovated by Quimby Pipe Organs in Warrensburg, Missouri, celebrating more than seven years of ongoing restorative work.
For those unable to attend in person, the recital will also be livestreamed.