December 2, 2021
Terry Beck recognized as Professor of the Week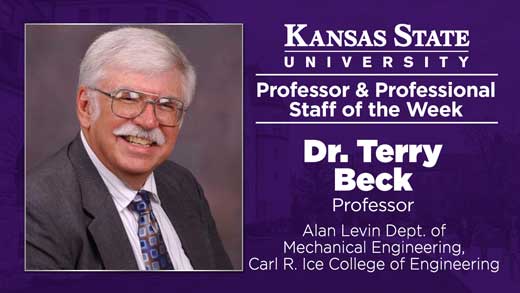 Terry Beck, professor of mechanical and nuclear engineering, was recognized as Professor of the Week at the Dec. 1 men's home basketball game.
Faculty Senate, the Office of the President, K-State Athletics and the Division of Communications and Marketing wish to recognize his contributions to K-State.
Beck came to K-State in 1979. He teaches courses in the fluid and thermal sciences. His areas of expertise are laser velocimetry and optical measurements — LDV, PIV, PLIF, heat transfer, fluid mechanics and two-phase flow. His research includes the development and application of optical measurement techniques, and laser-based diagnostic testing for industrial applications. At the professional society level, and for more than two decades, he has made contributions through the American Society of Heating, Refrigerating, and Air-Conditioning Engineers, or ASHRAE. This involvement has included active membership — including participation as chair — in the technical committee TC1.2 Instruments and Measurements, chair of the Fundamental Handbook Revisions subcommittee for the TC1.2 Chapter on Instruments and Measurements, and major leadership and contributions toward the development and revision of the ASHRAE 41-series measurement standards used by practitioners throughout the HVAC industry.
Beck has been the recipient of several teaching awards in his career, including the Bob Snell Distinguished Career Award for Excellence in Undergraduate Teaching, the Charles H. Scholar Faculty Award from the College of Engineering, and multiple awards for Outstanding Advisor in the mechanical and nuclear engineering department at K-State. He has been the faculty advisor for the SAE Aero Design Team at K-State since its inception in 2000, and this team has received numerous awards in this International competition, along with special commendation from the K-State Student Governing Association for its outstanding performance.
He is also a member of Tau Beta Pi, Sigma Xi, ASEE, Pi Tau Sigma, ASME, Phi Kappa Phi, SPIE and ASHRAE honorary and professional societies.