November 10, 2021
Carl R. Ice College of Engineering presents inaugural Sue Barsamian Awards for Excellence in Diversity and Inclusion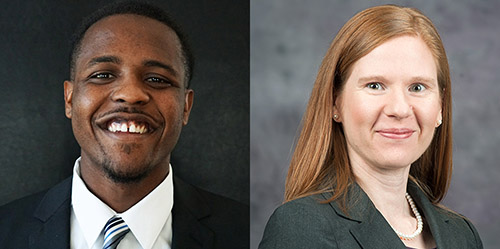 The Carl R. Ice College of Engineering had even more to celebrate than usual at this year's fifth annual Diversity, Equity and Inclusion Summit on Nov. 9, presenting a pair of new awards created by alumna Sue Barsamian designed to honor a student and faculty or staff member that has demonstrated excellence in enhancing diversity and inclusion in the college.
The recipient of the Sue Barsamian Engineering Student Award for Excellence in Diversity and Inclusion was Christopher Burrell, junior in mechanical engineering, while Jessica Heier Stamm, associate professor in industrial and manufacturing systems engineering, received the Sue Barsamian Engineering Faculty and Staff Award for Excellence in Diversity and Inclusion.
Upon his arrival to K-State, Burrell quickly became involved with the Black Student Union and was nominated to run for Mr. BSU, which he won, a rare feat for a freshman.
His work to enhance diversity and inclusion at K-State is extensive, including active membership in the National Society of Black Engineers and the K-State Mechanical and Nuclear Engineering Advisory Council, where he works to advocate for underrepresented students. He also serves as a student worker in the college's Multicultural Engineering Programs office, where he volunteers at recruitment events and serves as a mentor to younger engineers.
Burrell also is committed to leadership, serving as chair of the planning committee for the 45th annual Big 12 Conference on Black Student Government hosted at K-State in 2022, as well as joining the Engineering Leadership Innovation Program through the college.
Stamm, Gisela and Warren Kennedy cornerstone teaching scholar and Steve Hsu keystone research scholar, has been involved in various efforts to increase diversity and inclusion throughout the college.
She has offered more than a dozen workshops to support K-State EXCITE!, GROW and Upward Bound Math and Science programs. Through this work, she has engaged with hundreds of K-12 students, challenging them to think about problems in humanitarian logistics and helping them understand how science, math and engineering help to solve our biggest societal problems.
Heier Stamm is a frequent contributor to programs administered through the K-State Office for the Advancement of Women in Science and Engineering, or KAWSE, where her input and expertise has strengthened programs and inspired the students, faculty and staff she connects with.
Each recipient received a plaque and cash award at the ceremony, which featured Barsamian as the keynote speaker alongside a panel discussion and breakout sessions on a variety of topics related to diversity and inclusion.